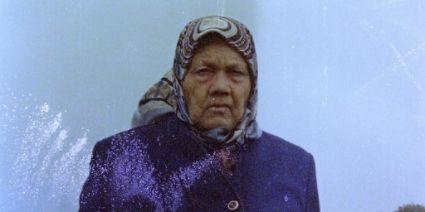 Film festivals, by their very conception, are inherently curatorial endeavors. Particularly with regards to a festival as sprawling as the Toronto International Film Festival—this year celebrating its 40th anniversary—such program initiatives and individual delineations can prove imperative in negotiating the sheer number of films on offer. In the case of the festival's experimental Wavelengths program, and in specific the Wavelengths shorts programs, these curatorial efforts are concentrated—even heightened—by the narrow interests they serve. This year's programs, spread across four nights over the festival's first weekend, above all else continued to exemplify lead programmer Andrea Picard's continued attention to the art of curation, not simply in the typically stellar selection of films, but also in the careful grouping of works within individual programs. The program's first evening, for example, while featuring films from artists both young and old, from a diverse array of cultural and cinematic backgrounds, proceeded in beautiful synchronicity, with each film speaking to one other in alternately subtle and overt fashion.
A pair of 3D experiments defined the boundless creativity on offer in the first night's program. A recently discovered and restored film from the late American avant-garde artist Paul Sharits, simply titled
3D Movie
, opened the evening, while
Something Horizontal
, the latest anaglyph work by the Toronto-based artist Blake Williams, updated the technology for the digital age. Sharits' film, a silent piece composed of microscopic colored light forms dancing frame by frame, with subtly depth-defying reach, utilized its three dimensions to create internal patterns within a slowly modulating color field. The effect brought to mind everything from rippling waves to swarming static, manipulating the mind's eye into mentally conceiving of a potentially infinite holographic spectrum. The program was bookended by Peter Tscherkassky's recent Cannes standout
The Exquisite Corpus
, the latest work of found footage ephemera (in this case clips from vintage erotica films) from one of the few veterans in this year's program.
Between these was something different—
Something Horizontal
. In contrast to Sharits' film, Williams' fourth anaglyph work compliments its optical effects with a narrative structure built around a recurrent temporal framework (a closing quote from Robert Frost's "For Once, Then, Something" furthers the notion beyond the confines of the film). Inspired by one of Maya Deren's most intriguing theorems—the title refers to the idea that the more poetic forms of cinema cascade upwards (which is to say, vertically), while the narratively-inclined proceed linearly (or horizontally)—the film commences with a brief scene of EMTs tending to an accident victim, the hyper-radiant lights from their emergency vehicle immediately calling to mind the artist's previous film,
Red Capriccio
. Perspective quickly shifts indoors, however, with Williams cutting together a rapid montage of doors, windows, and skylights, with exterior light creating interior shadows as dissonant noise skips hypnotically on the soundtrack. When, soon after, a timeline is established via humorous intertitles, the film begins to open up, jumping back through previous images, locales, and even films (a brief image from Leopold Jessner and Paul Leni's 1921
Backstairs
reiterates Williams' structural conceit while offering a different, more ahistorical perspective from which to view piece), and then forward into rapidly moving shots from the window of a car. The 3D field of space, therefore, becomes just one of multiple channels for Williams' geometric expression.
Collaborations, in their many iterations, tied together the second evening's program. Both Ben Rivers and Ben Russell's individual practices are rooted in collaboration—collaboration with their subjects, with their crews, and even, on occasion, with each other. Rivers' new short, shot on black-and-white 16mm scope, is at once a kind of compliment to his new feature film, and, to hear him tell it, a kind of vampiric work, taking from friends and films alike. Much of it is composed of on-set footage of a fellow filmmaker's science fiction film, filled with eerie images of actors, dressed as spacemen, rehearsing on a beach in Morocco. Early on, a low, resonant hum pervades the background, but these scenes soon shift to an abandoned film set, which only adds to the apocalyptic sense of dislocation. In a final flourish, Rivers places the gentle, almost idyllic score from Pere Portabella's
Vampir-Cuadecuc
(1970) atop these untraceable images, a contradictory gesture which defines the otherworldly atmosphere of his best work. The incredibly titled
Yolo
, shot in Soweto, South Africa by the ever-prolific Ben Russell, is, by comparison, one of his "modest" films, in which a shard of glass rotates before the camera lens, capturing objects, foliage and the limbs of a young boy from above and below as it twists in an undefined pattern. Feedback and chattering voices bridge the gap to a short scene of reversed footage of the boy and his friends playing soccer, revealing the component (and collaborative) parts comprising this small town chronicle.
Analysis of Emotions and Vexations
, meanwhile, proved one of the second evening's most singular and serene pieces, a work of painstaking animation by the consistently intriguing Polish animator Wojciech Bakowski. Slowly morphing pencil drawings of ships and buildings and trains materialize on screen as Bakowski narrates in contemplative tones ("The depths of my thoughts…"), figuratively filling in the negative space surrounding the sketches with thoughts both personal and vaguely political. A monologue of a different temperament graces
Bunte Kuh
, an evocative audio-visual diary of a holiday stay-over in Berlin by the directorial trio of Parastoo Anoushahpour, Faraz Anoushahpour and Ryan Ferko. A male voice speaks in measured cadence as footage of pedestrians and vacationers documenting the city takes on a surveillance-like quality. As images of the surrounding landscape work up into a flickering montage, the audio mix grows similarly busy, with found sounds pitched into powerfully repetitious phrases. It's the sound of nostalgia for lived experience flooding to the forefront of the senses, indistinct but palpably alive.
The highlights of the third evening proved harder to parse, though the program's title, "Light Space Modulator," provides a handy enough descriptive analogue. Björn Kämmerer's
Navigator
worked with aspects of all three notions, with the director, who shot the film in a lighthouse, placing his camera in the center of cascading display of mirrors. The resulting effect lends a fluidity to the glass surfaces as they rotate through the frame, with missing pieces and other aesthetic defects breaking the otherwise perfect curvature of the formation. Also in the program were two new works by filmmakers responsible for a pair of highlights from last year's festival.
Palms
, a typically restless and unsettling work by Mary Helena Clark, starts as a fairly literal translation of its title, with infinitesimally edited images of hands placed against a white backdrop, before diving into a nocturnal space of vanishing headlights along a lonely highway, and from there to whip pans of an outdoor tennis court to the image of a rippling black cloth framed in the shape of a circle. On a single pass it's difficult to figure how each movement speaks to one another, but Clark's confidence in piecing together such seemingly disparate episodes is one of the things that makes her work so rewarding to reconsider. Much more linear is Calum Walter's new film,
Terrestrial
, which ups the anxiety of last year's car-crash reverie
Relief
, by literally moving from ground level in opposite directions, to the clouds above and, eventually, into the depths below. The opening images of blue-hued, three-dimensional digital landscape cartography lends a suitably ominous atmosphere which Walter proceeds to deconstruct through images of airport terminals, subway trains and people-moving platforms. The film concludes with security footage of a derailing train, confirming Walter's macabre interests even as he expands his narrative scope.
Previously thought lost, Philippe Garrel's
Actua 1
, another of the year's major restorations, opened the final night of shorts after premiering earlier this year at Cannes. Filmed in Paris amidst the turmoil of May 1968, the film is structured as a kind of conversation between a young man and a young woman, ruminating in voiceover on the nature of violence in politics, as on-the-ground footage from the riots and protests of the day unfold on screen. Almost a half-century on, Garrel's images retain a rare vitality and immediacy, making this less a time capsule than an all-too-relevant call to action. It's an invigorating way to begin a shorts program, but the pace slowed soon after with two undemonstrative yet highly personal works from Behrouz Rae and Ephraim Asili. Working in miniature, Rae, whose
Untitled
was actually the second of two one-minute films he presented in Wavelengths (the first,
The Reminder
, played in the second night's program), utilizes the very basics of representation—pictures and perspective—in an effort to elucidate intimate details of his background and biology. Rare are films of this length that so ably disclose so much of their creator. Meanwhile, with
Many Thousands Gone,
Asili confronts the African diaspora with images of young people performing and dancing and DJing in various Harlem and Brazilian locales as hand percussion and wheezing wind instruments soundtrack the activity. The combination of his subjects' movements, often slowed on screen, and the increasingly dissonant soundtrack works to produce an arhythmic aesthetic experience, measured but charged.
It was two very different films, however, that sent the evening out on a high note. First was
Neither God Nor Santa Maria
, an impressionistic work by Spanish filmmakers Samuel M. Delgado and Helena Girón, which utilizes expired 16mm film stock to create a distressed look for what amounts to a kind of mythological ethnography of Lazarote, a remote section of the Canary Islands. Built around the words of the ethnographer Luis Diego Cuscoy, the film's voiceover passages revolve around witchcraft and other strange historical occurrences in the region. Visually, Delgado and Girón are working in muted (almost pastel) tones and soft textures—occasionally the look is so faded that it can be difficult to make out what's on screen, with mountainous regions and female laborers appearing from within dense patches of fog and through the film's heavy grain and degradations. It's an evocative, tactile work, one of distinct cinematic and cultural design.
And finally there was the 35mm CinemaScope experiment
Engram of Returning
, by Japanese filmmaker Daïchi Saïto, the most purely visceral and thrilling audio-visual work of the entire festival. Essentially a series of aesthetic abstractions, Saïto's latest pits scintillating visuals—color dyed emulsions of what appear to be various unidentified topographies, which fade from pitch blacks to searing primaries in an approximation of what it must be like to doze off in the face of the sun—against an improvised piece of atonal free jazz composed by Jason Sharp, whose low tones and circular breathing techniques are similar to that of Colin Stetson (in fact, I initially assumed it was Stetson). It's unclear if Saïto means to impart any sort of larger narrative beyond what can be gleaned from the pure sensory overload of the piece, but it accomplishes the latter so powerfully that by the end a certain implicit drama has arisen from the din. The placement of the film at the end of not only the program, but of the entire Wavelengths shorts weekend, speaks further to the curatorial acumen of this annual event: Attempt to schedule
Engram of Returning
before another film and it would swallow anything in its wake. [
Fandor
]