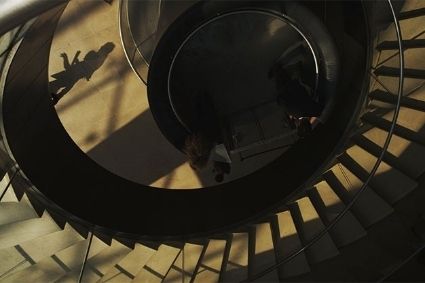 Visual artist Mark Lewis' first feature,
Invention
, is something of a quintessential Wavelengths selection. Considering the section's modus operandi, it's not surprising that every couple of years would bring with it a film indebted to the program's namesake work. A Canadian working in the realm of media art, Lewis has wisely made little attempt over the years to forsake allegiance to his most celebrated artistic compatriot, avant-garde figurehead Michael Snow. And while certainly a descendant of
Wavelength
(1967),
Invention
is perhaps of even more direct stylistic lineage with another of Snow's major works, namely
La Région Centrale
(1971). Like that landmark of structuralist cinema,
Invention
uses the cinematic frame to reshape the viewers perception of space, time and the environment through which the camera, as a physical object, tilts, twirls and travels in unencumbered motion.
Shot in various locations throughout Toronto and São Paolo (with a quick stop over at the Louvre in Paris), the film transpires like an elevated tour through the metropolitan sprawl of these far-flung locales. With methodical precision, Lewis' camera advances as an airborne apparatus, floating amidst the architecture of each cityscape while breathing in the expanse of the (un)natural surroundings. Proceeding largely in silence, the film itself seems to stand in awe of what's been captured, surveying the material world with an untethered freedom as it tracks the exterior features of glass-paned skyscrapers and stone-walled monuments, then examining the minute details of paintings and statues as we make our way indoors. With an omniscient sense of space, the camera twists and dives and pushes (with some computer-aided editing techniques) across these locations in an unhurried yet often thrilling manner, finding impossible angles and fashioning depth-defying spatial compositions reminiscent of Ernie Gehr's San Francisco city symphony
Side/Walk/Shuttle
(1991). Lewis is said to have pieced together this eighty-seven-minute feature from a number of short films, accounting—somewhat ironically—for its seemingly arbitrary structure, but at its best
Invention
proposes fresh ways of looking at a familiar world.
In fact, a number of selections from this year's Wavelengths features program offer insights from otherwise unassuming scenarios. Two of the simplest setups yield strong emotional returns in both Chantal Akerman's
No Home Movie
and Tsai Ming-liang's
Afternoon
, late works from established masters which use the act of reminiscence as a pledge for the future. Akerman's film, her first feature in a half-decade and a kind of retroactive companion piece to her cross-continental filial correspondence
News from Home
(1977), takes on the signifiers of a home video recording to delve deep into the recesses of memory. Filming her mother, an Auschwitz survivor, at home as she slowly approaches death, Akerman presents the film as a series of conversations between parent and offspring, which she gathers from everyday discussions that transpire both in person and over Skype. Mother and daughter fondly recall stories of their younger selves, discuss old friends and family, and even argue about matters both mundane and harrowing in a manner only those intimately familiar with one another are able. There's a ghostly atmosphere roaming the house, which is visualized by empty bedrooms, austere hallways, and half-glimpsed heirlooms, accompanied only by natural ambiance and the occasional, guttural cough from the elder Akerman. Interspersed with lengthy shots of the wind-blown Israeli desert, a gesture connecting history to hermitage,
No Home
Movie
is a powerfully personal portrait of unbreakable bonds.
Afternoon
is likewise centered around conversation; in fact, Tsai's latest digital missive is just that: a midday discussion between the great Taiwanese director and his long-time muse and surrogate lead actor, Lee Kang-sheng. Shot over the course of a day but pieced together as one single, serene long-take, the film finds Tsai and Lee sitting opposite each other in the dilapidated upper level of their remote mountainside home. For a filmmaker whose characters tend to speak very little, Tsai proves to be an eloquent, verbose, and emotional conversationalist, steering the discussion from the pair's working relationship to their sexualities to their philosophies on art and life, and how those twin forces brought them together. For his part, Lee is a figure of more stoic insight, listening and smoking and generally only speaking when asked a direct question. The small crew occasionally makes itself rather conspicuously known, acknowledging the director's inquiries and allowing the boom mic and other equipment to creep into the frame. Which is all to say that, being a Tsai film,
Afternoon
amounts to more than its modest construction might suggest. The camera's single angle, positioned slightly to the left of its subjects, encompasses two large, open-air windows which allow bright rays of sunshine and thick foliage to spill into the room, bringing the outside and inside worlds into direct communication, a kind of secondary conversation transpiring in harmony with the touching repartee of our featured players.
Along with Tsai and Akerman, Ukrainian director Sergei Loznitsa is one of the few veterans amongst this year's Wavelengths features class. Following last year's
Maïdan
, a mammoth observational document of the recent protests in Kiev, Loznitsa's latest nonfiction film,
The Event
, probes further into Soviet history through archival footage of a failed 1991 coup d'état in Moscow which nonetheless brought the communist party to its knees. In the manner of
Maïdan
and the majority of the director's documentary work,
The Event
is presented as a straightforward montage of on-the-ground footage (much of which was shot by documentary filmmakers of the time), with zero contextual information offered as to what is transpiring on screen. Instead, the viewer is left to glean particulars from within the melee itself, dropped directly into the protests with only handmade banners ("Fascism will not prevail!") and the occasional rallying cry ("Down with junta!") offered as narrative markers. The images and the cause they capture are stirring in energy and clarity of purpose, but Loznitsa's ever so slight aural additions (utilizing the main theme from
Swan Lake
to punctuate each movement) and disjunctions (offsetting sounds and voices across the mix) lend the film an elegiac air, subtly acknowledging the retroactive developments which saw such passionate acts give way to another, equally unfortunate era of oppression.
Elsewhere, the ever en vogue commingling of narrative and nonfiction elements takes on strange new dimensions in both Ben Rivers' new feature,
The Sky Trembles and the Earth is Afraid and the Two Eyes Are Not Brothers
, and Pietro Marcello's
Lost and Beautiful
. The former, the British-born Rivers' first solo feature since
Two Years At Sea
(2011), is a hybrid in every sense, mixing a making-of documentary premise with a psychedelic rite-of-passage narrative, its bipartite structure autonomous yet feverishly nested. Typically languorous, the film's first half documents an on-location shoot in the Moroccan desert, observing the preparations and production of a film by Spanish director Oliver Laxe. Following the cast and crew around the sun-bleached landscape, Rivers builds an ominous sense of anxiety via uncomfortably tense passages pairing heavy drone and metal sonics with his typically impressionistic 16mm imagery. Appearing to grow frustrated with the shoot, Laxe slowly separates from the production, embarking on what initially suggests a metaphysical journey but in actuality develops into an unsettling crisis of colonialism. This second section, inspired by Paul Bowles' short story "A Distant Episode" (also the title of Rivers' latest short, which I discussed in my
overview of the Wavelengths shorts
), features some of the most hallucinatory images and inscrutable episodes of the director's career. Textually dense, highly referential, and genuinely surreal,
The Sky Trembles…
is a film of both immediate pleasures and lingering power.
In contrast to Rivers' approach—which seems, even at its most obtuse, to follow a largely predetermined course—Italian director Pietro Marcello's new film
Lost and Beautiful
took shape in an organic manner, which informed the very constitution of its formal construction. In broad terms, Marcello works in the field of nonfiction, and is a noted practitioner of archival material and montage aesthetics.
Lost and Beautiful
features elements of both, but is otherwise highly unique amongst his work to date. What began as a small-scale documentary about an unassuming shepherd named Tommaso Cestrone, who once served as the caretaker of the grand Carditello palace in Campania, was reconstituted with fictive elements following Cestrone's unexpected death. From this interview footage, which appears in the film's opening section, emerged a shapeshifting narrative concerning the Commedia dell'arte character Pulcinella, tasked with rescuing Cestrone's beloved buffalo from the palace stables. Perspectives and modes of address shift throughout, but it's through the eyes (and words) of this ill-fated bull that we gain understanding of a country slowly crumbling under the weight of history and corruption alike. The tone of the film, fantastical yet becalmed, finds an aesthetic analogue in the expired 16mm celluloid on which it's shot, lending a soft, bucolic look to a work that functions at once as intimate portraiture and spiritual pastorale.
Perhaps the most exciting of this year's features, however, was a deceptively small work of digital detritus that, in its own highly idiosyncratic way, harbors an ambition equal (if not greater) to that of such elaborately mounted festival (and Wavelengths features) favorites as Miguel Gomes'
Arabian Nights
or Guy Maddin's
The Forbidden Room
. A hypermodern articulation of generational unrest and social sedition, Canadian wunderkind Isiah Medina's first full-length work,
88:88
, confronts provocative issues and ideologies with an aesthetic audacity which merges montage with the marginalia of the digital age. Comprising untold hours of footage shot on a variety of formats, the film resembles a diaristic collage of experiences and emotions, featuring fleeting glimpses of the director's friends and family, which he then spins through a poetic, self-reflexive prism of texts and testimonies. The rigorously cut-up and layered imagery, which resembles late-period Godard in its collisions of vivid color and natural light, is matched to a soundtrack pulsing with snatches of words and phrases and verses which fall in and out and across the mix in a dizzying reflection of media overload. The title refers to the numbers displayed on a reset digital clock when electricity is cut and then restored, a comment on poverty and social stratification which the filmmaker has seen destroy those close to him. Medina's radical admixture of the experimental and experiential has yielded a unique work, one unbound to tradition and with very few contemporaries. [
Fandor
]