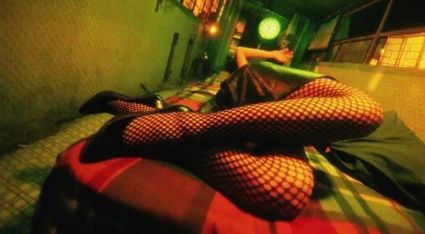 I wrote this review of Fallen Angels for Reverse Shot's An Infinite Cinema symposium, dedicated to the work of Chinese master Wong Kar-wai and running concurrent with a retrospective of his work at the Museum of Moving Image in New York City, July 12 - August 24, 2013.
Moonage Daydreams
They come out at night, those folkloric, bloodthirsty wraiths; but so too the vagrant mortals populating Wong Kar-wai's 1995 twilit tale of unrequited passion,
Fallen Angels
. These vanquished beings, these rebels of the neon god, may subsist in the witching hour, yet they yearn for the blessings afforded the social and urbane: the pleasure of a warm communion, the comfort of a mutual intimacy, the breadth of a lasting romance. Constrained by limitations both professional and physical, the five central characters comprising Wong's mirrored narrative proceed in cyclical patterns, as if caught in a chain of criminality and confusion. Our "heroes"—a hit man and his lovelorn partner; a mute, ethically dubious ex-con; a scorned lover; and a blonde femme fatale—such as they are, all seek escape, yet seem to reside in the shadows as a step toward the light would require a courage they have yet to fully muster. These tumultuous emotional coordinates, charted via Wong's achingly beautiful montage, render
Fallen Angels
the most existential of action flicks, a fluorescent fever dream of kinetic energies and inarticulate amour fou.