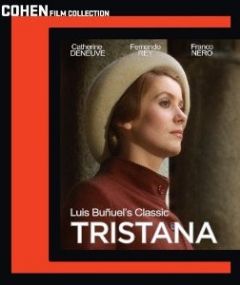 Director Luis Buñuel's first four films were made in three different countries. By the time he reached the peak of his international renown in the mid 1960s, he could rightly be considered the most cosmopolitan of art-house filmmakers. In fact, few directors embody the slightly indeterminate "world cinema" tag more than Buñuel. It's ironic, then, that this iconoclast of Spanish cinema produced only three films in his native country. All three of these disparate projects, however, would prove important. The first,
Land Without Bread
, evidenced Buñuel's initial move away from surrealism toward a more realist-based approach; the second, the landmark
Viridiana
, brought the director once and for all to the forefront of the international cinema circuit, a position he would only relinquish upon his death in 1983. But Buñuel made one last momentous return to Spain in 1970 with
Tristana
, a multi-national production starring a French ingénue and a veteran of Spanish theater and television.