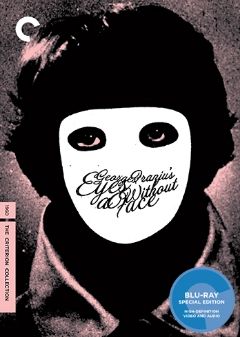 Considering the popular perception of the French as culturally high-minded and intellectual, it's not surprising that the country's film industry has produced comparably few horror movies. Such an elemental genre, it stands to reason, simply held little intrigue for filmmakers working in the wake of such artistic luminaries as, say, Jean Renoir, Robert Bresson, Jacques Tati, and Jean Grémillon. And yet the handful of examples that survive, particularly from France's fertile mid-century period (Henri-Georges Clouzot's
Diabolique
, certainly, and, despite its fantastical elements, Jean Cocteau's
Beauty and the Beast
as well) are indelible entries in the canon. Perhaps the most singular work to emerge during the era was Cinémathèque Française co-founder Georges Franju's
Eyes Without a Face
, from 1960, a work of a wizened cinephile playfully exploiting the genre's most primal strategies while employing outlying techniques familiar to fans of American film noir and the then-burgeoning nouvelle vague.
Appropriately, what Franju and co-screenwriters Pierre Boileau, Thomas Narcejac, and Claude Sautet (the former two equally well versed in thriller archetypes, having penned the source material for
Diabolique
as well as
Vertigo
) spun from Jean Redon's pulp novel was something several times more unique and unsettling than what had come before in French genre cinema. In summary, a seemingly simple and possibly even heartfelt tale of a doctor attempting to rehabilitate his daughter after an unfortunate accident, the film in actuality reveals itself as something far more sinister. Doctor Génessier (Pierre Brasseur) is what one would more accurately describe as a mad scientist seeking to reconstruct the maimed visage of his daughter, Christiane (Édith Scob), after an auto accident has left her permanently disfigured—and an accident Génessier is responsible for at that. Even the doctor's perceived attempts to atone for his actions are soon reveled to be self-serving rather than genuine.
Despite its intriguing concept, however,
Eyes Without a Face
is less about story or plot mechanics and more about the atmosphere Franju is able to conjure with but a few aesthetic tools at his disposal. Effective horror filmmaking is, in a sense, evidence of the optimization of a limited palette, but even still, the aura that Franju realizes from little besides a blank white mask, some deep shadows, and the sterile surface space of Génessier's operating chamber is impressive. And it's in that lair where much of the film's lore is still held. A centerpiece surgical sequence wherein Génessier rather realistically removes the flesh off a kidnapped girl's face in order to graft the skin from victim to patient incited both nausea and censorship battles. But it's in Franju's patient setup and quietly devastating denouement where the accumulated power of
Eyes Without a Face
is most deeply felt. The film's narrative is pregnant with unease, and Franju's austere compositional sense grips even as it unsettles.
As is often the case with genre films, the stature of
Eyes Without a Face
has grown as the years have passed—as has the standing of both Franju and Scob. Despite a number of noteworthy films, including
Thérèse Desqueyroux
and the supremely underrated
Judex
, Franju never quite parlayed the notoriety that such a controversial breakthrough might suggest, while Scob was left to mostly collaborate on future Franju projects before being effectively rediscovered by such acolyte auteurs as Raúl Ruiz, Pedro Costa, and Leos Carax later in life.
Eyes Without a Face's
reputation is thus somewhat appropriate, as not only did its innovations and idiosyncrasies have an effect on all involved, but so, too, in its influence on contemporary genre filmmaking, continuing as it does to represent a pivot point between classic and modern horror idioms. Génessier may have tried to harness nature's course via mortal means, but as we see on a daily basis, history will forever write itself.
Image/Sound:
Criterion's 1080p restoration of their 2004 standard-definition release of
Eyes Without a Face
is, like a majority of their Blu-ray upgrades, a notable advancement. The picture quality is so clean, in fact, that it almost prompts curiosity regarding digital noise reduction. There's enough grain present, however, to ameliorate these concerns, as the presentation runs smoothly throughout, with a satisfying amount of detail and even some depth to admire. It looks extremely impressive for a film now over 50 years old. Audio, meanwhile, is authentically preserved in a remastered monaural mix. The sound design of the film is subtle but important to the viewing experience, and the soundtrack appropriately handles both the intricate effects and Maurice Jarre's anachronistic yet evocative score.
Extras:
Like the original DVD, supplements on the new Blu-ray are slim but mostly worthwhile. Along with the brief, previously included archival interviews with Georges Franju, Pierre Boileau, and Thomas Narcejac, and the restored presentation of the director's 22-minute short film from 1949,
Blood of the Beasts
, Criterion have added a nice, newly recorded interview segment with Édith Scob, who talks about her experience working on the film and her subsequent projects with Franju. Finally, appended to the package is a booklet with essays by novelist Patrick McGrath and film historian David Kalat, familiar to those who may have purchased Criterion's initial release
Overall:
Perhaps the most singular genre work to emerge during France's fertile mid-century period, Georges Franju's 1960 classic continues to represent a pivot point between classic and modern horror idioms. [
Slant
]