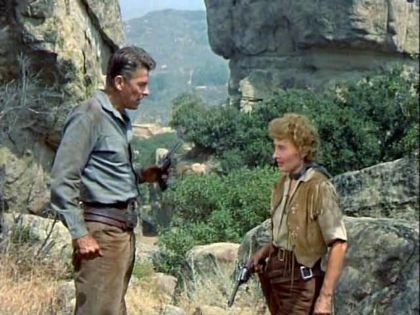 In his recent Keyframe essay, "Life in Love: Films by Allan Dwan," Aaron Cutler expands upon an observation made by Dave Kehr in Lumière's vital new online dossier dedicated to the journeyman director, reiterating the importance Dwan ascribed to each movement of the camera. "Dwan's camera movements never exist to call attention to themselves, but always serve to keep the story going. The characters are in flight, and the film does its best to keep up with them," Cutler prudently acknowledges of Dwan's 1917 silent,
A Modern Musketeer
. Throughout his fifty-year career, Dwan would continually outline and employ such formal and narrative strategies, though it's a methodology oftentimes taken for granted, even unacknowledged, in today's mainstream film-going marketplace, let alone amidst the studio-dependent, assembly-line mode of bygone, classical Hollywood.
Yet there it is in the heroic mountaineering of
A Modern Musketeer
(and no doubt earlier, as prior to
Musketeer
Dwan made no less than thirty films, many of which are lost or near-impossible to see today), all the way through to the night-flight revenge saga of
Passion
(1954) and the dust-dappled terrain of his small-town conspiracy western,
Silver Lode
(1954). Part of the fun—and I do think it's worth pointing out just how fun these pictures are—is keeping pace not only with Dwan's breakneck work rate but also his equally single-minded protagonists, most of whom are in search of love, freedom, or justice, though usually some combination of all three.
Cattle Queen of Montana
, the third of a trio of aforementioned Dwan films released in 1954, follows one of the directors' most determined protagonists as she, the 'Cattle Queen' of the film's title, attempts to avenge the murder of her father and reclaim land and cattle lost in a raid, both at the hands of local Blackfoot Indians. Dwan introduces Sierra Nevada Jones (Barbara Stanwyck) in media res, as she leads a trio of entrepreneurs north from their homes in Texas into the expansive, alternately pastoral and bone-dry vistas of Buffalo Valley. Soon the dramatic coordinates are mapped: In the wake of the deadly ambush, Sierra is taken in by Colorados (Lance Fuller, the whitest white man to ever play an Indian) and a renegade troupe of Blackfoots, who offer to help avenge the crime and forge a kind of peace treaty between the cultures. Dwan, ever conscientious, plays passion and politics alongside one another, creating a unique momentum as characters insert themselves into spaces—both of the narrative/locational and cinematic/compositional variety—they are otherwise unwelcome.
Appropriately, we catch up with Sierra at the same juncture as most of the film's major characters. Once informed of the perpetrators' identities—turns out a ruthless gang leader named Tom McCord (Gene Evans) is none too happy with Sierra's encroachment on his land and has taken proprietary matters into his own hands—she rides hurriedly into town to confront the local land commissioner, providing a moment of both narrative reconciliation and visual replenishment. Atop a trio of trotting steeds, Sierra, her partner, and her newly acquainted Indian accomplice attract attention as they arrive in town. An unknown woman, of obvious anger and intent, leads a charge between storefront and saloon, swiftly bisecting the surroundings and aligning herself on the wrong side of an unwritten divide between local and outsider, kowtower and rebel. For a moment she appears, to townsfolk and authority alike, as a threat equal to that of McCord and his men, who seem to monopolize the livestock and territorial trade in the area without much fuss.
A great deal of information is conveyed in these few short minutes, including our first hints that Farrell (Ronald Reagan), one of McCord's right-hand men, may have ulterior motives. Compare it to a similarly expository scene in Orson Welles'
The Magnificent Ambersons
, wherein George (Tim Holt) and Lucy (Anne Baxter) gallop through town on a horse-drawn carriage and which Welles captures in one unbroken shot, and Dwan's sequence may appear less fluid, more of an accomplishment in editing (the Welles comparison isn't simply a matter of recognition: Van Nest Polglase worked as Art Director on
Citizen Kane
and with Dwan on multiple films, including
Cattle Queen
, and both set pieces receive considerable attention). But Dwan handles the sequence so expertly, in an alternation of tracking shots and medium shots of gossiping bystanders and, later, closely packed interior compositions pivoting off the movements of Sierra as she navigates the commissioner's office, that the plot doesn't so much thicken as protract outward, wrapping up the first act while deftly setting in motion the remaining events of the narrative. And from there we're again trailing Sierra across Big Sky Country, once and for all complicit in her tenacity—and grateful for Dwan's. [
Fandor
]