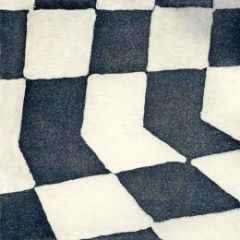 There comes a time in the evolution of any worthwhile guitar-pop group when a conscious decision is made to abandon the charmingly lax approach to songwriting and recording that most young bands adopt and instead develop a unique, concrete artistic personality. It's what many critics refer to as an artist's "voice," and on evidence of
The Flower Lane
, Matt Mondanile has finally found his. As frontman for New Jersey janglers Ducktails, Mondanile has spent roughly a half-decade wafting through hazy, heavy-lidded, narcoticized pop, only singular in as much as he recorded and played most of it on his own between time with other gigs. In both sound and ambition, the music of Ducktails has, up to now, felt of a piece with that of Mondanile's full-time band, Real Estate, to which his subtle guitar playing has lent such an indelible grace over the years. But with
The Flower Lane
, Mondanile and Ducktails have fully come into their own—and in the context of such a detached, seemingly apathetic scene it's one of the more welcome surprises in a while.
If this creative (no pun intended) flowering sounds similar to the leap achieved by Real Estate and their breakthrough record
Days
(2011), well, the comparison, at least from a progressive standpoint, isn't far off the mark. But whereas
Days
streamlined the Real Estate sound into something approaching liquid pop—not an ounce of fat or misplaced note—then
The Flower Lane
is like its more playful, cosmopolitan cousin. Surely some of the credit is due to Mondanile's more democratic approach to recording. Enlisting the talents of fellow New Jersey power-pop weirdos Big Troubles as his full-time backing band, Mondanile has effectively refined and expanded upon his once-modest sound, producing an effortlessly broad outline of contemporary nostalgi-pop with enough natural charisma to once and for all announce Ducktails as its own concern apart from their artistic genealogy.
Setting the enterprising tone is opener "Ivy Covered House," which segues seamlessly not from prior outing
Ducktails III: Arcade Dynamics
(2011), but from
Days
itself, rippling forth with Mondanile's instantly recognizable and soothing guitar tone, building a see-saw rhythm alongside a hypnotizing melody that sits weightless amid the band's breezy sway. The title track follows in much the same fashion, refining the melodic focus Mondanile has only intermittently courted in the past before inevitably leaning on instrumental effects or atmospheric genre signifiers. Instead here we get "Under Cover," six minutes of the most shamelessly fantastic (sax solo!) and infectious songwriting Mondanile has ever attempted. Atop a cascading synth line and the band's dexterous, near-danceable rhythm, Mondanile maps out what for these guys must be the platonic ideal of '80s dance-pop: buoyant, wide-eyed, mellifluous, and above all else, earnest.
The remainder of
The Flower Lane
continues in this sprightly vein: "Planet Phrom" is a cover of a lo-fi 1989 Peter Gutteridge tune, scraping away the hiss and indecipherability of the original to highlight the surrealistic bent of the lyrics ("I'll pass the stars that shine / Making love with my alien wife," goes the chorus); "Sedan Magic" recruits Madeline Follin of Cults to handle an unexpectedly soulful chorus, contrasting nicely with Mondanile's laconic, uninflected verses; and "Letter of Intent," another male-female duet and an apt analogy for the record itself, layers echoing keys over hollow drums and phased guitars while Jessa Farkas calmly intones the verses and Mondanile seduces suavely on the chorus, bringing to mind the Sea and Cake's Sam Prekop. But what's especially satisfying about
The Flower Lane
is that none of these new flourishes or guest spots or genre experiments come off as insincere or passive. Every song, for better or worse, is constructed with its own identity in mind, and if nothing else, Mondanile commits to each and every one of these attempts at distinction. It's not a perfect record (quite a few beats off from being a great one even), but it's undoubtedly promising, particularly for a band that could have easily continued to cruise in the slow lane as opposed to the florid, aromatic open road they've chosen. [
CMG
]