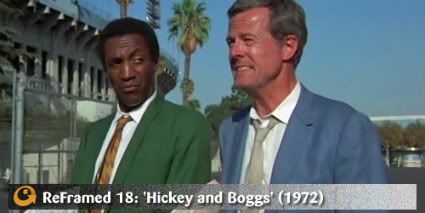 This time out, our discerning duo take on one of the last great LA noirs, directed by one of the '60s/'70s most recognizable TV stars.

Calum Marsh
: Whether you want to call it the last great contemporary film noir or the first great buddy action film, Robert Culp's
Hickey & Boggs
deserves far more recognition than the paltry sum it's accumulated over the last forty years. It should come as no real surprise that the cultural high guard has ignored a film of this kind altogether—unless they come conveniently prepackaged with
Point Blank
-style arthouse frills, action flicks rarely find their way into the canon—but I'm genuinely surprised that a movie as fun and exciting as this hasn't found at least some sort of niche audience to embrace it after all these years.
You'd think
Hickey & Boggs
would be an easy sell on pedigree alone: though clearly the passion project of director and co-star Robert Culp, the film has the distinction of being the very first screenplay written by Walter Hill, who went on to create
The Warriors
and, most famously, the
Alien
series. And it co-stars Bill Cosby, which should be reason enough to make this thing more widely known. As it stands, it languishes in seemingly permanent obscurity, going largely unseen and totally undiscussed. Honestly, why isn't this thing a cult classic?