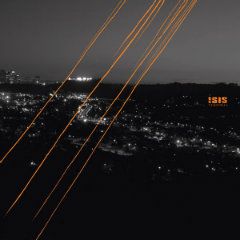 With the benefit of hindsight it's become easier to parse the Isis catalog for incremental structural shifts, gradual thematic developments and calculated stylistic advancement. The Los Angeles-via-Boston quintet may have been one of the pioneering acts behind what came to be known as post-metal, but over their 13 year career they would touch on everything from sludge to shoegaze to ambient, often times forgoing the inherent loud-quiet-loud dynamic implied by their genre affiliation by simply melding all these disparate strands together into one slowly cresting tide of rapturous guitar texture. Few modern bands have been this simultaneously imposing yet unequivocally luminous, a dichotomy the band put their strength behind as they spent years folding one atop the other. Theirs is a seamless conflation of influence and originality: Isis sound like many bands, but few bands continue to sound like Isis, a fact which
Temporal
, their new 2xCD/DVD rarities compilation, bears witness to across a series of demos, remixes, covers, videos and unreleased rehearsal tracks.
Having only officially called it quits a couple of years ago, it may seem somewhat premature (or, worse yet, redundant) to be memorializing a band like Isis, whose every record, in a sense, felt like a monument. After all, they only released a handful of full-lengths during their lifespan, and like any band self-aware enough to consider things such as quality control, relegated their experiments and one-offs to small-run and fringe releases while paring their albums down to the essentials. And, appropriately, that's where most of the interesting tracks on
Temporal
originate. Which isn't to say Disc 2, made up mostly of said remixes and covers, is superior to what's on offer on Disc 1, five of its six tracks being simply demos versions of well known album tracks–for fans, there's little reason to balk at the chance to hear "Ghost Key" in early instrumental form, as it goes some way toward accentuating the band's often overlooked instrumental dexterity across what may be their most structurally sophisticated track. It's just that for a band as singularly focused as Isis, demos can inevitably only register as curiosities when their album counterparts are still casting significant shadows across the experimental metal scene.
"Ghost Key" was one of the highlights of
Wavering Radiant
, the band's resplendent final album, and along with "Threshold of Transformation" it kicks off this set with two densely layered, enveloping footnotes to the closing chapters of the book of Isis. From there the demos move in reverse chronological order, charting the subtle growth of the band from sprawling metal merchants to shimmering post-shoegaze prophets. Save for the excised vocals on the aforementioned "Ghost Key," most of these demos are fairly similar to their final versions. Aaron Harris's drums lose a bit of their thundering lurch in unaffected form, ringing out sharper and with less finesse than what one may be used to hearing from him. Frontman Aaron Turner's vocals, meanwhile, aren't as pronounced and are often times buried in the un-mastered mixes, directing more focus to he and Michael Gallagher's guitars, which, despite their raw renditions, still pack a wallop at high volumes. The band always had impeccable, loyal taste in producers–either Matt Bayles or Joe Barresi manned the boards on all their full-lengths–and
Temporal
unexpectedly attests to their importance to the band's sound. Disc 1 ends with the epic "Grey Divide" (recorded in 2001, just as the band was about to hit their peak with the following year's landmark
Oceanic
), one of only two completely new, unreleased tracks offered here, and at 17-minutes encompasses just about everything this band did well, from patiently mounting harmonic interplay to lurching power chords to churning cacophony to exhaling decrescendos. For the band it was perhaps just a lengthy demo that didn't quite fit onto any one album, but for Temporal it is both anchor and justification for seeking out this set.
Disc 2 is inevitably more inconsistent but ultimately holds a few more surprises. The band's cover of Godflesh's "Streetcleaner" is reverent but powerful, pointing toward a key inspiration while highlighting how subtle they were in comparison to some of their forebears. Same goes for their take on Black Sabbath's "Hand of Doom," though I didn't need confirmation of Ozzy and company's influence to predict that blues-derived soloing and wailing lyrics about heroin wouldn't exactly be this band's forte. The two remixes are of equally varying quality: the Melvins' take on "Not in Rivers, But in Drops" hollows out a bit of the original's density and adds some metallic clanging but ultimately stunts the momentum of the initial composition, while Thomas Dimuzio retrofits "Holy Tears" in bracing fashion, buttressing the original's already robust gait with searing, channel-swarming digital noise. Taken together, however, they add some retroactive goodwill to
In the Absence of Truth
, the band's least heralded release (the original versions of these tracks also account for two of the DVD's five music videos).
What's particularly functional about this set, though, is the inclusion of the final two officially released Isis recordings, "Way Through Woven Branches" and "Pliable Foe", both from a 2010 split with the Melvins. The former mounts methodically, alternately glistening and muscular, while the latter gives nary an inch, Turner's vivid lyrics–"Carried down yet another ghostly road/ Of a life already lived and faded/ Passing yet another broken man/ His life in burning iron ruins"–ringing out crystal clear across the track's treacherous divide. It's arguably a more appropriate closer than what we're ultimately given, a soft lob acoustic rendition of "20 Minutes/40 Years". The power of Isis always resided in their ability to contrast the light and the dark, the heavy and the hypnotic, but when stripped of that dynamic their sound feels understandably less urgent and more commonplace than they would ever let on, at least on record. Despite its airtight construction, the music of Isis yields different feelings and stokes different emotions the more you examine it and the longer you live with it. If nothing else,
Temporal
proves that this music should age better than we might have expected, adapting and evolving with every passing year. [
SC
]