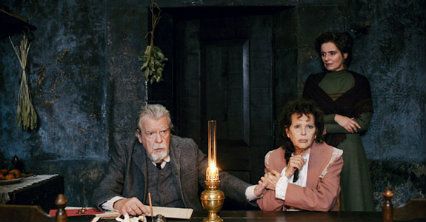 Work is often credited with keeping man alive. It's a cliché of sorts, but in the case of 103-year-old Portuguese master Manoel de Oliveira, his allusions to the theory over the years have been quite telling indeed. Since turning 80 at the end of 1989, he's averaged at least one film per year, and aside from a brief stay in the hospital earlier this year, he shows no signs of slowing down. Oliveira is his work, and vice versa; one can hardly imagine one without the other. And it's with great comfort that
Gebo and the Shadow
arrives just in time for the end of the festival season. An autumnal work from an ageless wonder, the film is a lovely, intimate riff on familiar themes and Oliveirian aesthetics.
With prolificity comes inconsistency, but Oliveira has mostly sidestepped the perils of the productive by falling into a satisfying pattern of major and minor works. And I don't mean that in qualitative terms; after all, some of his strongest works over the last decade have been small scale (
I'm Going Home
,
Eccentricities of a Blonde-Haired Girl
). Rather, Oliveira seems to compartmentalize ideas and ascribe techniques based on scope. To that end,
Gebo and the Shadow
is a decidedly minor work, though a rich and moving experience nonetheless. Coming off the modest memorial of
Eccentricities
and the nostalgic fantasia of the grand
The Strange Case of Angelica
,
Gebo and the Shadow
plays initially like further reconciliation on the part of Oliveira. But a closer look reveals a continuum:
Gebo and the Shadow
is a film concerned with past glories and transgressions and how we work toward (or in some cases resist) forgiveness—a death and resurrection of a different sort.
Based on a play by Raul Brandão,
Gebo and Shadow
embraces it stage origins in a manner similar to prior Oliveira adaptations and chamber pieces such as
The Cannibals
,
Mon Cas
, and
Party
. Essentially it's a filmed version of the play, though Oliveira justifies the realization through a typically rigorous formalism and carefully modulated mise-en-scène. The narrative is fairly simple, revolving around a dysfunctional family whose individual ideologies have splintered their relationship. Estranged from his parents for an untold length of time, João (Ricardo Trêpa) returns to his wife, Sofia (Leonor Silveira), and his family home, proceeding to disrupt what was already a tense air of anticipation for the young man's long-awaited reemergence.
The opening sequences consist of verbal volleys between Sofia and João's parents, Gebo and Doroteia (Michael Lonsdale and Claudia Cardinale), all of whom keep information concealed regarding their wandering husband and son. Gebo is simultaneously the most blunt and the most enigmatic of the three, consistently keeping his wife in the dark with regard to his knowledge of João's location and his intentions ("I'd rather die than tell her the truth," he states at one point). Doroteia is thus rendered ignorant to the particulars of the situation, wishing for nothing else but reconciliation of the household. Sofia, meanwhile, is a quivering ball of emotion, taking the brunt of the verbal punishment as she's left the scapegoat for João's decisions. Upon his return, old wounds are reopened as João reiterates his disdain for his parents' life of resignation and reveals the ideological intent behind his actions. Later, a brash decision by João leaves the family in an even greater state of disarray than before, while Gebo goes to curiously great lengths to protect the image of his offspring.
Oliveira shoots the film with a modicum of setups and with little, if any, camera movement. He consistently displays a master's eye for composition and framing, turning individual shots into richly choreographed verbal sparring matches. It's enough to keep the film interesting both visually and narratively, particularly as he frames characters in doorways and through windows, reflecting various states of emotional and psychological unrest. Renato Berta's cinematography is rich in detail and, as guided by Oliveira's hand, a showcase for subtle, intriguing rhythms. There's everything and nothing happening with the frame at any given moment, as a series of misdirected eye lines and careful gestures send ripples across these coordinates. Even at his most seemingly minimalist, Oliveira adds flavor to his compositions which, when taken as whole, feel surprisingly malleable despite the static structure. "Happiness is nothing ever happening," Gebo announces early in the film. It's a philosophy that Oliveira, based on his work ethic, has little use for, life being too short and his creative process too rewarding to ever consider any other approach. [
Slant
]