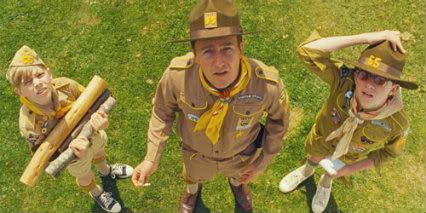 Opening the festival with Moonrise Kingdom, beloved indie icon Wes Anderson's first live action film in five years, only buoyed the camaraderie felt by Cannes attendees.
I'd imagine the trip to Cannes isn't the most convenient trek for even the most knowledgeable resident of its parent country's closest surrounding cities. More or less isolated along the coast of the French Riviera, the port city of Cannes transforms once a year from simply one of the more beautiful of coastal locales into a melting pot of industry and journalistic humanity gathered in the name of international cinema's most prestigious film festival, which just so happens to take place along one of Europe's most sun-kissed beach communities. With the closest airport located well enough outside it's hill-shrouded borders, Cannes is limited to vehicular and nautical access, its narrow streets overflowing with scooters, buses, taxi cabs, and, during these two weeks in particular, thousands upon thousands of tourists and film fans.
Coming from Los Angeles made this little sojourn especially interesting, taking me from my West Coast home to Washington D.C.; from there to Geneva, Switzerland; from the land of the Swiss Alps to Nice, France; and from there, finally, to the city of Cannes, via bus. I couldn't have slept much more than 60 minutes in the 36 straight hours that took me from Los Angeles on through to the eve of the festival proper, turning a case of jet lag into a fourth wind-summoning marathon of press lines, apartment hunting, and phone reception bereft attempts at corralling members of our extended critical community for an evening gathering upon arrival. That this all went down without much of a setback is rather miraculous, turning a place of good vibes and incredible weather into a somehow even more agreeable haven for like-minded cinema enthusiasts.
Opening the festival with
Moonrise Kingdom
, beloved indie icon Wes Anderson's first live action film in five years, only buoyed the camaraderie. After a few years of more populist-leaning fare—
Up
,
Robin Hood
, and
Midnight in Paris
make for a, let's just say, wide-ranging succession of festival bows—this move toward decidedly more niche terrain stoked curiosity for a film that, based on pre-release materials alone, could be seen as wheelhouse Wes Anderson. That the results are both widely welcoming
and
wheelhouse Wes Anderson is a nice coup for the fest, as fans of American indie's most twee director will likely savor the results, which are quite charming, while those resistant to some of Anderson's more arch tendencies will be met with a series of some of his more sensitive, gentler gestures.
Perhaps sensing exhaustion in a style he all but invented and perfected, Anderson made a decisive aesthetic swerve into stop-motion animation with 2009's
Fantastic Mr. Fox
, which, wouldn't you know it, turned out a typical Wes Anderson film in every aspect
but
genre affiliation. Still, it was a breath of fresh air after nearly a decade of vacuum sealed, heightened-reality stylistic refinement. But expecting major change from Anderson at this point is roughly equivalent to expecting McDonalds to vary in taste from country to country. His films, no matter the medium, are now a known quantity going in—you either accept, and in some cases perhaps cherish, them for what they are, or otherwise ignore the dependable presentation. Part of the satisfaction from watching Anderson's work is the expansive world he has created and thus far populated with unique, seemingly interrelated characters.
Moonrise Kingdom
manages to continue the trend while working in new wrinkles, some blatant and not quite as successful as in the past, and some more subtly and susceptible to oversight.
An admittedly slighter, less thematically heavy film than some of Anderson's best work—mainly
Rushmore
,
The Royal Tenenbaums
, and
The Darjeeling Limited
—
Moonrise Kingdom
instead opts for the simple, relatable pleasures of love at first blush and adolescent over-determination. Set along the coast of New England in 1965 (
Moonrise
represents Anderson's first "period piece", though his contemporary characters tend to be so old fashioned in sensibility that one can hardly tell), the film documents, in typical Andersonian storybook style, the first throes of amour between 12-year-olds Sam and Suzy (Kara Hayward and Jared Gilman, respectively, both making their film debuts), young rebels with no friends to speak of but who together find an intense connection through letter writing (period piece!) before deciding to run away together, he from his foster parents and boy scout troop and she from her family of three brothers and eccentric parents.
Anderson cleverly reveals the extent of the youngsters' relationship as he intercuts their background with ad-hoc search party sequences comprised of the blindly violent Khaki Scouts, their Scout Master Ward (played a little self-consciously by Edward Norton, though the character is constantly trying to prove himself, turning the performance into an interesting meta exercise of sorts), and the local law authority, Captain Sharp (played with surprising deft and comic timing by Bruce Willis). This tact lends the film's first half a swift momentum that is accentuated by Anderson's patented panoramic scroll shots and hyper-detailed production flourishes, offsetting the deadpan dialogue ("Was he a good dog?," Suzy asks, only to have Sam reply, "Who's to say, but he didn't deserve to die.") in a way that his best sequences often do. Anderson stated in a recent interview that
Moonrise Kingdom
is the first film in which he set out to conjure a specific mood—specifically, the rush of first love—and in the sequences dedicated to the budding romance between Sam and Suzy, he finds an extension in his thematic reach, key to keeping his airtight pictures from growing monotonous.
Anderson also tries out some new actors here, adding to his normal stable of Bill Murray, Jason Schwartzman, and Bob Balaban. In addition to the aforementioned Norton and Willis, Frances McDormand, Tilda Swinton, and Harvey Keitel all make appearances, and while the two ladies equip themselves nicely enough, Keitel can't help but feel somewhat out of place. But it's a gamble that pays off with Willis and for the most part with Norton as well; ultimately, it's just nice to see Anderson continuing to implement new faces into his stock catalogue personas. His stock screenwriting practice of climaxing his films with miniature action set pieces, however, reaches a bit of a tiring nadir here. The characters of Suzy and Sam, and by extension the two fresh-face actors embodying them, are so charming and clever that it's a shame he and co-writer Roman Coppola ever feel the need to leave them. But these are minor quibbles in an otherwise pleasing, effortless film. Swift, smart, and satisfying, it's exactly the kind of movie that should kick-off a major film festival. [
PM
]