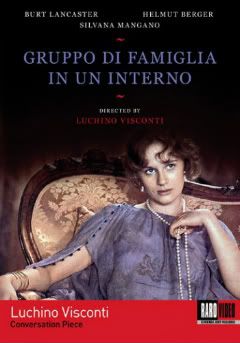 The year is 1972. Master Italian filmmaker Luchino Visconti is struck down by a stroke, rendering him, one would think, unable to continue making films—and this just two years after hitting a late-career high point with
Death in Venice
. But like many artists kept alive by their muse, Visconti heroically persevered, managing to complete two more films before finally succumbing to a heart attack in 1976. Adaptability being a key ingredient to any sort of artistic longevity, Visconti took his ailments not as hindrance, but as a challenge toward the realization of a new project. Taken by a story written by past collaborator Enrico Medioli and intrigued by the cinematic restrictions afforded such an intimate character study, Visconti—now very limited in his physical movements and activity—saw both personal and logistical promise in this tale of aging, nostalgia, and generational divide, which was entitled
Conversation Piece
after an illustrated novel of family portraits of the same name by Mario Praz. And the finished product, which indeed found Visconti working on just a few sets and stages and with only a handful of actors and longtime collaborators, while lacking the grandeur of such celebrated works as
Senso
and
The Leopard
, ultimately found inspiration in its limitations, and to this day stands as one of Visconti's most personal, if necessarily least dynamic, works.
The perceived inability for an aging man to connect to a younger generation or even simply the outside world is a conceit that Visconti denied as reflective of his own situation at the time, yet Burt Lancaster—wisely playing his character of "The Professor" in direct correlation with the man he'd come to know so well over the prior decade—quickly identified the familiar traits that Visconti, Medioli, and co-screenwriter Suso Cecchi d'Amico imbued in this character. Resistant to change, the Professor has it instead foist on him when a divorced, hedonistic noblewoman rents the upper room of his old-style Italian duplex, her and her entourage—which includes her new lover, daughter, and her daughter's boyfriend—upending the old man's routine and convictions with their decadent displays of consumerism and sexuality.
Death looms large over
Conversation Piece
. And not just Visconti's, but also, not coincidentally, the Professor's; small glimmers of past lives (his wife, played by Claudia Cardinale, and his mother, by Dominque Sanda, both feature in brief flashbacks) and extracurricular interests (homosexuality is hinted at obliquely via a small hidden room where the Professor allows the
marchesa's
young lover to spend the evening with him) are purposefully thwarted by his prized art collection which seemingly works as a salve against his discontent. The final scene brings with it a glimpse of realization on behalf of the Professor, one which Visconti himself may very well have never achieved. But
Conversation Piece
, as a "last will and testament" (as many have come to identify it), feels both like a stylistic and thematic reconciliation on the filmmaker's behalf, and as such a work of important insight into one of the cinema's great anomalies.
Image/Sound
:
Conversation Piece
finally makes its Region 1 debut in both DVD and Blu-ray editions via Raro Video. The Blu-ray transfer is quite clean, though in typical mid-'70s fashion, slightly blurry as objects pile up in the frame and only reasonably tight, presented for the first time in North America in its original aspect ratio of 2.35:1 and in full 1080p. Colors aren't quite as lush as Luchino Visconti's more melodramatic productions, and this was surely the objective for this more inward-looking, contrasted narrative. Even still, Visconti's eye for detail manages to pop attractively on the new Blu-ray, the various paintings and production design flourishes—leaning toward light browns, dark reds, and in a few sequences in the upstairs apartment, DayGlo '70s primaries—given a gracious update here, lending cinematographer Pasqualino De Santis's careful lensing a respectful dimension. This isn't a dramatic overhaul or compromise (there's still a bit of grain present), mostly representing the original print in a truthful manner—meaning there's probably only so much you could get out the original elements.
Sound, meanwhile, takes a worthwhile jump with a clear, authentic DTS-HD MA 2.0 mono track. As one might expect, there's little in the way of action in this Visconti film, but the dialogue (and there's a lot it) comes across crisply, without any undue background noise or obstructions in the mix. Significantly, both the default Italian dub and the original English language track are presented. A majority of the actors, including Burt Lancaster, recited their dialogue in English, so it's nice to not have to work through a shoddy dub, as cinephiles are probably otherwise accustomed to with many Italian films from the period. English subtitles are also offered.
Extras
:
Extras are slight but mostly satisfying. Unfortunately, the only digital piece provided (aside from the original trailer) is a 10-minute interview with critic Alessandro Bencivenni, who outlines the film's production history while briefly digging into some of the themes that Visconti carried over into the final phase of his career. A handsomely illustrated booklet is included, however, with an essay further illuminating some of the narrative intricacies and techniques which Visconti employed on the film. There's a slight discrepancy between the Blu-ray case and the booklet, though, the former advertising Mark Reynolds as the author of the piece, while the latter lists Mark Rappaport. While I'd love to believe that the director of
From the Journals of Jean Seberg
penned a piece on late-period Visconti for this release, I'm guessing the critic Mark Reynolds is the true author. In any case, it's a worthwhile read.
[Note: Per Director Mark Rappaport himself, he did indeed contribute liner notes to this release.]
Overall
:
Luchino Visconti's penultimate work makes its Region 1 digital debut, finally restoring the film's original aspect ratio via an authentic, uncompromised transfer. A couple of informative extras elevate the package to satisfying heights for fans of the great Italian master. [
Slant
]