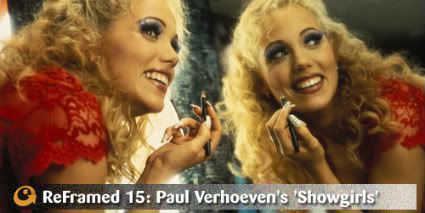 This week, the ReFramed crew attempts to redeem Paul Verhoeven's universally misunderstood cult classic, Showgirls.

Jordan Cronk
: Well, Calum, this was inevitable. But you know what? I can't think of a more appropriate title to feature in the pages of
ReFramed
than Paul Verhoeven and Joe Eszterhas's subversive 1995 cult classic
Showgirls
. In many ways this film embodies exactly what we're trying to accomplish with this column, and that's to encourage reexaminations of misunderstood and unfairly neglected cinema. And in that sense,
Showgirls
is the quintessential misunderstood film of our time.
Let's begin with a bit of contextual information, though, as it is all but mandatory when discussing this great piece of earnest, satirical filmmaking. Dutch director Paul Verhoeven has had a storied and unique career in the Hollywood these past 25 years, but it's important to note the series of early films he made in the Netherlands throughout the 1970s. While none of these are probably standalone masterpieces, they do document a vivacious, committed visual stylist and a unique strain of sexual provocation that would reach its, um, climax, in the early-to-mid-'90s with
Basic Instinct
and
Showgirls
, a pair of thematically rich, bold, and uncompromising works he made at the peak of his Hollywood visibility.