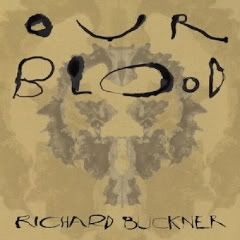 Here's a potentially misplaced but genuinely held theory for you to consider: Richard Buckner's new album,
Our Blood
, is so casual in its execution that many listeners may be overlooking the fact that it is, in most every respect, totally inspired. I mean really, truly inspired—a streamlined, no bullshit singer-songwriter effort rendered as acutely affecting and quietly soul-piercing as anything released all year. So while Buckner's nonchalance is a big part of his and this album's charm, the unexpected frustration
Our Blood
occasionally elicits in me has an equal amount to do with the fact that most other artists working this vein are simply lazy in comparison. Sure, if Kurt Vile's
Smoke Ring for My Halo
proved anything this year, it's that slackers can still pull it together every so often, but nevertheless there's something beautiful about hearing professionalism chiseled to its bare essence. From this perspective, then,
Our Blood
is something of an anti-
Smoke Ring
: laser-focused melodies, expert, unfussy musicianship, and an intricate, crystal-clear mix. It's disarming in its immediacy, and impressive in its narrow yet rich home studio aura.