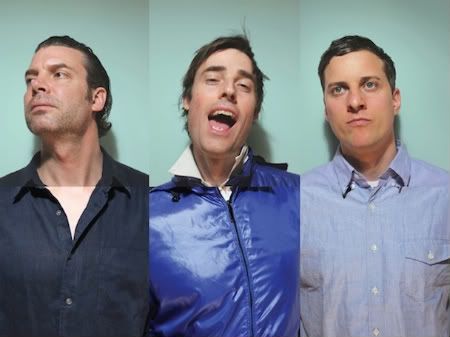 Battles have made it nearly impossible not to compare and contrast their two incarnations—in fact, they seem to be all but encouraging it. Last August the math-rock supergroup took a chink to the armor when de-facto frontman Tyondai Braxton bowed out after just a handful of EPs and one mammoth full-length, 2007's
Mirrored
. Rather than replace Braxton, whose filtered chipmunk cadence delivered one of the most unexpected left-field pop cuts in recent memory with "Atlas," the remaining trio soldiered on with the recording of their forthcoming sophomore album,
Gloss Drop
, sans lead vocalist. Augmented instead by a rotating cast of guest collaborators, Battles look to be at a crossroads, and not just between line-ups. Faced with the realization that their dynamic may be irrevocably alerted, these omnivorous experimenters seem to be re-building their sound from the ground up.
It's somewhat logical, then, that "Ice Cream," our first taste from
Gloss Drop
, would sound so eager to please. Rather than the muscular man-machine rhythms which powered
Mirrored
, this track lays into a manically looping guitar/synth volley almost immediately, sending all additional instrumentation into a supporting role. Thankfully, the buzzing melody retains Battles' unique sense of humor, but it's a shame that John Stanier's typically pummeling work behind the kit is reduced here to a comparatively gentle gallop. Guitarists Ian Williams and Dave Konopka take a slightly different approach this time out as well, swarming the main melody in fits and bursts while mostly opting out of offering anything too concrete, swelling around the margins with some well rendered texture.
The track's skipping rhythm seems to be consciously serving guest vocalist Matias Aguayo. To his credit the former Closer Musik founder and Kompakt producer steps into the track pretty confidently with a series of escalating grunts and continues to wordlessly ride the track's light bounce for the duration. In fact, the vibe here isn't unlike something off Aguayo's own goofy electro vox-pop experiment
Ay Ay Ay
(2009), which raises the question of whether the song was written specially for Aguayo or if he was commissioned after the fact. It wouldn't make a difference to the quality of the song, which is enjoyable enough on its own terms but a little anti-climatic in the shadow of such a galvanizing debut, but it makes the prospect of some of the album's other guest turns—from Blonde Redhead's Kazu Makino to Boredoms leader Yamantaka Eye (seriously, the mind reels at the potential of the latter)—look all the more promising. [
CMG
]