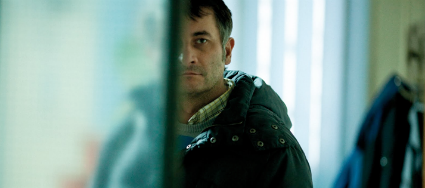 When I consider the hand-wringing that usually goes into these lists, it's interesting that in 2011—the single best year for cinema in at least a half-decade—it would prove so decidedly easy to carve out a top ten. I greatly admire a few dozen films that opened in the U.S. over the last twelve months, some just now seeing the light of day after years in distribution limbo ("United Red Army," "Go Go Tales," "Love Exposure," even "Margaret," which is as inspired as it is messy), others arriving on a wave of festival hype and meeting those expectations ("Of Gods and Men," "Poetry," "A Separation"). But when I think of the handful of films in direct threat to my top ten ("Le Quattro Volte," "El Sicario: Room 164," "To Die Like a Man") none would feel right dislodging any of my favorites. And this was, above all, a year where feeling really coursed through the best of cinema, a fact I find difficult to reconcile with the general acclaim meeting a certain subset of the year's films ("Melancholia," "Shame," "We Need to Talk About Kevin") which were utterly vacant and devoid of any tangible emotion or insight. What follows, then, are ten works of genuine passion and consistently enveloping formal ingenuity, nearly all worthy of anchoring their own respective year as opposed to sharing space with nine equally impressive films.
10.
Le Havre
/ Aki Kaurismäki
This Deadpan Finnish master's career-long concern with the lives of the disenfranchised finds its most humanistic manifestation yet in his latest, unassuming fable "Le Havre." With the eponymous French port town reflecting the larger burdens of modern Europe, Kaurismäki blithely yet pointedly traces an odd-couple relationship between an immigrant African adolescent and an aging shoeshiner who perhaps recognizes a bit of his younger self in the boy's plight. A series of protracted gestures and a color coordinated visual palette once again undergird Kaurismäki's tight narrative mechanics, his Bresson-like discretion facilitating a dialogue between thematic topicality and intergenerational camaraderie in a manner reminiscent of Jean Renoir or Marcel Carné. Another entry in his politically—and, just as importantly, cinematically—conscious proletariat series as well as a worthy spiritual successor to his 1996 masterwork "Drifting Clouds," "Le Havre" instantly rises to the top tier of Kaurismäki's oeuvre.
09.
Tuesday, After Christmas
/ Radu Muntean
Shortsighted critics proclaiming the end of the Romanian New Wave were proven woefully wrong this year, as the country gave us three superb works: Andrei Ujică's epic found footage doc "The Autobiography of Nicolae Ceauşescu," one elliptical anti-procedural we'll get to further on down this list, and this shattering marital drama. Retaining the movement's signature longtakes and formally dynamic compositions, Muntean expands thematically with his fourth feature, staging a tense love-triangle narrative that breaks free of the internalized singularity of many of his compatriot's most celebrated works. Muntean's carefully plotted film moves in a roundabout manner, introducing and redefining characters almost scene by scene. And by allowing these people the space (within the frame) and time (within the narrative) they need to reveal their secrets and motivations, he adds to the complexity and the quietly engaging nature of his film, one of the year's most emotionally devastating.
08.
Film Socialisme
/ Jean-Luc Godard
This French-Swiss iconoclast's first all-digital feature is in many ways his most cinematically and politically engaged since 1998's "Historie(s) du Cinema." A three-part symphonic essay on life during wartime and the decline of the European Empire, "Film Socialisme" examines political responsibility via aesthetic reconciliation, as an array of sound editing and montage techniques piece together the greater narrative of Godard's place within the maelstrom. As a filmmaker equipped only with what current technology has to offer—and in a self-imposed race towards the realization of a cinematic reconfiguration of the form's responsibility and potential for change—Godard continues to argue for a complete rebirth of a classic aesthetic model. Equal parts prismatic cruise around Godard's stylistic harbor, landlocked travelogue across greater war-torn Europe, and cinematic reconstruction of humanity's cyclical atrocities, "Film Socialisme" spins something beautiful, provocative, and confounding from the mess we've wrought.
07.
Aurora
/ Cristi Puiu
A nightmare serial-killer narrative with almost zero disclosure offered across its vast, three hour expanse, Puiu's provocatively minimalist "Aurora" observes mundane human activity through a succession of alternately claustrophobic and expansive compositions. Casting himself as the blank-faced subject of his own saga, Puiu provokes a brave dialectic between audience and director, further implicating himself in the methodical exposition of his elliptical anti-procedural. The banal becomes loaded, motivation becomes a means unto itself; and the aesthetic has already proven influential, with Nuri Bilge Ceylan's masterful "Once Upon a Time in Anatolia" bearing traces of a similarly guarded, richly ambiguous approach to narrative. Together, these filmmakers are rewriting the rules of film grammar, and as the ripples continue to be felt, it stands to reason that "Aurora" could be seen as a watershed, the work that heroically pushed things that much further toward the unknown.
06.
Meek's Cutoff
/ Kelly Reichardt
Reichardt's most ambitious and precisely drawn work to date is a genre film by classification only, stripped of ornamentation and extraneous expositional conceits. It's also, paradoxically, her most aesthetically impressive and engaging work, an observational, revisionist western with stronger ties to Italian neo-realism than to the John Ford school of classical filmmaking. The sun-bleached vistas, crystal blue horizons, and primary-hued dresses of the female-anchored wagon train—captured indelibly by Chris Blauvelt's Academy ratio lensing—inject emotion into a threadbare narrative, which grows evermore intangible even as events and motivations seem to come into focus. An unexpected, extremely impressive stylistic leap beyond the director's previously intimate, small-scale work, "Meek's Cutoff" retains Reichardt's acute dedication to character while subtly expanding her narrative purview, dissolving the planes of cinematic construction that would traditionally mark this as product instead of the mytho-poetic portrait it truly is.
05.
The Tree of Life
/ Terrence Malick
Appropriately enough for the year's most ambitious statement, Malick's messianic epic attempts to encompass everything messy, beautiful, intimate, and overwhelming about life. Few working directors, let alone one toiling within the Hollywood system, would undertake such a project, which literally moves us from the inception of the universe to the afterlife in under 150 minutes. But for Malick, our most deeply spiritual and consistently visionary filmmaker, 'Tree' feels like a logical end point, a summation of everything grand, transcendent, and occasionally frustrating about his process projected into a single, staggering work of intense commitment. In juxtaposing a thought-to-be autobiographical '50s family narrative with the maneuverings of the cosmos, Malick strikes a unique chord most anyone can identify with. Anyone who's ever felt overwhelmed by their place in the grand scheme of existence will surely see themselves reflected somewhere within the film's shimmering surfaces or its yearning familial dynamic.
04.
House of Pleasures
/ Bertrand Bonello
In transposing some of the key thematic and aesthetic preoccupations of Hou Hsiao-hsien's "Flowers of Shanghai" from 19th century China to the sex trade in a
fin-de-siècle
brothel in Paris, Bonello both spiritually enriches and subverts the artifice of the traditional period piece. A boldly sensual, near psychedelic awakening to a more shrouded corner of Parisian high society, "House of Pleasures" hypnotizes via languorous pace, poetic dialogue, and left-field soundtrack accompaniment (the Moody Blues have found an unexpectedly apt posthumous venue), tilling the succulent vein of a cloistered existence wherein each personality is devoured by a society it gives so much of itself to. "If we don't burn, how will the night be lit?" one prescient young lady ponders during the film's most searing sequence, and Bonello, now working at heights equal to any other European filmmaker, answers sympathetically, allowing these transient souls an opportunity to ignite the possibilities of a chamber-based cinema.



03.

Certified Copy

/ Abbas Kiarostami

Bravely exporting his singular method, Iran's most influential and important filmmaker has found renewed passion in the potential of narrative, thereby embarking on what promises to be a fascinating new act in a career marked by repetition, authenticity, and variations on very specific themes. In this sense, "Certified Copy" is a reconciliatory work for Kiarostami, though a sumptuous visual palette and a distinctly European sense of narrative elision moves the film into uncharted aesthetic territory. The director's increasingly cerebral, sometimes playful, always evolving dramatization of a pair of ambiguously defined verbal sparring partners takes on contrasting meanings and proposes fresh implications when approached from different perspectives, inviting the viewer in while privileging individual interpretation in uncommonly gracious terms. Through an inversion of his fundamental text, Kiarostami has constructed a key work in the grand tradition of the European art film.


02.

Mysteries of Lisbon

/ Raoúl Ruiz

Before passing away this past August, Chilean filmmaker Raoúl Ruiz left us with what could be seen as the defining work of his nearly five decades-long career. This breathtakingly grandiose, epically staged 19th century drama bears witness to a changing of the guard, an end of an era, the collateral effect of one man's existence on the lives of a privileged generation. In attempting to encompass all the many facets of an antiquated European society, Ruiz has constructed a frighteningly detailed, ravishingly dramatic tale of thwarted love, festering jealously, simmering anger, and vitriolic contempt. Working at a height only sporadically tapped since his mid-'80s apex, Ruiz fashions a visual novel from the most intrinsic of human emotions, invigorating staid period practices with an aesthetic flair both reverent and valiant. As a standalone statement, "Mysteries of Lisbon" is a landmark achievement; as a capstone to one of the greatest careers in modern cinema, it's both lament and testimony.


01.

Uncle Boonmee Who Can Recall His Past Lives

/ Apichatpong Weerasethakul

There's no shortage nowadays of strange films leaning on gimmicks or genre trappings to compensate for a lack of truly unique thinking. Rare is the movie that not only crossbreeds its various thematic and visual strains but circumvents its obtuseness to the point where every film in its vicinity appears skewed and unnatural by comparison. Apichatpong's dazzlingly original, riveting modern masterpiece "Uncle Boonmee Who Can Recall His Past Lives" enriches, embodies, and erodes all such classifications, teeming with insight and vivid clarity into the soul of a man not necessarily nostalgic for but enlivened by the capacity of the human spirit. Apichatpong's first largely linear narrative dives headfirst into premonition, apparition, and reincarnation with a Buddhist's serenity, emboldening the director's themes as he subtly galvanizes his aesthetic. Ominous, playful, and consistently riveting, 'Uncle Boonmee' stands as the most transcendent work yet from the world's most vital young filmmaker.
[
InRO
]