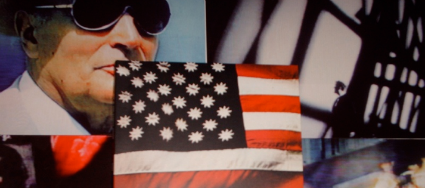 Note: For archiving purposes, I've included my personal contributions to this column below. Please follow the link provided in the introduction to read the entire feature.


"Cataloguing and keeping up with the world's DVD and Blu-ray releases is an overwhelming and obsessive job that both Jordan Cronk and I relish with a hoarder's delight. The internet may be changing the face of home distribution, but, for my money (literally), nothing comes close to replacing the DVD or Blu-ray on my shelf for instant and flawless home viewing. And when a film is restored halfway around the world, with little chance of an accessible theatrical screening, the resulting release is nothing short of priceless. Jordan and I have chosen ten such releases, including three imports, for this outstanding year. Although it might seem that we are fairly biased for Japanese films—which lock-up half this list—I would argue that we're entering an era where these films, many ignored or dismissed in the realm of English-language friendly releases, are finally getting their due, and our eight-disc number one pick is a perfect example. If you're looking to start a collection, start here, start now."
Kathie Smith
[
InRO
]
08.
Histoire(s) di Cinema
[Criterion; Region A]

Never covered in the pages of
Home Movies
as it was released just this month, Olive Films' long-overdue Region 1 debut of Jean-Luc Godard's mammoth, eight-part video essay "Historie(s) du Cinema" fills a major gap in the digital landscape, representing what one can only hope will be the first of many such unveilings of Godard's major post-1968 works. Conceived as early as the mid-'70s and stitched together in segments across a ten year period from 1988 to 1998, 'Historie(s)' embodies its title to an almost dizzying degree, overlaying dense visual montage with Godard's verbal and textual explications on the role(s) of the cinema in various political and societal spheres. The feature is a supplement itself, to nearly everything cineastes continue to hold as true in regards to the medium of moving pictures.



06.

Blue, White, Red

: Three Colors [Criterion; Region A]

Physical copies of Krzysztof Kieślowski's highly influential 'Three Colors' trilogy have remained out-of-print for some time now. The wait would prove worthwhile, however, as Criterion ultimately offered up all three films to the glories of 1080p this Fall. Coming off the back-to-back landmarks of "The Decalogue" and "The Double Life of Veronique," Kieślowski dedicated what would prove to be his final artistic flourish before his untimely death to three aesthetically delineated yet thematically unified films about such broad subjects as love, death, revenge, and sacrifice, keying in on tangibly articulated emotions which he heightened via consistently ambitious stylistic gestures. Criterion's appropriately stacked Blu-ray set amends hours of bonus material, solidifying these films' stature for generations to come.



04.

A Man Vanishes

[Eureka / Masters of Cinema; Region Free]

Continuing to give Criterion a run for that cinephile money, the UK-based Masters of Cinema had an impressive twelve months, capped by the release of
Home Movies
favorite Shohei Imamura's 1967 docu-fiction rarity "A Man Vanishes." Conceived as a documentary on the missing persons phenomenon in mid-'60s Japan, "A Man Vanishes" eventually took shape as a prescient kind of procedural, wherein Imamura probed the ambiguities of one man's disappearance via evidence, interviews, and slyly captured confessions. Available for the first time in any sort of English-friendly format, Imamura's subversive cinema verité experiment, which prefigured an entire movement of hybridized narrative, argued for the continued relevance and more cost effective production of standard DVD.



03. Eclipse Series 26: Silent Naruse [Criterion/Eclipse; Region A]


This year's most unexpected digital release is also the most historically and cinematically vital. The five Mikio Naruse silents collected in Criterion's 26th Eclipse set were made between 1931 and 1934, and together ably outline the Japanese master's quickly solidifying thematic and stylistic inclinations. Establishing straight away his spry visual sense and already working expertly with montage, Naruse would focus almost immediately on what would turn out to be his greatest theme, the role of the working-class female in an ever-modernizing Japan. In such devastating works as "Every-Night Dreams" and "Street Without End" one can bear witness to the flowering talents of an artist whose stature only continues to grow as more of his work becomes available.



02.

The Terrorizers

[Sony Music Group; Region Free]

Seemingly flying just beyond the view of even the most watchful digital connoisseur, Sony Music Group's roll-out of six key Taiwanese New Wave classics nevertheless proved to be the most essential Blu-ray enterprise of the year. Anchoring the series is Edward Yang's complexly structured thriller "The Terrorizers," which stands apart from much of the late master's work in style and narrative schematics. Yang's films streamlined their narratives in the year's following this one, yet he ultimately would find unique ways of drawing new dimensions from emotionally dependent characterizations. Sony's import-only Blu-ray is graciously region-free, and includes a short documentary on Yang, but it's commendable first and foremost for bringing this film into the digital realm for the first time anywhere.