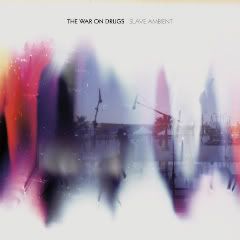 It's not often a small but rising band can lose their most visible member and in one fell swoop emerge with their breakthrough album. In the three years since their promising debut,
Wagonwheel Blues
, Philadelphia-based collective the War on Drugs have toured the circuit hard, picked up some nice notices as a committed live act, and generated a lot of curious ears as their original guitarist Kurt Vile made inroads to a wider audience on the back of a few increasingly strong solo albums, culminating with this year's outstanding
Smoke Ring for My Halo
. With expectations simultaneously heightened and deflated as a result, it's doubly impressive that the band's newest album, the awesomely titled and completely spot-on
Slave Ambient
, would be such a step forward, both in confidence and execution. They haven't missed a beat in the interim, and the fact that this extended family has essentially produced two of the year's most satisfying breakthroughs by simply getting that much better at what they do is almost difficult to reconcile with undue pressure now being such a collateral concern when attention is so easily diverted and subsumed elsewhere in entertainment.
The War on Drugs trade in simple, universal rock music of the classic FM-oriented persuasion that most anyone reading this site probably grew up on. Their influences are patently obvious (Tom Petty, Bruce Springsteen; most anyone you can name from America's early '70s casual drug-rock scene). But it'd be reductive to pigeonhole these guys as revivalists when the results sound so fresh and irony-free. For one thing, the War on Drugs put songwriting first, the sound they conjure feeling like a natural outgrowth of their creative wood-shedding. They sound in no hurry to arrive the "big moment," instead opting for a slow-burn procession of sustained atmosphere and road-weary lyricism. The two weave together in such hypnotic fashion that frontman Adam Granduciel's nonchalant vocals take on a resigned yet identifiable character that is consistently buoyed by the group's casually enveloping stride. This is music for the open road, for the moment when defeat turns to commitment, when you're ready to turn your back on life's constant disappointments and do something for yourself, by yourself.
It's interesting, then, that
Slave Ambient
feels like such communal music. Granducial's lyrics may sport the imagery of the highway strip, embodying in many cases the desire for change, but the music continually prods at the listener to actually put these words into action. These guys don't have the punk edge of a band like Titus Andronicus, the vivid wordplay of the Hold Steady, or the stadium aspirations of an Arcade Fire (three somewhat transparent contemporaries), but what they lack in all three they make up for ten-fold with a consistency of vision and a commitment to imbuing these sentiments with straightforward honesty. The "ambient" in the album's title is no coincidence: songs one through twelve feel of a complete piece, whether they be instrumental segues ("The Animator," "Original Slave"), stoned jams ("Best Night," "I Was There"), or steady-clipped burners ("Your Love Is Calling My Name," "Baby Missiles"). No matter the energy or instrumental intensity, however, the mood of
Slave Ambient
is one of unity, of bleary-eyed independence and never-say-die resilience; it's background rock music that somehow rewards as such while still carrying thematic weight behind its casually intoned narratives.
As such,
Slave Ambient
is built for the long-haul; this is not casual consumption, single-ready pop music. Very little of this stuff—save perhaps "Baby Missiles," which sounds like the song the Arcade Fire tried to write a dozen times on
The Suburbs
but which to these ears they never really accomplished—would probably work on its own or without context. These guys have always sounded mature beyond their years, but on
Slave Ambient
, despite the smeared textures and gauzy veneer, all these various predilections come starkly into focus. This thing is paced like a Kentucky Derby thoroughbred, stitching the Bono-worthy wordless harmonizing of "Come to the City" to the laissez-faire gait of "It's Your Destiny" before bunkering down for late-album showstoppers "Baby Missiles" and closer "Black Water Falls," which sounds like mid-period Dylan stripped of those horrendously dated production foibles, allowing itself to breath as the album's farewell transmission of accumulated strength and renewal. And that's ultimately what
Slave Ambient
can produce in listeners: inspired, dedicated motivation to stay strong in the face of adversity. It's one of rock music's most basic tenants, and it's something that, on
Slave Ambient
, the War on drugs have all but mastered. [
InRO
]