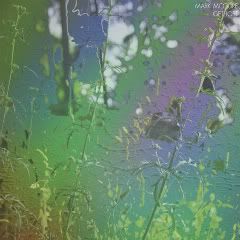 Mark McGuire has been releasing a steady stream—and I do mean steady; like thirty some-odd releases in four years steady—of solo and collaborative CDRs, cassettes, LPs, and compilations. This alongside his work with not only his Cleveland-based synth/drone collective Emeralds, but also no less than seven other projects few beyond his inner circle are consciously privy to. Safe to say McGuire is at the forefront of a newly minted guard that I touched on a few months ago in regard to Sarah Lipstate's latest album as Noveller,
Glacial Glow
, spurred on by his half-decade rise to prominence which puts him in a unique position where a guy not even a quarter century old can assume veteran status on the back of a few increasingly visible (and available) long-form works that test the boundaries of basically notated, loop-based guitar exploration.
McGuire's work with Emeralds largely sees him biding his time amidst swarming cathedrals of synth arpeggios before providing a more emotional dimension via carefully dispersed chord exhales which ground the group's flightier tendencies in something more concrete, more human. Not surprising, then, that McGuire's solo work is powered almost exclusively by these soulful wanderings—alternately nostalgic, blissful, and optimistic in feeling, but always downright puuurty in execution. By and large, McGuire's newest album for Editions Mego,
Get Lost
, is a concise affair, corralling much of the sprawling improv of his early work into a handful of bite-size pedal and loop volleys. It's not quite a pop album; more like a crystallization of McGuire's zoned-out stargazing, chiseled to its most approachable, melodic form. Emeralds themselves did something similar with last year's excellent
Does It Look Like I'm Here
, while McGuire's own 2010 outing
Living With Yourself
further evidenced steps toward focused linearity.
But whereas
Living With Yourself
concerned itself with unfiltered nostalgia—what with the family photo album artwork and vocal samples snatched from McGuire's childhood—
Get Lost
is a little more diffuse in its topical range, more open to the listener's interpretation. More like proper ambient music in that sense I suppose, but tellingly, the sonics here are uniformly bright and welcoming, pointing at the very least toward a more optimistic outlook on the part of McGuire. This is perhaps the first time that his music has looked toward the future not as a technological dystopia, but as a serene environment where one can rest comfortably in the presence of a sanctified humanity, or simply on one's own, lost in thought. Song titles are vague if impressionistic—almost dual-pronged statements in some cases ("When You're Somewhere"; "Chances Are"; "Get Lost")—while the watercolored foliage adorning the album cover seems to suggest hallucinogenics as much as traditional escape.
Whatever the meaning or intention,
Get Lost
certainly does feature a whole lot of tonal comforts and surface level, pillow-soft aural radiance. The title track is one of McGuire's best standalone tracks to date, all elliptically entwined guitar lines, skipping synth notes, and slowly cresting guitar fuzz. The melody, like most of the record's six tracks, rises, vortexes in place, then slowly recedes just as it feels like the music could go forth forever toward the horizon. "When You're Somewhere" feels to me like the most openly emotional moment here as it churns resolutely through vines of unamplified guitar and swarming pockets of drone. Later, ignoring its title, "Another Dead End" ups the momentum a bit, cycling a more intricate lead around minimalist komische-nodding synthetics before riding a wave of carefully harmonized, elongated electric notes to its conclusion.
The album's even sequenced something like an old krautrock or first-wave ambient record, with five short pieces placed up front and a side-long excursion on the flip. But to McGuire's credit, the nearly twenty minute "Firefly Constellations" doesn't lose the thread the way his more improv-based work might, and instead plays simply like an expertly paced, well-considered expansion of these more compact melodic ideas. Like each half of the record, it's wisely stitched into its own standalone movement. As McGuire deeply intones, mantra-like on the record's sole vocal showcase, "Alma" (and later as a brief echo on "Alma [Reprise] / Chances Are"), "It must resolve / We try and evolve." With
Get Lost
, McGuire has nudged toward both goals, and while in many ways, for long time fans, this is exactly what you'd expect a 2011 Mark McGuire album to sound like, there's also a certain comfort in the gathering acknowledgment that this guy can so continually wring unexpected feeling and buried emotion from a few basic tools about as well as anyone this scene has yet produced. [
CMG
]