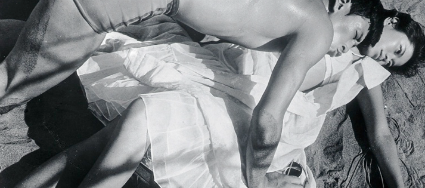 Note: For archiving purposes, I've included my personal contributions to this column below. Please follow the link provided in the introduction to read the entire feature.
"Although Jordan Cronk and myself have four more months to spend deep in our respective caves, with the year's remaining releases, I guarantee we'll be talking about more than a few mentioned here by year's end. With the latest
Home Movies
, we're straddling both summer months: the summer release calendar for July came in like a lamb and went out like a lion by the end of August, with a handful of major debuts. August was so packed, in fact, that we would be remiss not to mention some of the many gems we missed, including two films by Lee Chang-dong (the long-delayed "Secret Sunshine" from Criterion and this year's "Poetry"); a new Blu-ray of the Coen Brothers' debut film "Blood Simple"; a long-overdue US release of Agnes Varda's 1975 documentary "Daguerreotypes"; a Blu-ray release of Jim Jarmusch's "Dead Man"; and new Blu-rays of "If…," "Orpheus," "Naked," "Beauty and the Beast" and "High and Low," all from Criterion. What we have covered below, however, is no less of a smorgasbord, including one of the most exciting releases to come along in some time, and our pick of the month: Eclipse's "Warped World of Koreyoshi Kurahara."
Kathie Smith
[Feature by Jordan Cronk and Kathie Smith [
InRO
]
The Warped World of Koreyoshi Kurahara

[Criterion; Region A]
In the liner notes to Criterion's extraordinary new Eclipse set, 'The Warped World of Koreyoshi Kurahara,' film historian Chuck Stevens makes a succinct but important argument regarding the Japanese journeyman director, noting that "Kurahara wasn't of Japan's early 1960s New Wave so much as alongside it… even as he expanded upon that vocabulary and added distinctive shadings and personalized pulses all his own." At first glance, it may seem like a negligible comment, but it speaks to Kurahara's breadth as a filmmaker; the man spent as much time turning out idiosyncratic films—little outrageous riffs on the works of Oshima and Imamura—as he did studio ones, becoming one of the biggest box office successes of post-war Japanese cinema. If you're only familiar with Kurahara through Criterion's release of his 1957 film "I Am Waiting"—included in the 'Nikkatsu Noir' set—then the four films included in 'The Warped World' will likely flip your wig back. There are no glamorous star vehicles or "blockbuster 80s nature documentaries" to be found here; just four tough, wild-eyed, ridiculously entertaining subversions of cultural Japanese ideals and traditions.
"Intimidation," from 1960, tops out at just sixty minutes and is the most commonplace film included here—a solid segue from hard-nosed crime noir "I Am Waiting." In many ways stuff like this was Nikkatsu's bread-and-butter, outlining as it did a rough plot which pits a blackmailed bank manager who resorts to robbing his own bank against his cowardly employee, who gets wise to his boss's shady dealings. It's appropriately moody and well acted, while its centerpiece heist sequence is impressively played out in near total silence, but it holds little evidence of the delirium which would soon follow. Later that year came the ostensible title film of this set, "The Warped Ones," and it's a straight masterpiece of early New Wave stylings that makes "Breathless" look like the classic Hollywood homage that Godard always thought he was making. Cameras are strapped to anything that's not tied down, hurtling around Tokyo with an abandon I've rarely seen equaled, diving through barrooms, city streets, and dimly lit dens of iniquity with a jazz-like feel of instinctual improvisation. The jazzy undertones are no accident: firecracker delinquent Akira, the film's anti-est of anti-heroes, name drops jazz players and cranks drum solos to 11 as he cruises and boozes, generally swimming through the film like heroine through a Miles Davis session. If the other film's in the set don't touch this level of greatness—and trust me, it ain't for lack of trying—it's only because "The Warped One's" sadistic stomp through abortion taboos and revenge machinations would likely be impossible to maintain.
"I Hate But Love," from 1962, is the most outwardly ambitious of the films. Shot in widescreen color, the film follows its main couple—a cocky pop music celebrity and his obsessive wife/manager (she keeps track of their relationship by marking the days on their bedroom wall in multi-colored marker)—from Tokyo to a remote indigenous village. It's all captured in sun-streaked primaries, drifting from relationship-entanglements drama to media exposé in its temperamental, totally infectious stride. But it's 1964's "Black Sun," easily the most outrageously un-PC of the selections here, that to me solidifies the intangible visual digressions and thematic extremes of Kurahara's style. Again filming in black & white (all the films, save "I Hate But Love," were shot this way), "Black Sun" updates the characters from "The Warped Ones" in even more excessive fashion, pitting Mei (formerly Akira) against his old buddy Gill, now an African American G.I. on the run after committing an undisclosed war crime. They mostly jockey for position as they stumble across opposing dialects, eventually teaming up (read: sport white and black face, respectively, to dodge American soldiers) to return Gill to the coast where he will embody the film's title in almost unbelievably literal fashion. If "Black Sun" ultimately plays like one extended drum solo—the score was indeed contributed by American jazz drummer Max Roach, whose album of the same name provides the film its title—then 1967's "Thirst for Love" is like an elongated slow-burn. Essentially a romance—though this being Kurahara, one centered on a woman sexually involved with her father-in-law and emotionally involved with a promiscuous gardener—the film is slyly experimental in a way Kurahara's other films of the period were almost sadistically confrontational. It pays off with the set's second strongest film, but when it reaches its unexpectedly violent—like, seriously, "Sanjuro" violent—climax, you'll know the man prone to dynamic fits of visual rage was just biding his time in order to punch the viewer in the gut that much harder. Unforgettable.
This being a box set out on Criterion's Eclipse subsidiary, there are predictably no supplements to outline here. As mentioned earlier, Chuck Stevens does provide wonderfully informative liner notes for all the films, while the packaging comes in the form of Eclipse's typical two-tone slip case with individually housed discs. Which is all to say that rating these sets, supplement-wise, is a dead-end for multiple reasons: there probably wasn't significant enough demand for any of these films to warrant standalone releases (though "The Warped Ones" is certainly worthy of such), and anyway, the entire point of the Eclipse line is to "spotlight lost, forgotten, or overshadowed classics in simple, affordable editions." And by those standards, this is another rousing success. It's the second absolute essential Japanese film purchase of 2011, following this summer's 'Silent Naruse' set, and one of my favorite releases in any format this year.
The Complete Jean Vigo

[Criterion; Region A]
Jean Vigo has long been ensconced amongst an unfortunate list of cinematic demigods whose lives were cut short in their prime; or, in the case of this early French poetic realist in particular, perhaps before even reaching his prime. Unlike, say, Rainer Werner Fassbinder or Sadao Yamanaka, both of whom made a very healthy amount of films (survival and current availability notwithstanding) before meeting an early death, Vigo's total celluloid representation is frighteningly slim: only two shorts, a short feature, and a single full-length film manifested before Vigo passed away at age 29 from tuberculosis. But the combined influence of these scant few works is vast, his advancements and experimentation with editing, montage, improvisation all studied, admired, and recast in various lights for the past 70-plus years.
Besides the collective impact of these works—fit on a single Blu-ray disc by Criterion—it's interesting to note how unique each film is in its own right. "À propos de Nice," a silent short from 1929, stands as arguably the first (and if not, probably first essential) essay film, infectiously examining social mores and inequities then boiling amidst the port city of its title. "Taris," a brief 9-minute documentary from 1931 on French swimming champion Jean Taris, works equally well as an editorial exercise and a visual sporting tutorial. 1933's "Zéro de conduit," which uses its efficient 41 minutes to indict both the bureaucratic educational system of early-30s France and stage a series of grade school rebellions spurned on by a broken establishment, features perhaps one of the cinema's first boarding school narratives, one which has gone on to find refinement in works by Francois Truffaut, Lindsay Anderson, Louis Malle, and countless others. Finally, 1934's "L'Atalante," a vivid and unremittingly honest depiction of the first throes of marriage set aboard a seafaring vessel roaming with interesting characters, each coming to terms with their feelings regarding these newlyweds and their relationship. Prior to Jean-Luc Godard's "Breathless," there may not have been a more influential French production, its status as one of the great films in cinema history appropriate and continually reestablished as different prints have been pieced together from earlier, truncated releases.
As implied, 'The Complete Jean Vigo' gathers all these titles in a generously priced and packaged set, which itself would be enough. However, in addition to the films, Criterion also offers a slate of some of the most thorough and illuminating supplements they have yet to debut in the Blu-Ray format. (For the sake of space, I'll keep commentary to a minimum, but everything here is essential.) Included are audio commentaries for all four films by Vigo biographer Michael Temple; a new score for "À propos de Nice," alongside cut footage from the film; a 1964 episode of "Cinéastes de notre temps" dedicated to Vigo; a full-length doc on the many versions of "L'Atalante"; an animated short by Michel Gondry commissioned in tribute to Vigo; and video interviews with director Otar Iosseliani and Truffaut—the latter, from 1968, conducted by fellow
Cahiers
critic and New Wave legend Eric Rohmer—about the influence and groundbreaking techniques employed by Vigo across his filmography. The booklet is equally imposing, with essays by Michael Almereyda, Robert Polito, B. Kite, and Luc Sante. It's difficult to imagine a more well-considered or comprehensive release for these landmark works, and when it's all said and done you may be looking at the Blu-Ray release of the year—to say it lives up to its title is an understatement. Bravo, Criterion.
The Music Room

[Criterion; Region A]
Beginning his career in the vein of the neo-realist movement, it's interesting that Satyajit Ray would soon attempt a reconciliation of dramatic narrative storytelling and the intrinsically musical elements which had up until then dominated India's film industry. After all, Ray was one of the first to insist that his country's cinema held cosmopolitan potential equal to that of his European contemporaries, of which Jean Renoir was an early supporter. His hesitance toward such an experiment is understandable, particularly when one considers his success with the first two installments of his widely acclaimed "Apu Trilogy," which bought his filmmaking to eyes further beyond India's borders than any filmmaker of his persuasion had yet accomplished. But if the thoughts and process behind the film were labored, then the execution of his 1956 classic "The Music Room" is seamless and the results, while inherently tied to India's most valued pastime, are universal in a way which transcends cultural inclination.
"The Music Room" is one of the most painstakingly detailed, bluntly indicting films of its time—Ray's mise-en-scene cultivates a Dreyer-esque intricacy that transmits stark, working-class observations indebted to De Sica, finding an unexplored middle-ground between the two titans of cinema—and its humanistic yet stridently unforgiving depiction of the downfall of a Bengalese Zamindar feels considerably applicable in this age of political and social unrest. Unfolding in an effectively deployed series of reminisces and emotionally reflective musical numbers—all framed by the absence of the Zamindar's wife and child—"The Music Room" sees Ray utilizing a series dramatic set pieces in service of storytelling very much within a traditional form, but in the process takes the fourth wall-obliterating structure of the contemporary musical as a technique to pivot on, absorbing this into his narrative to the point where each seems neither co-dependent nor standalone. As the action moves beyond the titular palace venue, one's caught up so fully in Ray's increasingly harrowing plot developments that the music, which had accompanied us to this point, begins to feel as foreboding as it does comforting. That Ray would go on to incorporate music in similarly inventive ways is evidence enough of "The Music Room's" unique admixture of contrasting and ever-moving parts.
Criterion's Blu-Ray offers an impressive, detailed package; the transfer is, as one who's watched his fair share of Ray bootlegs can attest, simply beautiful. The dark, near imperceptibility of the picture on this and many other Ray films on past formats is balanced out without boosting the brightness to unrealistic levels. The sound is equally fluid, an important distinction for a director so respectful of his music heritage. From an A/V standpoint, this may be as good as it'll get for "The Music Room," which I'm happy to say is very good indeed. Extras take things up a notch. Anchoring the package is an hour long documentary on Ray by Shyam Benegal, which outlines Ray's entire career in brisk yet informative fashion. Elsewhere there are two new interviews, one with Ray biographer Andrew Robinson and another with filmmaker Mira Nair. There's also a fascinating if brief roundtable interview between Ray, film critic Michel Ciment, and director Claude Sautet from 1981 which illuminates much of the influence Ray's work was already having on the French film industry. Rounding out the set is one of Criterion's always-great booklets, this one featuring an essay by Philip Kemp, details on the film's locations by Ray himself, and a mid-80s interview with the director about the film's music—in short, a very worthy package for one of the most overdue releases of the year.
The Killing

[Criterion; Region A]
Stanley Kubrick's early work documented a director in search of his stylistic niche. Both 1953's disowned "Fear and Desire" and 1955's "Killer's Kiss" had interesting elements—the latter a particularly efficient noir, chiseling the proceedings down to just over an hour while leaving a handful of lasting images strewn about its dank environs—but Kubrick's storytelling acumen wouldn't truly manifest itself until 1956's "The Killing," wherein a Lionel White pulp novel is transformed by Kubrick and co-screenwriter/author Jim Thompson into an elaborately constructed narrative which doubles up and back on itself in an ambitious fashion uncommon to American film of this period. The studio system still had Kubrick hamstrung in ways that are unique to the dying days of classic Hollywood filmmaking, but he and Thompson do their damnedest to burst through the conventions of the day with a screenplay as labyrinthine and involving as any crime thriller can claim to be. Stacked with a murderer's row of noir stars and character actors—Sterling Hayden, Timothy Carey, Jay C. Flippen, Coleen Gray, Vince Edwards, and Elisha Cook Jr., among others, all working as cogs in the film's overlapping and shifting time structure—"The Killing" moves briskly between story strands before knotting up in a racetrack heist which plays out from every conceivable angle. Nowadays the film is often times spoken of in relation to "Pulp Fiction"—an obvious descendant but perhaps not even the most analogous Tarantino work (I'd say "Jackie Brown" builds on the film even more directly)—and other restless, though often times comparatively lazy modern crime films. Kubrick would follow up with "Paths of Glory," just a year later, and with a signature style mostly solidified, he would go on to produce one game-changing film after another. "The Killing," however, is where the seeds of greatness were first planted.
It's understandable that Criterion would attempt to get their hands on as many Kubrick films as possible ("The Killing" marks their third, all pre-1961), but as the digital revolution begins to move down the straightaway of its second decade, it's obvious that Kubrick's most widely beloved work—all of which is apparently held rather tightly by Warner Brothers—will likely never see the grand treatment from arguably the only American company worthy of contextualizing his greatest artistic achievements. Which is a shame, since last year's release of "Paths of Glory" and now "The Killing" (and also, technically, "Killer's Kiss," which is included as a supplement here) have unearthed and abetted some fascinating material to embolden the films' statuses. Most of what we get here are interviews, both classic and contemporary; new interviews include producer James B. Harris speaking on the film's production, author Robert Polito on Thompson, his career, and the adaptation with Kubrick, and a video appreciation of "Killer's Kiss" by Geoffrey O'Brien. From the vintage archives we have Sterling Hayden sitting down twice with French television series "Cinéma cinemas" in 1984 to discuss (in hilariously foul-mouth fashion) his career and his eventual association with Kubrick on "The Killing" and "Dr. Strangelove." Meanwhile, the entirety of "Killer's Kiss" fills out the single Blu-Ray disc. The requisite booklet is predictably informative if uncharacteristically light on content, with only an essay by film historian Haden Guest and an old interview with actress Marie Windsor offered up. The film itself also looks and sounds fantastic, certainly worthy of the upgrade in all the technical respects. We may not see too many more Kubrick films get the Criterion treatment, so it's nice to know that most of his essential early work is now represented in the best form possible.