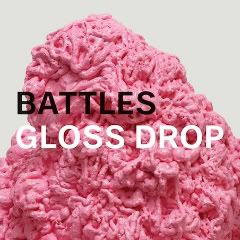 Mirrored
is a masterpiece. This was an opinion widely floated in 2007, when math-rock supergroup Battles released their debut full-length on Warp. Here we are a few years later and the label has begun to approach what many people, including myself, would call a fact. Here is an album that basically accomplished everything I look for in a debut LP from a modern experimental act: it built upon and refined formative techniques in an effort to expand its aesthetic; it injected an inherently cerebral form—math/post/art-rock—with personality not only unique but infectious; and it did all this in an ambitious attempt to parlay a certain triangulation of genre into one seething, laser-focused whole. That Battles pulled it off with a seemingly effortless display of inhuman chops is no mean feat. I don't envy any band tasked with following up such a watershed like that, one that is perhaps the greatest consolidation of divergent musical talent modern art-rock has yet seen.
To their credit, Battles don't really attempt to follow-up
Mirrored
in any traditional sense with their latest album,
Gloss Drop
, but instead look to sidestep expectations by careening in a number of entirely new directions. A move like this risks losing some casual listeners—like those who probably never played
Mirrored
too far past its second track, the seminal single "Atlas"—but it also works to solidify Battles as an ongoing artistic concern, and not a one-off convergence of virtuoso technicians. I'll even admit that the shift initially caught me off-guard as well: advance single "Ice Cream," as sweet and ear-worm sticky as its title suggests, felt curbed in comparison to the all-out assault of
Mirrored's
most galvanizing moments. Many chalked this up to the departure of de-facto frontman Tyondai Braxton—and it's true, Battles are a totally different entity without Braxton's minimalist inclinations and critter-creature vox—but what they may have taken for granted is this band's ability to improvise and re-imagine the coordinates of their aesthetic while still sounding wholly like Battles.
As it turns out, a contextual framework is all it took to repurpose not only "Ice Cream," but also the album's overriding propensity toward brash light-heartedness and left-field guest vocalists as an industrious new tact in a restless evolution. Despite some standalone-great singles, Battles are an album band first and foremost, and
Gloss Drop
bears this out across twelve playful, far-reaching tracks, continually upending expectations in a manner we as listeners should cherish in an era of fourth generation re-appropriation and lazily aggregated blog pastiche. In fact, as different and at times curious as it can be,
Gloss Drop
never exudes laziness. If anything, it's so
not
lazy it can be frustrating in its displays of exuberant turbulence. Which is to say, Battles aren't waiting around for us to catch up. Half the fun of
Gloss Drop
is listening to hear if the band will eventually face-plant in wild-eyed determination, and that determination is ultimately what links
Gloss Drop
so precisely with their prior work and makes this such a fascinating record in its own right.
Opener "Africastle" sets the tone purposefully while remaining true to the precision Battles have built their name on, hollowing out space between each instrument as Ian Williams and Dave Konopka snake dueling guitar lines between an elevating synth melody and peerless drummer John Stanier's less outwardly pummeling yet equally intricate percussion. It's equal parts introduction and gauntlet: loose, blithe, but ever powerful, Battles return to carve out a medium between rock, prog, electronic, and pop forms, utilizing basic tools from each, but only for as long as it takes to put their stamp on the experiment before reloading to contend with the next self-imposed hurdle. The band work a vein similar to "Africastle" on other dizzying instrumentals such as "Inchworm," "Wall Street," and "Rolls Bayce" (one of several tantalizingly brief connective pieces late in the album), but wisely opt to chameleon-ize their sound on the handful of cautiously anticipated collaborative tracks.
Themselves anticipating the inevitable Braxton comparison whenever another vocalist makes an appearance, the slimmer, more dexterous Battles Mk. II have oddly sidestep such unfair associations by meeting the skeptical head-on by experimenting with many potentially incompatible collaborators. It's a brave move that pays intriguing if somewhat inconsistent results: Matias Aguayo's vocal-pop construction "Ice Cream" sits wonderfully between the escalating tensions of "Africastle" and the dance-rock hybridization "Futura," while the Yamataka Eye-starring "Sundome" (
of course
it's called "Sundome") trances and stomps in a manner befitting the Boredoms leader; but then again, corralling Kazu Makino for a relatively straight-laced Blonde Redhead run-through on "Sweetie & Shag" sells short the potential of such a meeting, despite being one of the record's catchier numbers. Elsewhere, proto-new wave veteran Gary Numan stops by on the appropriately revving "My Machines," proving Battles' far-reaching signifiers that much more difficult to pigeonhole.
So what I'm saying, then, is that Battles are back (finally) and they still sound like Battles (of course), though kinda not (I guess). Thing is,
Gloss Drop
manages to keep the listener on guard with these subtly defiant gestures, only to catch us off guard when it seems like they've simply donned another band's look or fallen back on their ridiculously tight dynamic in lieu of pushing into new territory. In fact, more than ever before for these guys, it sounds like they're working on pure, unadulterated instinct. I mean, that's the only way I can explain some of the moves the band makes on this record, and I mean that in the best way possible. If this is a transitional record—which in a sense, it has to be—Battles certainly aren't letting on. Confident, shameless, and impressively cohesive in spite of itself,
Gloss Drop
announces Battles as a band in it for the long haul. You'd be wise to follow suit. [
InRO
]