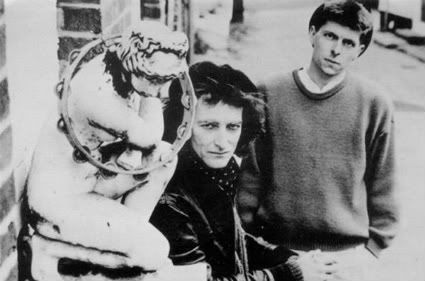 Below a friendly note to listeners and the requisite track list, the back cover of Martin Newell's 1985 album
Songs for a Fallow Land
features—in place of, say, production credits—this brief aside: "Recorded four track in a bedroom in shameful poverty. It can be done. Now do it yourselves." Few statements embody the indie ethos more accurately, but in 2011 the sentiment rings truer than ever, as precociously budding artists the world over have taken to their bedrooms to lay down their very own skewed iterations on the pop formula.
Perhaps best known nowadays as frontman for left-field '80s pop pillagers the Cleaners from Venus, Newell also had a concurrent run of solo releases, most all recorded and distributed via cassette tape. That should tip you off to the recent spike in interest for Newell's collective work: just as the mid-aughts turned up dozens of forgotten folkies, elevated in turn to forebears of the New Weird America movement, so too have modern lo-fi AM gold fetishists and hypnagogic pop producers begun to tip their collective hand, shining a long overdue light on some unique artists from the era they so joyously plunder.
Earlier this year, Fixed Identity, a new label run by psych-tinged electro weirdo Gary War and Taylor Richardson of Infinity Window, inaugurated their imprint with a reissue of Newell's mid-'80s cult item. Originally released in an edition of 100 cassettes—and still very limited for this reissue, with just 500 vinyl copies available—
Fallow Land
sounds like a curious young artist indulging equally in his love for XTC, the Beatles, and various acid-pop outliers, but with a distinctly '80s synth sheen coating the proceedings.
Closing out the first side is "Heroin Clones," which doesn't sound much like anything else on the record but is nevertheless its most immediate glam-pop number. Equal parts Bowie, T. Rex, and George Harrison—check the tossed off, "Taxman"-referencing declaration of "Beep beep / Beep beep," which punctuates the second verse before falling headfirst into the appropriately addictive chorus—"Heroin Clones" jerry-rigs some sort of faulty drum machine to pound out a series of proto-blast beats underneath the infectious thrust of the vocal melody. Ten years later, with a beefed up rhythm section and a technician's touch, it could all pass for a Suede deep cut.
Instead, artists such as Ariel Pink, Big Troubles, and the aforementioned Gary War have run with these and other ideas presented across
Fallow Land
. Elsewhere in the liner notes, Newell concedes that "
Fallow Land
sounds flawed but inspired and full of energy whenever I listen it now," adding that "I have no idea what people will make of it. Let's find out shall we?" I'm not sure what to make of it myself, but you can surely count me as believer. [
CMG
]