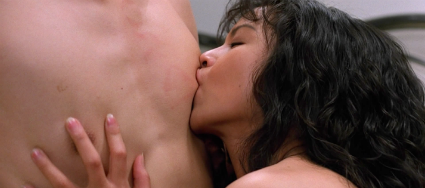 Note: For archiving purposes, I've included my personal contributions to this column below. Please follow the link provided in the introduction to read the entire feature.
"As we slowly slide into a new era of hyped-up US paranoia, trumpeted by the Republican's construction of a social malaise, the release of "Kiss Me Deadly" comes at just the right time. Fifty years on, this cold war-era masterpiece continues to be incredibly influential through its cynicism, surrealism and its unbelievably apocalyptic ending. It's film noir at its best and, recently released by Criterion on Blu-ray, it's our pick of the month. Also included here is a grab-bag of releases that span the silent era to the Romanian New Wave. Our import of the month, Tsai Ming-Liang's "Vive L'amour," comes from Taiwan, and is one of six new restorations heralded by Sony Music Entertainment."
Kathie Smith
[Feature by Jordan Cronk and Kathie Smith] [
InRO
]
Kiss Me Deadly

[Criterion; Region A]
Viewing "Kiss Me Deadly" over a year after moving to Downtown Los Angeles is what some might call a sad experience. I'd call what's happened to the city over the last half-century downright tragic, a historic landmark reduced to a corporate wasteland where little is scared when money is to be made. Robert Aldrich's 1955 masterpiece is, to say the least, the stuff of LA nostalgia, film noir nightmares, and Thom Andersen daydreams, a blistering, downright prophetic conflation of procedural crime drama, femme fatale melodrama, and cold war paranoia. On one level, it's a travelogue of downtown—before the rich were forced out by intervening government initiative—and on another, it's just a sadistic, pitch-black evocation of growing neurosis in the US post- the bombings of Hiroshima and Nagasaki. In either sense, it's highly cinematic and it stands as arguably the greatest film noir ever made.
Following the war, censorship was forced to loosen its grip on the entertainment community as the American public grew restless in the wake of widespread cultural disenchantment. This led to a decade of tumultuous American moviemaking, as filmmakers and audiences began to discover more progressive strains of cinema being made abroad. Up-and-coming American director Robert Aldrich found his vehicle for subversive revolution in the form of a screenplay by A. I. Bezzerides. In adapting a tough-as-nails Mickey Spillane novel, Bezzerides was tapping into the zeitgeist via an addictive anti-hero, a succession of black-hearted dames, and a government conspiracy with scientific implications. "Kiss Me Deadly's" jaded private eye Ralph Hammer stalks the city streets from Bunker Hill to Melrose, chasing the trail of a mysterious briefcase, the contents of which carry the potential to alter the landscape of not just Los Angeles, but the world at large. It's a sly bait-and-switch technique that's been paid tribute to in such films as Quentin Tarantino's "Pulp Fiction" and Alex Cox's equally subversive "Repo Man." A dark cinema landmark, a groundbreaking, taboo-busting thriller, and a time capsule of a city on the brink of not only nuclear but bureaucratic destruction, "Kiss Me Deadly" stands at the crossroads of classic Hollywood storytelling and the nascent New American Cinema movement, which would rumble away beneath the industry's surface before exploding into the mainstream in just over a decade's time.
On the technical side of things, Criterion's Blu-ray corrects many of the failings of the old MGM DVD from 2001, including its non-anamorphic (remember those times?), cropped, brightness-boosted transfer. Scratches have been smoothed out of the print as well, and the contrast and clarity is greatly improved for this new disc, with the chilly exteriors and shadowy interiors intrinsic to Aldrich's vision made vivid and immersive. Also upgraded are the supplements, with only a fascinatingly bleak alternative ending carried over from the MGM release. Exclusive to the Criterion is audio commentary by film noir scholars Alain Silver and James Ursini, a brief introduction by aforementioned director Alex Cox (who reverentially admits to the visual reference in "Repo Man"), two documentaries—one on Bezzerides and one of the life and work of Spillane—and a vital video piece on the original locations of the film, with comparisons between the old haunts and the blown-out, industrialized sprawls they've become. There's also the traditional Criterion booklet with an essay by J. Hoberman, excerpted from his newest book, "An Army of Phantoms: American Movies and the Making of the Cold War," as well as an interesting written defense of the controversy surrounding the film by Aldrich himself. From its memorable backwards title sequence to its searing, unyielding finale, "Kiss Me Deadly" is an American classic in every sense of the term, and this new Blu-ray is now the only way to see it.
The Makioka Sisters

[Criterion; Region A]
Far be it from me to temper expectations for such an alternately lilting and wounded film, but Kon Ichikawa's sumptuously visual 'Makioka Sisters' is, despite being something of a late career return-to-form for the Japanese journeyman director, not to be classified as top-tier work. I'd hate for that to sell the picture too short, but those perhaps familiar only with other Ichikawa titles available through the Criterion Collection, such as 1956's incisive "The Burmese Harp" or 1959's brutal "Fires On the Plain," could be left wanting for the dynamic compositional sense and harried narrative clip of those films. With that bit of fair warning out of the way, allow me to praise "The Makioka Sisters" for what it is: a sprawling, meditative tale of the bonds between family and the customs which slowly deteriorated around them as the war approached a country once knowingly oblivious to outside influence. The film's eponymous source material, not helpfully dubbed the Japanese "Gone with the Wind," was adapted by Ichikawa and producer-turned-screenwriter Tomoyuki Tanaka (you can thank him for the original "Godzilla" movies). The pair seem to lose a bit of the novel's presumed dramatic thrust, but they make up for any placidness with a handful of finely drawn scenes of real emotional depth toward film's end. Compared to other veterans working through this transitional period in the Japanese film industry—take, for example, Akira Kurosawa, whose ambition was still at this point pretty astronomical, even despite his failing eyesight—Ichikawa's twilight fable can probably play a little too conservatively at times, but with a patient eye the visually inclined should find a lot to admire here.
It's those visuals which translate to the greatest degree on Criterion's new Blu-ray. Soft primary tones in the sisters' kimonos are rich and eye-popping, as are shots of cherry blossoms coloring the Japanese countryside. There's a heavy grain present too, offering what I'd have to assume is the most filmic representation of the picture to date. Ichikawa still had a masterful way with light and shadow by this time, and the darker scenes present a rich showcase of such talents. Even the dated, synth-heavy score sounds sharp and clean via the disc's new lossless audio track, as does the dialogue. From a technical standpoint, I'm not sure much more could be done here. Where I'm left wanting, however, is in the supplement department—there are none present, rare for new Criterion releases. Perhaps conceding that this is a relatively minor Ichikawa work, it's nonetheless disappointing that there wasn't at least an attempt to re-contextualize the film's production and legacy. Meanwhile, Audie Bock is left to provide an outline of Ichikawa's process and historical motivation in the nicely decorated booklet. I'm hoping this won't prove too slight a package to entice curious viewers, as support for these less canonized works could be what it takes to encourage the future release of other Ichikawa masterworks such as 1962's "The Sin" or 1963's "An Actor's Revenge." Criterion certainly seem admirably supportive of Ichikawa, this being his fourth film to enter the collection, but even still: proceed accordingly.
I Only Want You to Love Me

[Olive Films; Region A]
"This film isn't psychological evidence but just a film showing experiences, observations, and speculations regarding its characters." That's Rainer Werner Fassbinder commenting in 1975 on his then-recently broadcast television film "I Only Want You to Love Me," but it could just as easily be read as disclosure on many of his most highly regarded theatrical works. Recently we've seen a small revival in interest for the television productions of the German wunderkind, who made forty films in just over thirteen years (!), with his 1973 sci-fi series "World On a Wire" touring the States last year in a restored print (which should be coming to R1 DVD eventually, after arriving overseas last year). "I Only Want You to Love Me," from 1976, didn't get that kind of reparatory roll-out, but it's arguably just as important a work and one near and dear enough to Fassbinder's heart that it may very well tell us more about this prolific New German Cinema pioneer—who died at 37 years of age from a drug overdose—than anything else in his oeuvre. The film's protagonist, Peter (played by Vitus Zeplichal), and an obvious surrogate for Fassbinder himself, spends the majority of his days looking for the approval of those around him: his wife, yes, but more importantly his mother and father, whom the mounting discomfort plays off of as we're shown in a unique foreshadow/flashback technique that this character's plight will only end in tragedy. Through a procession of carefully framed, immaculately composed images—courtesy of future Scorsese collaborator Michael Ballhaus—Fassbinder is able to lend gravity and a sense of isolation and identification to a character who's yearning heart manifests itself in a most violent fashion.
Olive Films debuts the film on standard DVD, yet the print translates much better than a lot of Fassbinder's work of the period. The progressive transfer is un-manipulated, with colors appearing true and the film's grain structure kept intact without obstructing detail. It's about all you could ask for from a standard-def transfer of mid-'70s Fassbinder. The special feature—only one of them here—isn't much on paper: a 2010 making-of documentary, "Of Love and Constraints: Speculations On Fassbinder's 'I Only Want You to Love Me.'" But its 62-minutes are laden with insights, looking back at the film's production with nearly all the major players. Not only does the doc touch on the style and impetus behind the film, but it also allows a number of Fassbinder's closest collaborators to interpret the autobiographical content embedded within. They also speak of his working methods and eventual death in reverential tones, marking this as one of the more thorough making-of documentaries I've come across recently. It's a worthy tribute to a film that many will be discovering for the first time, and a lasting testament to a filmmaker who altered the landscape of world cinema. This quickly shot, highly personal work—an absolute great film in its own right—makes me wonder how many more of Fassbinder's outlying works are worthy of reassessment. In any case, this is one of the year's great surprises thus far.
Vive L'amour

[Sony Music Entertainment; Region Free]
With companies as self-important as Criterion and Masters of Cinema completely ignoring the New Taiwan Cinema movement up to now, it's been left to a foreign division of Sony Music Entertainment, of all outlets, to shine a long-overdue light on one of the most significant periods in modern cinema. Beginning with a vital restoration of Hou Hsiao-hsien's "Dust in the Wind" last year, SME has continued their admirable series of restorations into 2011 with six Taiwanese classics, which Kathie and I should be touching on sporadically throughout the year (these aren't the cheapest of imports, and they're currently only available to American buyers through YesAsia.com). Tsai Ming-liang's 1994 masterwork "Vive L'amour" falls smack in the middle of the movement's rise to international prominence, and as the second film in what's turned out to be an incredibly consistent, increasingly provocative filmography, it can now easily be seen as the one that solidified a style and set of thematic concerns, as well as a predilection for dislocation and erotic desire left yearning by grotesque human fetishism. An unapologetically rigid formalist, Tsai utilized a nearly silent framing device for "Vive L'amour," articulating the commonalities and overlapping character narratives of three ambiguous Taipei dwellers haunting a vacant apartment complex. Through an interlocking series of slowly developing, coincidental meetings and departures, Tsai eventually arrives at a brave, emotionally gutting conclusion—the implications of the moment and the totality of the film seeming to bear influence in everything from the recent work of Jim Jarmusch to Jung Sung-il's epically antagonistic "Café Noir."
Getting this film on Blu-Ray, let alone DVD, is obviously great news, but SME, for all the critical importance of this project, still don't quite have their finger on the pulse of the digital age curve. They're on the right track: upgrading from "Dust in the Wind's" interlaced transfer, "Vive L'amour" gets an MPEG2 encode, bumping it up to 1080p in the process. In a word, the film looks great; colors jump demonstratively over bootleg editions (obviously) and the way out-of-print Fox/Lorber disc from 1998. Detail is sharp, intricate, and consistently impressive—beginning with this film, Tsai shot in extreme widescreen, and the Blu-Ray articulates the style well, with much more information on all sides of the frame. The package includes two discs, one Blu-Ray with the film and a restoration introduction, and one standard DVD with the film and a 30-minute (subtitled) interview with Tsai. Both are housed in a handsome (if incomprehensible, for those unable to read Taiwanese) multi-color box. The extras obviously could have all gone on the single Blu-ray disc, but seeing as how the film looks as good as it probably ever will and the whole thing is region-free, there's little to complain about with the package. Tsai would go on to further develop and fine-tune this style, taking his artistry to arguably even greater heights with "The River" and "Goodbye, Dragon Inn," but "Vive L'amour" stands as his first unqualified masterpiece—a patient, observational visual discourse on our intrinsic need for human connection.