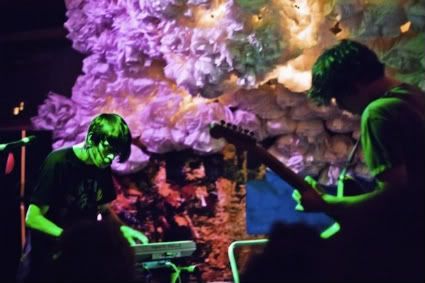 As Sun Araw, Cameron Stallones has carved himself a unique niche by mining one particular strain of psych-rock, and mining it very well. With only a modicum of tools, he's stretched his narrow aesthetic about as liberally as anyone currently working in this particular vein. Which means you either give yourself over entirely to Stallones' stone-faced (or maybe just straight stoned) grooves or you simply skip ahead in your playlist in anticipation of the unwavering sprawl that Sun Araw slowly unravel across each long-form composition. And I don't really think Stallones really cares either way, so dedicated is he to the hypnotic churn he's able to conjure with little more than guitar, synth, drum machine, and a few loop pedals.
Stallones' pair of 2010 records, the
On Patrol
LP and the
Off Duty
EP, swirled dub narcotics around helixing kraut grooves in a nonstop attempt at spiritual transcendence. Sun Araw's forthcoming album,
Ancient Romans
, doesn't look to be a huge change in direction: "Crete," our first taste of the record, is all hollowed-out psych loping and fiery soloing in the tradition we've come to expect from Stallones. Here his guitar tone reminds me a bit of early Ash Ra Tempel—surely an influence on the Sun Araw ideology—when Manuel Göttsching would get loose from the groove and spit electric currents in wild abandon. Stallones doesn't show that kind of dexterity, but the intended effect feels similar, as a rather demonstrative synth chord stamps out a concrete melody beneath free-form pyrotechnics.
At nearly ten minutes, "Crete" is given ample room to breathe, with variations in harmonics seamlessly folding in on themselves across Stallone's one-man post-apocalyptic landscape. In other words, this is heady, concentrated stuff, borne of mind restless and searching for a realm beyond which we currently reside. And significantly, Stallone continues to get there, though he leaves it up to the listener to meet him halfway. The trip won't be worth the effort for some, but few artists are currently spinning cathedrals of sound this intoxicating and with seemingly so little effort. [
CMG
]