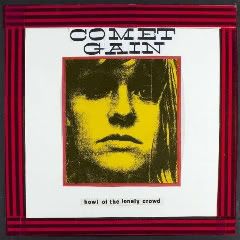 Reviewing a record like
Howl of the Lonely Crowd
is a somewhat disheartening endeavor. Perpetually underrated as Comet Gain have been, and this being sixth album in fifteen years, it's more than a little depressing to think that they've more than likely extended their popular reach. In that sense, they're a quintessential indie-pop cult act—not in the tradition of eventual breakthroughs like Belle & Sebastian, but more in line with '80s fringe collectives such as the Chills and the Clean. Like those bands and many in their orbit, Comet Gain tend to be appreciated (when they're appreciated at all) more for their run of singles than their full-lengths. Their "Jack Nance Hair" 7-inch from 1998—compiled on 2009s essential
Broken Record Prayers
compilation—may be the absolute apex of the modern indie-pop single. And though they haven't release an album in six years, their sound is still all over the modern pop underground, with Los Campesinos!, Crystal Stilts, and the Cribs in particular all flirting with certain aspects of their style.
Less than a minute into
Howl
opener "Clang of the Concrete," however, and it's obvious what we've been missing out on in the interim. As Comet Gain have honed their skills over the past two decades, they've matured, as many an indie-pop band before them, but parallel to this thematic growth has been the group's increased attention to song craft, which has arguably been just as vital to their continued success. As "Clang" attests, they've all but mastered the long-form, slow-build pop anthem. At just over five minutes, the track parlays the band's raw, eternally endearing approach to production into a sense of growing euphoria as singer/guitarist David Feck rides sharp three-chord riffs towards a show-stopping midsection where pregnant pauses usher in a mirrored keyboard melody that the band playfully careens off for the remainder of song. It's one of their best songs to date, and a peak that Comet Gain somehow scale on a couple more occasions across
Howl's
42 minutes. In fact, the first four tracks are uniformly strong, rising from the sprawl of "Clang" to the tough turnarounds of recent single "Weekend Dreams," before receding into the calmer, more vulnerable confines of "An Arcade From the Warm Rain That Falls" and the downright swooning "She Had Daydreams."
It's in this harmonious, more considered guise that Comet Gain continue to excel. Late album highlight "After Midnight, After It's All Gone Wrong," which plays something like a power-ballad, tosses off vocal hooks with each new measure, rendering "Clang" meek by comparison. The track's bridge—"Don't forsake the memory ache / Don't you break / It's just the memory ache"—may even represent the record's single best hook, as Feck turns a mantra of nostalgic hurt into a darn near inspiring feat of encouragement. The track also notably pulls the band out of a kind of mid-album lull, where they unfortunately fall back on some of their early, rudimentary garage-pop moves. This oddly sequenced detour—running roughly from "Working Circle Explosive!" through "Herbert Hunke Pt 2"—doesn't derail the album, but it does play up the contrast between the small-scale ambition of those tracks which they allow to build intuitively and those which feel composed of a low stakes desire to surrender squarely to pre-prescribed structures. Comet Gain have never been the most musically enterprising band to begin with, so when playing to their base instincts as they noticeably do on these few tracks, they tend to become far less interesting, more of a commonplace garage band than the enviably talented group they've proven themselves to be elsewhere.
They work that more elemental style to better effect later on with "Ballad of Frankie Machine," yet even that pales in comparison to a surrounding series of emotionally acute missives. The short ballad "A Memorial for Nobody I Know," and its bookend "Some of Us Don't Want to Be Saved," work the album toward an appropriate climax, echoing the solitude suggested by the record's title of a cult fan base obsessing over such basic yet powerful universalities.
To that end, the album concludes on an even more appropriate note with the short, graceful "In a Lonely Place" exemplifying the tight rope this band walks between over-emotive sad-sack balladeering and sincere offerings of markedly affecting indie-pop. A line like "I was born when she kissed me / I died when she left me" reads like high school poetry at its worst, yet Comet Gain milk genuine passion from the sentiment, hanging Feck between quietly ringing chords and the patient arrival of full band accompaniment. At just a minute and a half, it's the perfect encapsulation of
Howl
as a whole, eliciting as it does private response from earnest delivery across a well composed framework. It may not be the crossover success these guys deserve, but
Howl of the Lonely Crowd
is a strong, seasoned indie-pop record that'll sustain the cult while opening up yet another avenue for the curious to stumble across one of the more tragically ignored bands of their time. [
CMG
]