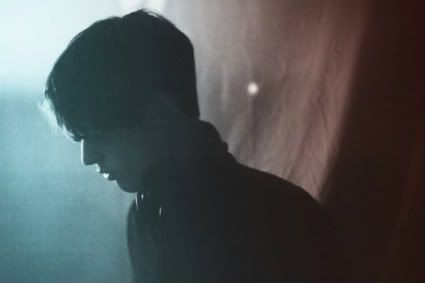 The fact that I feel like I've consistently been calling each successive year not just a good year but a great year for music is probably the strongest evidence I can provide to suggest that just such a qualifier is no longer a necessity. There's simply so much music currently available and instantly at ones fingertips that a list-making exercise of this sort has in a sense receded back to its original function: to take stock of a single opinion and perhaps point the like-minded toward a new discovery. As such, one could conceive of similar lists devoted to single genres as opposed to vain attempts as comprehensiveness such as this. So while I'll make no apologies for what I've chosen on this day to represent my fifteen favorite albums of 2011 so far, I will offer the caveat that I am not completely confident with my selections. Meaning, there are probably a dozen other records that could conceivably make this same list if it were made on a different day of the week.
This is a good thing as far as I'm concerned, but in the interest of full disclosure, some of these honorable mentions would include Liturgy's
Aesthetica
, David Thomas Broughton's
Outbreeding
, Chad VanGaalen's
Diaper Island
, EMA's
Past Life Martyred Saints
, Wild Beasts'
Smother
, Roommate's
Guilty Rainbow
, Jamie Woon's
Mirrorwriting
, Black Eagle Child's
Lobelia
, Bill Callahan's
Apocalypse
, The Men's
Leave Home
, Thunder & Lightning's
Kangaroo Court
, Cass McCombs'
Wit's End
, the Mountain Goats'
All Eternals Deck
, and
An Empty Bliss Beyond This World
by the Caretaker. Further, with music criticism being what is today, I'll refrain from any extraneous commentary on these selections. Besides not going in for anything too obscure, I also feel these records speak pretty well for themselves. Plus, I've reviewed a handful of them already (and will be catching up with a few more in the near future), so more in depth analysis is out there for those interested. In any case, there is enough breadth of genre across just these fifteen albums—seriously, everything from dubstep to ambient to art-rock to avant hip-hop to free improv is represented—to keep one occupied for at least another six months, by which time I'm sure this list will look a little different.
13 & God
/ Own Your Ghost [anticon.]
Battles
/ Gloss Drop [Warp]
Julianna Barwick
/ The Magic Place [Asthmatic Kitty]
James Blake
/ James Blake [Atlas/A&M]
Braids
/ Native Speaker [Flemish Eye/Kanine]
Burial
/ Street Halo [Hyperdub]
Deerhoof
/ Deerhoof vs. Evil [Polyvinyl]
Destroyer
/ Kaputt [Merge]
Gang Gang Dance
/ Eye Contact [4AD]
PJ Harvey
/ Let England Shake [Vagrant / Island Def Jam]
Tim Hecker
/ Ravedeath, 1972 [Kranky]
Nicolas Jaar
/ Space Is Only Noise [Circus Company]
Shabazz Palaces
/ Black Up [Sub Pop]
Colin Stetson
/ New History Warfare Vol. 2: Judges [Constellation]
Kurt Vile
/ Smoke Ring for My Halo [Matador]