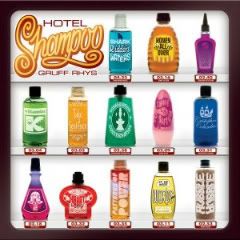 Gruff Rhys has been on the scene for roughly two decades now: nine albums deep ring-leading the psychotic-pop troupe known as Super Furry Animals, and meanwhile he's collaborated with Gorillaz, Sparklehorse, Mogwai, and Simian Mobile Disco, among others, somehow finding time to start a side project with Boom Bip called Neon Neon and record two previous solo albums (and let's not even get started on his film work). That's a lot of Gruff, even for those of us who still consider SFA one of the most sorely underrated bands of their time. What all that activity has done is paint Rhys into an enviable corner of cult celebrity wherein his fervent fan base will unquestionably inhale whatever hot air he is currently exhuming in a kind of indentured servitude to the man who wrote "The Man Don't Give a Fuck." It's also, paradoxically, left those only passingly familiar with the man without much of a thread to connect the many loose ends littering Rhys's catalogue, resulting in exhausted responses to much of the recent Furries material, including 2009's wonderful
Dark Days/Light Years
, which, unapparent to most, was one of the band's best albums.
With its early UK and digital release leaving little mark on the young year, and its recent States-side physical bow met with a fraction of that, a similar fate looks certain to befall
Hotel Shampoo
, Rhys's third solo venture outside of his main band. Which is a shame, since there is plenty to get on board with here—though, as suggested, an inevitable air of preaching to the converted is palpable throughout. The album's title is a reference to Rhys's apparently insatiable need to lift travel-size bottles of hair product from the various hotel rooms he occupies while on the road, and the album appropriately reflects an equally cosmopolitan approach to genre. Which shouldn't come as a surprise to anyone in the least bit familiar with the SFA discography;
Hotel Shampoo
can play at times like a travelogue not only of Rhys's cross-continental sojourns, but also of his full-time band's omnivorous appetite for genre.
It's way too late to call anything Rhys does pastiche, as in essence his sound has become so distinct because it refuses to play by any conventional rules regarding adaptation and execution. Nevertheless, it's easy to hear strands of Rhys's past in
Hotel Shampoo's
best moments. The album revs up through a bit of radio static, picking up a few outlying stations on the dial before lifting off proper with "Shark Ridden Waters," a sample-based track recorded with electronic producer, DJ, and Twisted Nerve label founder Andy Votel. Bringing along some interesting source material in the form of the Cyrkle's cover of Burt Bacharach and Hal David's "It Doesn't Matter Anymore," Votel helps expand Rhys's typically swooning pop arrangement into a cinematic, three-dimensional smorgasbord, its multiple elements balanced around a soft-focus vocal melody. The album's longest track by a healthy margin, it's one inventive and meaty enough to headline most any recent Super Furry Animals record.
From there we're mostly afforded small wins and pleasantly inconsequential genre exercises. "Sensations in the Dark" is the album's tight, power-pop highlight, coming on like a lost
Guerilla
(1999) cut as Rhys warbles in that recognizably featherweight vocal register. It's confident and direct enough in its approach that the absence of Cian Ciárán's counterpoint electronics are hardly missed. In fact, the album's first half is so swift and effortless it can be easy to miss a pretty affecting (and effective) ballad such as "Take a Sentence." Elsewhere, however, Rhys is forced to buttress a few songs with various stylistic accoutrements due to such skeletal arrangements. He props up the coda of "Christopher Columbus" with some wily sax squeals, invites El Pero Del Mar to duet on the otherwise uneventful "Space Dust #2," and adopts a Wales-via-Memphis '50s doo-wop shuffle for the unexpectedly charming closer "Rubble Rubble," which, if outfitted with tape hiss and a deeper, more demonstrative vocal, could pass for a Dirty Beaches outtake.
Rhys deploys each of these details with a veteran's touch, doing his best to keep the album flowing smoothly for a full forty minutes. And he mostly succeeds, though sequencing four ballads across the album's last quarter tries the patience after such an infectious first half, selling short the wonderfully chintzy slow-waltz of "Rubble Rubble." Still, this is Rhys wholly in his wheelhouse: offering up a handful of standalone highlights and clever deep cuts, hitting pleasure centers along the way, and quietly adding to a catalogue as deceptively substantial as anyone currently working the pop circuit with fifteen years behind and at least another fifteen ahead. [
CMG
]