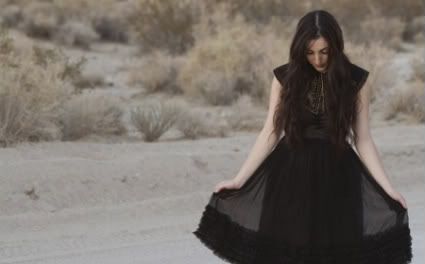 It's frankly a little troubling—though completely indicative of the time—that an artist as talented as Marissa Nadler has to hawk homemade covers albums and launch a Kickstarter campaign to fund the recording of her new album. Even as one of the few folk-based songstresses to gain a foothold in the post-New Weird America indie landscape, Nadler nevertheless remains sorely underrated, despite building a quietly intimidating catalogue which reached an apex with 2009's excellent
Little Hells
. With that being said, the donation process thankfully succeeded, and Nadler's upcoming self-titled will soon arrive via her own Box of Cedar imprint.
She recently commented via press release that the album is "the most natural, honest thing I've ever written… I'm no longer hiding. The mystery still exists in the music as an aesthetic tool, but the songs cut harder because of the vocal mix, with more varied colors than my other records." This more confident approach obviously holds intriguing potential, particularly when you consider that
Little Hells
already saw Nadler embracing her inner Elizabeth Fraser to deploy an array of synthetic new wave textures in an attempt to offset her more traditionally based acoustic confessionals. If
Marissa Nadler
does indeed hold further experiments outside the folk realm, then "Baby, I Will Leave You in the Morning" isn't disclosing a whole lot in that direction.
Instead, the song's slow-burn extends many of the familiar elements we've seen in her most recent material. And it does so wonderfully. Synth engulfs the mix here, sounding downright expansive atop deliberate percussion and Nadler's painfully honest admission that her departure, despite her partner's commitment, has been inevitable from the start ("Been a sinner all my life," she confesses repeatedly). What "cuts harder" here isn't necessarily her vocals, which sound as rich and expressive as ever, but the confidence she has in unraveling a narrative with very little in the way of traditional structure. In other words, there's not really a chorus here, forcing the listener to hang on Nadler's every word as the track dramatically builds towards not catharsis or relief, surprisingly, but a feeling of deep regret. Embarking on yet another of her aforementioned "sinner days," Nadler finally seems to get what she wants, yet immediately changes her tone once realization to the severity of the break takes hold, begging for forgiveness as the song moves towards a close, admitting—with a tinge of pain and a lump in her throat—"I am getting higher by the moment / I was wrong to leave you / I was wrong." [
CMG
]