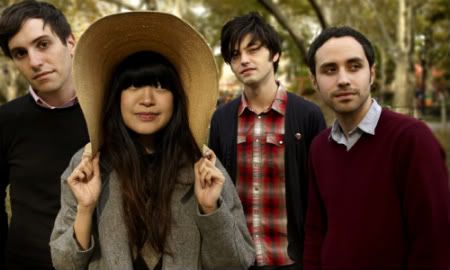 We already knew, based on their charming debut album, that Pains of Being Pure at Heart had a pretty good handle on all things Sarah and K Records. Not quite as evident that first time around: the seeds of '90s alt-rock littered amongst the band's tangle of fuzz pedals. Then again, it's only been a couple of decades since many post-
Nevermind
(1991) upstarts similarly used (unconsciously in most cases, lest we give some bands too much credit) the Pastels, Beat Happening, and the Field Mice as stepping stones to major label pay days and 120 Minutes spots. In other words, we should have seen this coming.
With that pedigree, why does "Belong"—the title track and first taste of the Pains' upcoming sophomore album—sound so suspiciously telegraphed? The easy answer: Alan Moulder and Flood, the producers responsible for everything from
Glider
(1990) and
Going Blank Again
(1992) to
Pretty Hate Machine
(1989) and
Siamese Dream
(1993). And in just fifteen seconds Pains announce their intention to follow their producers' baser impulses with a James Iha-worthy riff aimed directly at arena cheap seats.
Don't get me wrong,
Siamese Dream
still kills, no matter the lengths to which Corgan has gone to undercut his band's legacy. And far be it for me to cry "disingenuous" in a era of aesthetic dress-up and nostalgic affectation, but I'll be damned if "Belong" doesn't sound like Pains using their blog-fueled cred to leap frog their built-in audience and shoot towards a Silversun Pickups-sized opening on whatever's left of the Billboard charts. Sure, the production variances ultimately come down to aesthetic preference, but they'd be easier to forgive if "Belong" were at least comparable to the songs on their debut in terms of songwriting acumen.
See, for all the red-level distortion that tracks such as "Young Adult Friction" had to fight through, you always got the sense that beneath the din lay some pretty strong compositional detail. "Belong," by comparison, offers all its rewards right up front. The rounded-off edges and beefed-up guitars support a pretty simple sing-song cadence, with verse and chorus structure built on the same twelve-to-fourteen step meter: "I know / It is wrong/ But I know / We still belong." Inspiring? I mean, the band still exudes a casual confidence, with singer Kip Berman doing an uncanny Billy Corgan throughout; as such, it's not hard to get swept up in the cresting melody as Pains check off every box on the alt-radio buzz sheet. It's a curious if logical move for an indie-pop band angling for a wider audience—and it's easy to see the track alienating as many older fans as it welcomes new ones—but as someone who had Pains of Being Pure at Heart pegged as one of the more promising young pop bands of the last few years, I can only hope that "Belong" works alone as an arena-embracing single while the remainder of the album was reserved for some slightly more idiosyncratic fare. [
CMG
]