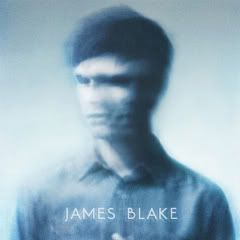 With the genre currently entrenched in its most willfully omnivorous state, it's certainly not uncommon for electronic artists to regurgitate styles in an effort not to repeat themselves. But even still, the strides that young post-dubstep wunderkind James Blake has taken in such a concentrated amount of time are nearly unprecedented. It's not often that we see a debut album that feels not only like a mature, fully-formed artistic statement, but also one that feels like such a definitive break with the artist's prior work. In Blake's case, this is five releases—one single, three EPs, and now this self-titled full-length—each it's own unique entity, each constructing self-imposed stylistic confines from which to work, and each a surprising and rather remarkable step forward from the last. If early tracks from
The Bells Sketch
and
CMYK
EPs approached modern R&B from a distanced, abstract vantage, then the proceeding
Klavierwerke
EP found Blake more openly engaging with a style that has made an unexpected comeback over the last year.
James Blake
, then, is the full blossoming of this latter approach, a brave singer-songwriter effort from a producer hell-bent on refracting his stylistic proclivities through the systematic lens of modern technology.
Blake's been slowly unveiling a more singular persona over the course of his previous releases, but here he embraces all the vulnerability that comes inherent with just such an artistic decision. Turns out, he's got a pretty amazing voice, full-bodied yet fragile, powerful in the lower registers yet merely suggestive when he decides to wrap himself tendril-like around his downtempo beats. His lyrics are equally gripping, with fairly simple phrasing given to uncommonly sensitive and emotionally exposed sentiments. The entirety of the "I Never Learnt to Share" lyric, for example, is "My brother and my sister don't speak to me / But I don't blame them," yet its Blake's naked delivery coupled with the production's dramatic framing which sell the performance. And to be honest, I have little idea what "Beacon don't fly too high" means, but the way Blake subtly manipulates his tone and phrasing on "Lindesfarne II" is one of the more soulful moments on record this year.
James Blake
is about as personal an album that I can imagine still inevitably falling under the "electronic" banner.
Blake's cross-pollination of styles, ideas, and genres hits its peak on album centerpiece and Leslie Feist cover "Limit to Your Love". This standout from Feist's breakout album
The Reminder
is completely re-imagined and retrofitted in Blake's hand, built around a rotating sequence of rolling piano chords and stuttering beat eruptions. And the dude straight
sells
it, offering his most powerful vocal performance yet on a track that could have been delivered as mere novelty. In truth, I have little use for the original at this point in my life, but Blake's given me not only one of my favorite songs of the year—and from a source that I find merely pleasant at best—but also one of the most impressive covers that I can remember hearing. The confidence and authority this young man of only 23 shows here and across the length of the album is truly impressive; one gets the sense listening to the record that an exceptionally talented artist is working from a wellspring of inspiration that, even at its highest points throughout the album, doesn't seem close to being tapped.
The streamlining of Blake's songwriting technique is obviously notable (album closer "Measurements" is traditional enough to pass for a church processional), but some of the record's best moments are its most abstract. Late album highlights such as the male-female duet "To Care (Like You)" and the stuttering "I Mind" represent the record's only true concessions to dubstep, yet in this context sound absolutely fantastic, breaking the album's inward pull as they splay the insides of Blake's equipment around the record's ultra roomy mix. This patience and preternatural regard for the album format evidences a maturity frequently absent from such precocious musicians, yet Blake owns every experiment and delivers on every risk he takes across the album's tight 40-minute runtime. For most, the album's self-titled designation may simply work as a nominal compendium for Blake's myriad sonic gestures up to this point, but I'd like to think it betrays a sense of personal disclosure that comes across in this regard as honest above all else.
The comparison may be obvious—and as this review coincides with the album's delayed psychical release in America, perhaps old-hat by now as well—but not since Burial solidified his aesthetic with 2007's landmark
Untrue
has a producer from this sphere of electronic music made a leap of this magnitude. The records themselves don't really have all that much in common—except perhaps for an essential concession to atmosphere, a penchant for abstract vocalization, and an exceptional sense of negative space—but as electronic music continues its life-long process of dehumanization, it's notable that these two breakthrough artists have imbued their music with a warmth and altruism that is all too rare in the genre's modern incarnation. Blake's prolific output and exceptional rate of artistic growth across this span—lest we forget, this guy's only been on the radar for about fifteen months—may be setting him up to plateau sooner rather than later, but right now it's simply a privilege to watch him continue to excel. Regardless of genre, he's released some of the most unique and forward-thinking music of the past year and a half, in addition to one of 2011's great albums thus far. I can't wait to see where he goes next. [
InRO
]