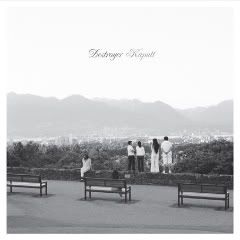 Leave it to Dan Bejar to inject the indie world's continued obsession with the 1980s with a welcome dose of sincerity—and this via some of the era's cheesiest and most potentially ironic signifiers. Bejar's ninth album as Destroyer doesn't feel like an answer or a retort to these trends, rather
Kaputt
feels like another swerve in Bejar's long and winding artistic road, one that has led him from acoustic lo-fi (1998's
City of Daughters
) to restless midi-experiments (2004's
Your Blues
) to studio-finessed indie-prog (2006's
Destroyer's Rubies
). By these standards, then, arriving in 2011 with slow-mo sex jams is rather logical, particularly when one steps back to attempt contextualization of the Destroyer project.
This brief outline would seem to suggest that this was an easy destination for which Bejar to arrive, when in fact the last few years have been, by all accounts, some of the most challenging and apprehensive of his career. He's done everything from publicly decry the art of recorded music to attempt rejuvenation via collaboration (see his recent collaborations with Tim Hecker and Scott Morgan of Loscil), emerging with a couple of EPs in the process but no sign of a full-length since 2008, the longest drought of his career. All of a sudden this icon of unencumbered lyrical regurgitation seemed to be at a loss for words.
Kaputt
earnestly answers all these questions and ably sets Bejar forth into his third decade as if this moment of doubt were just a hiccup on the way towards a new artistic plateau.
I'm going to stop short of calling
Kaputt
Bejar's best record yet if only because he's so carefully segregated his tangents that it feels more appropriate to appraise each progression on its own terms. And by those standards,
Kaputt
is a triumph. Never does Bejar's flirtation with early 80s cheese-rock become a crutch to support flimsy melodic or structural details. He's still writing lyrics as if punctuation doesn't cohere with his method of demarcation, and structurally he's still playing with the form as if a pop song is a borderless concept presented to him as malleable material for which to mold to his liking. This is intently drawn, deliberately polished, and totally sincere modern soft-rock, updated as if trends are simply a figment of our imagination and irony but a cop-out to enjoying the full spectrum of music's capabilities.
Song for song,
Kaputt
is one of Bejar's most consistent and consistently fascinating albums. The soft-core sax stylings of opener "Chinatown" set the table, Bejar suavely announcing his return, mantra-like as he admits "I can't walk away / You can't walk away." Here and elsewhere he's echoed by Sibel Thrasher, whose full-bodied delivery provides a nice contrast to Bejar's sharp but ever more nuanced phrasing. Even so, this is one of the only Destroyer records yet where the music isn't subservient to the lyrics. It's therefore equally possible to glean enjoyment from the chintzy dance undercurrents of "Savage Night at the Opera" and "Song for America" as it is to hunch over the labyrinthine, self-referential scribblings of "Blue Eyes" and "Kaputt." Perhaps reinforcing this democratic approach is "Suicide Demo for Kara Walker," written not by Bejar but by his titular counterpart. Emerging from an extended wash of ambient synth, the track proper outlines some societal concerns foreign to Bejar's more personal approach. It's a dreamy, oblique piece—both structurally and lyrically—and it's one of
Kaputt's
strongest individual moments.
It's not all smooth jazz and blithe come-ons, however; eleven minute closer "Bay of Pigs (detail)," which showed up in slightly different form in 2009 on a 12-inch of the same name, infuses a lite-disco clap-bounce into
Kaputt's
coke-sheen'd ambiance. It emanates from the same era touched on by the album's more recognizable signifiers, but puts down roots in a more flamboyant side of town, and as such ends the album on a demonstrative, effervescent note. This may be the year's best make-out record, but Bejar never forgets the night-club jams that lead from the dance floor to bedroom. In other words, he's doing his best to get you laid here, and that's more than you can ask for from most of today's records. Importantly, though,
Kaputt
holds up just as well between the sheets as it does under the close scrutiny of headphones and reading lights. It's one of 2011's most generous albums so far, and after a decade-plus of entrusting ourselves to Bejar's every whim,
Kaputt
feels like something of a gift in and of itself. [
InRO
]