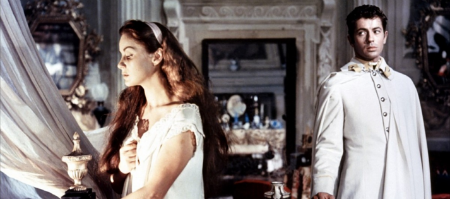 "Although some would have you believe the grim reaper is ready to sign their death certificate, DVDs still represent your best opportunity to see films—old and new, domestic and foreign. Streaming and on-demand services are becoming more and more prevalent, but they still have a ways to go before they turn my collection into stacks of shiny coasters. For every title I own available by alternative methods, I have ten others that aren't. Short of having your own stockpile, now may be the time to adopt your local video store. As the ubiquitous red envelope delivery service starts slowly phasing out physical DVDs and Blu-rays in favor of streaming movies, many releases will not be available on Netflix and not yet available for streaming, as is the case with many of the selections below. Hunkering down for the next phase of home distribution most likely means that the dedicated cinephile will have to be savvy at navigating all the options, including slapping down some cash for the likes of an imported Mizoguchi box set, or a pristine Blu-ray of Visconti's "Senso," or simply a plain old DVD of the Swedish film "The Girl" that you can't find anywhere else."
Kathie Smith
[Feature by Jordan Cronk and Kathie Smith] [
InRO
]
(
Note: For archiving purposes, I've included my personal contributions to this column below. Please follow the link provided above to read the entire feature - JC
)
Senso

[Criterion; Region A]
I mentioned in our Home Movies 'Year in Review' column recently that the Blu-Ray format was all but made for films such as the Powell & Pressburger mid-'50s Technicolor productions, but now I'm happy to report that this is only relative to the high definition marvel of Luchino Visconti's lavish melodramas, which are pushing the 1080p format to new heights. Last year, Criterion gave us a gift with their Blu-Ray upgrade of "The Leopard," and not to slight that film (which has been in relatively steady availability), but their resurrection of Visconti's seething 1954 classic "Senso" is cause for even greater praise. Previously available as only a wonky OOP Korean import, "Senso" arrives in the Collection looking as lush as it ever has, perhaps matched in vibrancy only by the film's electric third act volley of revelations.
Telling a tale of doomed love between an Italian countess (Alida Valli) and an Austrian Army officer (Farley Granger, probably recognizable to most as Hitchcock's put-upon pawn in both "Strangers On a Train" and "Rope"), a societal no-no in 19th century Italy, the film offers plenty of opportunities for Visconti to revel in the country's extravagant period design and turbulent political landscape. It was also the Italian master's first look into his homeland's past after a series of neorealist experiments, an impulse he indulged more or less consistently from here on out, that for better or worse solidified our current perspective on Visconti as a practitioner of the period film. I do have a problem with this shortsighted designation, but in the case of "Senso," arguably Visconti's greatest achievement, it feels all but preordained that the genre would play such an integral role in the man's maturation as a filmmaker.
The new Blu-Ray is equally sumptuous, with almost four hours of bonus material supplementing the film. An hour and a half of that is given over to a rarely-seen English version of the film (known as "The Wanton Countess" to an American audience who may have seen it on television over the years), which exists in slightly rougher form than the Italian print, but is interesting if only to hear Valli and Granger deliver their dialogue in English before being dubbed for the final version. There are also two documentaries—one a making-of and one exploring Visconti's roots in the world of Opera—featuring interviews with co-cinematographer Giuseppe Rotunno and assistant director Francesco Rosi, among many others associated with Visconti and the film. Rounding out the disc is an illuminating "visual essay" on the film by Bergman biographer Peter Cowie, and a 1966 BBC program devoted to Visconti's reach across three different mediums: theater, film and opera. Coupled with one of Criterion's always detailed and beautifully designed booklets, you've got one of 2011's first essential Blu-Ray purchases and one sure to be talked about as one of the years defining releases.
The Stranger

[HD Cinema Classics; Region Free]
Orson Welles's "The Stranger" presents something of a case study on the differentiations and limitations of certain digital mastering practices. The inherent grain in black & white Hollywood productions of the '30s, '40s and '50s is one of their great charms, and one at odds with modern cleaning methods such as digital noise reduction, which basically wipes clean said layer of grain to produce a glossy and sharp picture. There's a fine line, however, between reducing visual noise and sapping a film of its aesthetic palette. So technically, "The Stranger" looks neat and sharp on Blu-ray from HD Cinema Classics, but it's also a false picture to some extent, stripped of director Orson Welles's rich, full bodied cinematographic intention. I don't want to make too big a deal over this since "The Stranger" isn't exactly a Welles masterpiece; in fact, this represents the only time that Welles would buckle to the studio system, turning in a fairly traditional film lacking in the virtuoso stylistic displays that still managed to make their way through the hatchet job inflicted on his previous film, 1942's "The Magnificent Ambersons."
Nevertheless, this is an Orson Welles film, and the only one he made during his Hollywood run other than "Citizen Kane" that remains in totally unaltered form. Personally, I've always had a soft spot for "The Stranger": the brio with which Welles dives into his portrayal of a Nazi fugitive on the lam in suburban Connecticut is just cheeky enough to be endearing; the supporting players, from Edward G. Robinson to Loretta Lynn, are believable and well-developed (from an Oscar-nominated screenplay by a team of writers no doubt ghosted and kneaded by Welles); and the climatic clock tower sequence still remains one of Welles's most impressive set-pieces. Therefore, it comes down to this: If you own the DVD, there's no need to upgrade as the picture quality is solid and more importantly, accurate (and the Blu-Ray offers no extras to tilt in its favor either). But if you're looking to add "The Stranger" to your digital library for the first time, then the Blu-ray wouldn't be a bad purchase, though the film being public domain leaves the possibility open that a more competent rendering will one day surface.
Late Mizoguchi - Eight Films: 1951 - 1956

[Masters of Cinema; Region B]
The rate of production being what it is today in American cinema, I'm personally ecstatic when a worthwhile filmmaker returns with a new film in under three years. The Japanese, being some of the most productive people in just about every facet of life compared to us, have cultivated a film industry as productive as nearly any in the history of the medium. The golden age of Japanese cinema—roughly, I'd say, from the 1920s through the '50s—was a breeding ground for some of the greatest directors the world has ever seen. There are therefore many candidates for the crown: Kurosawa, Ozu, and Kobayashi from the canon, Imamura, Naruse, and (from what little survives) Yamanaka from the pool of influence. But the classification for the most substantial 20th century Japanese export is, as much as any other, Kenji Mizoguchi (he of over 85 films, less than 30 of which still survive).
I hesitate to delineate any stretch of a filmmaker's career as their best, let alone from a man so productive and wide-ranging, but the twilight years of Mizoguchi's career—and the period covered in Masters of Cinema's overwhelming new 'Late Mizoguchi' boxset—unquestionably produced his most popular and endearing films (at least in America). The one-shot, one-cut sequences of his early films had by this time been curbed to some degree—though there are still fascinating examples of the technique sprinkled throughout this set—while the cloistered, geisha-centered narratives are, if not absent by any stretch of the imagination, expounded upon and patterned alongside a handful of his most narratively ambitious pictures. In all, there are eight films included here (each packaged two-to-a-case, all of which have been previously available, but only last month received the box set treatment), all made over a period of just six years. And this isn't even the whole of his output during that time: Mizoguchi, in fact, made three more films during this late-career flourish—1951's "Lady of Musashino," the 1952 masterpiece "The Life of Oharu," and a solid penultimate feature, "Taira Clan Saga" in 1955—but for competing studios, thus they aren't represented in this Daiei-exclusive set. What's more interesting to note is how, even at the tail end of Mizoguchi's career—before passing away the year of his final film, 1956's great "Street of Shame"—Mizoguchi was still beholden to the demands of his home studio (unlike, say, Kurosawa, who by this time was working relatively freely after a period of propaganda efforts in the '40s). Thus, the set alternates between lesser, hamstrung studio-mandated films—1954's "The Woman in the Rumor" and 1955's "Princess Yang Kwei-Fei"—and unimpeachable masterpieces like 1953's "Ugestsu" and 1954's "Sansho the Baliff," both on a very short list of the best films ever made.
This would seem to evidence an inconsistency in regards to the quality of these films, but out of the eight, at least two qualify as masterpieces, while a handful of the remaining six are all but essential viewing. Only the aforementioned "Princess Yang Kwei-Fei" is lacking for superlatives, and is in fact as lifeless as its cinematography is bold (this representing one of only two times Mizoguchi would work with color). The way Mizoguchi emboldens a few of these films that he reportedly had little inherent affinity for—particularly the exquisite "A Geisha" and the gutting "Crucified Lovers"—speaks to his mastery and affection for the medium. Those predisposed to this set probably even own "Ugetsu" and "Sansho the Baliff" (as I personally did), but it's the remaining films in this set which paint a near complete picture of late-period Mizoguchi—without them, the
kaidan
permutations of "Ugetsu" and the epic familial disperse of 'Sansho' want for the grounded characterization of Mizoguchi's self-contained societal studies.
Plus, Masters of Cinema deck out the box with contextual supplements, including lengthy film specific introductions by Japanese film scholar Tony Rayns, who also provides a commentary track for "Street of Shame," which is great for those looking for more background on the film after viewing the barebones disc included in Criterion's Mizoguchi Eclipse set. Also included are generously annotated and decorated booklets for each two-film set, with essays about the particulars of production and the legacy of each picture. Needless to say, this is a cornerstone collection for any serious cinephile, further evidence that if you aren't watching in region-free than you're hindering your exposure to some of the most interesting works in world cinema, and perhaps a vote of confidence that the extended Mizoguchi filmography will one day see the light of day in a digital format.