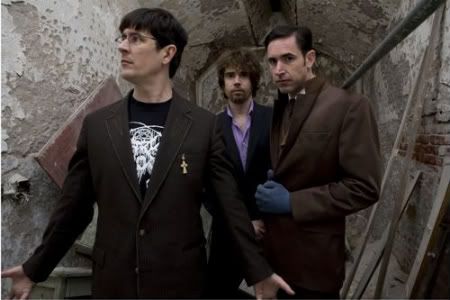 John Darnielle has been trafficking in the art of the concept album for so long that it's frankly pretty surprising to learn that his 18th album with the Mountain Goats,
All Eternals Deck
, will have no central thematic conceit. Still, Darnielle being Darnielle, the record will be no slapdash collection of recent tracks; rather, based on some preliminary info, it will be more of a peripheral extension of some of his band's more darkly emotional work.
Darnielle has already described
All Eternals Deck
as a "surviving record," and by dint of the album's first dispatch, "Damn These Vampires," the singer-songwriter's penchant for ambiguously detailed narratives can prove just as arresting in closed configurations as it can via album-length story threads. While Darnielle has claimed this new material is inspired by black metal—going so far as to corral Hate Eternal frontman Erik Rutan to produce three tracks for the album—this track bears none of the genre's hallmarks: rather, it is content to contrast lost boys bloodsucking with misgivings over past wrongs. In other words, this isn't going to be the Mountain Goats'
Black Cascade
(nor their
Wind's Poem
, to float another more logical possibility). As "Damn These Vampires" attests, we're looking instead at a spiritual reconciliation of the Mountain Goats' painfully intimate acoustic approach with metal's thematic concerns.
At which game Darnielle proves masterful, exploiting the apprehension that characterizes black metal by giving glimpses of a faint light at the end of the tunnel. He portends, "When the sun comes try not to hate the light / Some day we'll try to walk upright." As has often been the case with the band's post lo-fi work, "Damn These Vampires" shows how a simple chord progressions coupled with Jon Wurster's elemental percussion serves more as a backdrop for Darnielle to outline a narrative, his voice rising to meet his in-song adversary as the melody buttresses the title phrase and an air of resignation seeps through the song. We may not reencounter these nosferatu across
All Eternal Deck's
remaining twelve tracks, but there are enough curious particulars within "Damn These Vampires" alone to encourage one to draw the blinds and revel in the song's ominous, alluring ambiance. [
CMG
]