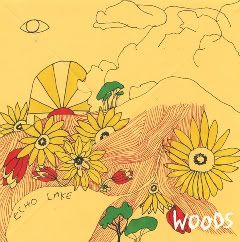 "As the saying goes, the weird get weirder. But while this may more or less prove accurate in day to day life, in the music world, quite the opposite tends to be true (hell, even Ariel Pink is making waves this year). This is once again evidenced by New York-based psych-folk troupe Woods, who—after a handful of willfully tossed-off full-lengths and the odd 7-inch—return with their highest profile and most committed release yet,
At Echo Lake
. Thankfully, most of the band's familiar hallmarks are still present: barely-tuned acoustic strumming, frontman Jeremy Earl's eternally nasally vox, and a (slightly less noticeable) layer of lo-fi ambiance rubbing up against hand manipulated tape effects courtesy of G. Lukas Crane (this band's equivalent of Animal Collective's Geologist, apparently). What they've got here in spades that heretofore had only been nonchalantly hinted at—particularly on their little heard and tellingly titled 2007 effort
At Rear House
—are, oddly enough, actual
songs
. Three dimensional, verse/chorus/bridge-type stuff. "Rain On," from last year's charmingly lackadaisical
Songs of Shame
, tightened the band's formula considerably and resulted in a breakthrough on a couple of levels. And thus it seems to have been adapted as the jumping off point for this more composed and confident follow-up.