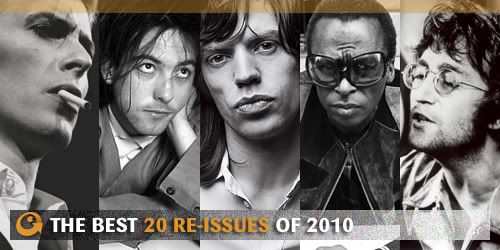 PopMatters continues their look back at the year in music for the remainder of the week, but today marks the end of my contributions to the proceedings. The staff's list of the
20 best reissues of the 2010
is now up, and while I would never undermine the quality of the album's included, I nevertheless question what some of my fellow voter's consider a good reissue. For the record, PopMatters puts no limitations on what we can vote for in any of these categories, but in the case of the word "reissue", you can kind of interpret that a few different ways apparently. I, for one, decided early on that I wouldn't be including any compilations on my list-- with only five slots, it didn't seem fair to measure a collection of great, years-spanning songs against a self-contained album. So with that personal technicality ruling out some of my favorite releases of the year-- such as Walter Gibbon's
Jungle Music
, Black Tambourine's
Complete Recordings
comp, and The Method Actors'
This Is Still It
collection-- I instead stuck pretty firmly to what I would consider vitally important reissues of full-length albums that were either obscure and/or out-of-print.
Looking at the results, however, it's fairly obvious I am in the minority on this sort of designation. The top five, for example, is wall-to-wall classics-- no argument there. But singling-out the umpteenth reissue of
Bitches Brew
or the clockwork-like anniversary re-packaging of the John Lennon catalogue feels misplaced to me. Anyway, this is all a long way of saying that only one of the records I voted for made the list, and at #18 at that. Serge Gainsbourg's & Jane Birkin's legendary 1969 collaborative album was in fact my #1 choice, however, so I can't really complain too much. For those interested, I cast my other votes for The Incredible String Band's
The Hangman's Beautiful Daughter
, Robert Wyatt's
Rock Bottom
, Galaxie 500's
On Fire
, and The Soft Boys'
Underwater Moonlight
. I should also note that at the time of my list submission, the Orange Juice box set,
Coals to Newcastle
, hadn't yet been released, and I totally blanked out on it's inclusion. It could have very easily taken my top spot, so who knows how much higher into the top 10 my vote would have placed it. Anyway, it's essential and, frankly, indispensable, unlike some of these other packages. Can't argue with the merits of the original products though.