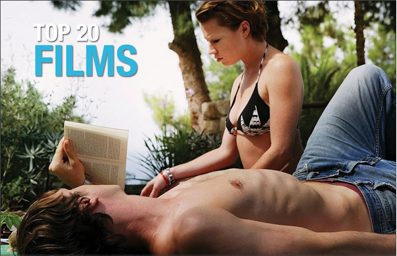 We're closing out the year at
InReviewOnline
over the next couple of days. This weekend brings the final End of Radio podcast of the year-- a countdown of the 15 best albums of 2010-- but today our staff polls have been revealed for both film and music. Our
top 20 films list
is kind of a mixed bag in my view-- certainly no
bad
films, but a handful of solid films by great filmmakers (see:
Shutter Island
,
True Grit
, and
Black Swan
-- even
Eccentricities of a Blonde-haired Girl
, which is actually very good, but like a lot of Oliveira's most recent work, relatively minor when contrasted with his great late-December release,
The Strange Case of Angelica
, my #1 film of the year, which enough of our staff just obviously didn't get a chance to see in time) which slid their way in through the consensus-built process of averaging out individual writer's top 10/15/20 lists.
Beyond that, it's mostly all pretty great (and there's really no point arguing our top three films-- seriously legit), though it's unfortunate that some of the year's tougher offerings-- such as Harmony Korine's underground gutter-film homage
Trash Humpers
or Alain Resnais' dizzyingly brilliant
Wild Grass
-- were excluded in favor of, say, the visually interesting but hollow
Amer
or a couple of documentaries (
October Country
,
Exit Through the Gift Shop
) that are enthralling but aren't what I would consider amongst the best of a very strong 2010 non-fiction field (do yourself a favor and seek out
Last Train Home
,
Sweetgrass
, or
Henri Georges-Clouzot's Inferno
for examples of a few that just missed out on
my personal list
). Perhaps because of this, I didn't contribute a capsule to this feature, though I did vote and feel that, at the very least, each of these films is worthy of consideration. Anyway, decide for yourself, but after such a scatter-shot twelve months, it'll be nice to welcome 2011, a year which is already lining some of the best films in recent memory. Prepare accordingly.