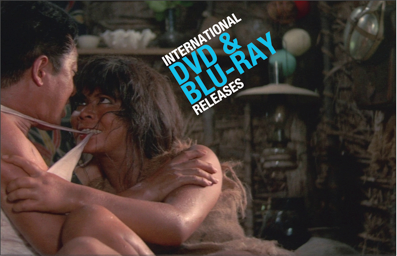 We're kicking off our year-end festivities over at
InReviewOnline
today with myself and Kathie Smith's lengthy look back at the year in DVD & Blu-Ray releases. Kathie was kind enough to let me pitch her this last minute idea for her Home Movies column and it all fell into place rather easily. To come up with the actual list, we each selected our own personal favorites of the year, of which we overlapped on ten. So those ten provided the bulk of the feature, while the remaining five were divied up between the two of us, with me picking up three and Kathie rounding out the last two. Of course, with so many great companies coming to the rescue of so many classic films, we obviously couldn't include everything. Some others worth considering are the BFI's handsome packages of two Maurice Pialat masterpieces,
A nous amours
and
Under the Sun of Satan
; Second Sight's digital debut of R.W. Fassbinder's resurrected
World on a Wire
; Eureka/Masters of Cinema's pristine renderings of Jia Zhangke's modern classic
The World
and Kon Ichikawa's late-50s gem
The Burmese Harp
; and the many other great Criterion releases, including
The Night of the Hunter
,
Merry Christmas Mr. Lawrence
,
The Thin Red line
,
The Magician
,
Paths of Glory
, and the
3 Silent Classics by Josef von Sternberg
box set. Nevertheless, these are our 15 favorites, and it's just the tip of the iceberg for our upcoming "Year in Review" features. Keep an eye out in the coming days for our various editor's year-end lists for film and music, including my own top 10 albums of the year on Friday. [
InRO
]
(
Note: For archiving purposes, I've included my personal contributions to this column below. Please follow the link provided above to read the entire feature - JC
)
Letters from Fontainhas: Three Films by Pedro Costa

[DVD] (Criterion; Region A)
I feel there could be some debate amongst Kathie and myself over the very best Blu-Ray release of the year, but with that being said, I'm fairly confident in stating our joint opinion on the merits of "Letters from Fontainhas: Three Films by Pedro Costa", without question the most important and essential DVD package of 2010. Arguably the most rigid formalist amongst current art-house luminaries, Costa's extreme neo-realist portraits of the impoverished and since demolished Lisbon outskirt slum known as Fontainhas are the stuff of festival legend, and only with this Criterion box set are they now receiving Stateside availability. 1997s "Ossos" is the most narratively traditional of the trilogy, detailing the disquieting relationship between a desperate young couple and their newborn child. However, it was the arrival of "In Vanda's Room" in the year 2000 that announced the importance of Costa the international artiste. With its strict, almost documentary formalism, the film saw Costa recruiting actual Fontainhas residents—including the titular Vanda—to more or less live their daily existence in front of his patient, probing lens. One of the few directors to internalize Abbas Kiarostami's method of disintegrating the space between documentary and narrative filmmaking, Costa would refine these techniques with 2006s "Colossal Youth", which turns its focus to the deity-like Ventura, who haunts the abandoned remnants of the town with a magnetic solemnity that resolves as a kind of lament for this troubled but vivid area of third world Portugal. The box set is equally impressive, featuring multiple interviews with Costa and Jean–Pierre Gorin about each film's development, video chats with a handful of critics and crew members, a documentary on Costa as he returns to the demolished Fontainhas, a video installation piece, and two short films, among other things. While a great deal of ink gets spilled every year on resurrected classics entering the digital realm, I think equally it's important to be aware that some of the most substantial works in modern cinema still have trouble reaching other shores. "Letters from Fontainhas: Three Films by Pedro Costa" is a love letter not only to a lost region, but also to modern cinephiles, who thrive on packages as complete and indispensible as this.


Profound Desires of the Gods [Blu-Ray] (Eureka – Masters of Cinema; Region B)
A lot of the film's you'll be reading about on this list will have made the cut because of pristine picture quality and/or an immersive number of extras. Eureka's resurrection of Shohei Imamura's grandiose 1968 epic "Profound Desires of the Gods" does in fact sport a wonderful transfer, but the simple fact that this film is arriving in digital format in, honestly, any fashion, is a remarkable occurrence (a subtle excerpt from Glenn Kenny's Blu-Ray review: "Holy s**t. Yes, holy s**t. As in, holy s**t."). Arriving hot on the heels of his awesome run of mid-60s Japanese new-wave classics—consult Criterion's indispensible early Imamura box set from last year, "Pigs, Pimps & Prostitutes" for further reference—"Profound Desires of the Gods", with its taboo-busting incest subplot, gaudy color schematics, and indulgent 3-hour runtime, effectively thwarted Imamura's rise to popular prominence. His next narrative film, 1979s "Vengeance is Mine"—also released this year by Eureka and equally essential viewing; think of this as a vote for both—wouldn't arrive for eleven years. But in many ways this feels like the culmination of Imamura's initial burst, exaggerating all the tension ("Intentions of Murder"), irreverent humor ("Pigs and Battleships") and fetishistic sexuality ("The Pornographers") that so defined his early work, and this 'Masters of Cinema' package does right by that legacy. The film is augmented with a nice interview by Japanese film scholar Tony Rayns, who also provides a typically fantastic essay for the lavish, 44-page booklet. Unfortunately for North Americans, the disc is Region B locked. If ever there was a reason to indulge in a region-free Blu-Ray player, however, this is most certainly it.
The Red Shoes

[Blu-Ray] (Criterion; Region A)
Black Narcissus

[Blu-Ray] (Criterion; Region A)
It's obviously great to see so many world cinema classics and obscurities continue to make their way into the home viewing landscape each year, but with so many riches out there to discover, it can be easy to overlook some widely-considered classics which have also arrived in their definitive editions. Two such examples are the new, updated Criterion Blu-Rays of Michael Powell and Emeric Pressburger's late-40s classics "Black Narcissus" and "The Red Shoes". Quite frankly, these Technicolor marvels are the reason Blu-Ray exists in the first place, and the restorations by Martin Scorsese's Film Foundation are literally and appropriately breathtaking. Legendary cinematographer Jack Cardiff is rightly profiled and lauded amongst the extras on both discs, and I have little doubt that these transfers have the films looking as good as they ever have. Included within the packages is a fascinating look at the extensive restoration of "The Red Shoes" (conducted by Scorsese), multiple interviews with folks associated with each production, audio commentaries, documentaries, and typically hefty booklets containing various essays and interviews. With the Film Foundation reportedly in the midst of a couple other Powell & Pressburger restorations—for 1943s "The Life and Death of Colonel Blimp" and 1946s "A Matter of Life and Death"—it's a great time to be a fan the Archers, and an even better time to be fan of classic British cinema. Criterion had a banner year in 2010, and these are two of the cornerstones of the collection. Do not hesitate.
Oshima's Outlaw Sixties

[DVD] (Eclipse / Criterion; Region A)
One of the shrewdest moves the folks at Criterion have made in recent years was the launch of their Eclipse DVD line. Dedicated to highlighting some of the more fringe or under-recognized titles in cinema history, Eclipse often contextualizes movements, genres, studios, or in the case of "Oshima's Outlaw Sixties", a single director's formative early work. Arriving just a year after their awesome back-to-back releases of Nagisa Oshima's landmark 1970s films "In the Realm of the Senses" and "Empire of Passion", "Oshima's Outlaw Sixties" sees Criterion continuing to shed light on some of the key works of the Japanese new-wave. As its title implies, these five films are bold and daring works, both thematically and structurally, favoring swift editing and restless cinematography, mirroring many of the off-color protagonists that Oshima favors. As Kathie said in her original review of the set, the jewel of the collection is 1967s "Japanese Summer: Double Suicide" (rare even amongst these films), and is reason enough to indulge. Each film is worthy in its own right, however, with 1967s "Sing a Song of Sex"—with its pointed melding of the erotic and the political—and 1968s elliptical "Three Resurrected Drunkards" each pointing the way most accurately to the work Oshima would do in the coming decades. With sets such as these—and other releases like Eureka's "Profound Desires of the Gods" Blu-Ray—the groundbreaking work by some of Japanese cinema's true progressives can finally be recognized alongside the names—Kurosawa, Ozu, Naruse, Mizoguchi—that this movement was attempting to spiritually snuff out ("My hatred for Japanese cinema includes absolutely all of it", Oshima has memorably stated). Lucky for us, we don't have to choose one or other, and "Oshima's Outlaw Sixties" proves that the well is all but endless for film's looking step up into the cannon.
Dust in the Wind

[Blu-Ray] (Central Pictures / Sony Music; Region Free)
The arrival of Hou Hsiao-hsien on Blu-Ray this year was not only unexpected, but darn near unfathomable, as most all of the Taiwanese master's greatest works continue to linger in digital obscurity. In fact, the only US-friendly package even close to being in circulation—which is to say, not at all, as it's now OOP—is the eight film "Hou Hsiao-hsien's Classics" set, which, to say the least, left something to be desired as far as A/V quality is concerned (still, get your hands on it if you can). In other words, we would have been satisfied with a competent DVD rendering of, say, any of Hou's early work, let alone a revelatory Blu-Ray of arguably his most heartfelt and accessible early picture. In fact, the only criticism I could throw at this edition of 1986s "Dust in the Wind" is that it's transferred at 1080i as opposed to full HD 1080p. Imperceptible interlacing aside, the picture quality takes a gigantic leap forward, presenting this formative work in its most glorious rendering yet. Also, those hesitant about the Japanese import accessibility can rest easy as this is, amazingly, a region free disc. Arriving ahead of Criterion's long-rumored debut of Edward Yang's "A Brighter Summer Day", this is the first glimpse of the Taiwanese new-wave in the Blu-Ray format. I'm happy to say that future discs—fingers crossed—have a lot to live up to.
Une femme mariee

[Blu-Ray] (Eureka – Masters of Cinema; Region Free)
The purpose of a feature such as this, and by extension the individual write-ups which accompany each selection, should ostensibly serve to outline the importance of these current digital releases, but in the case of Eureka's vital resurrection of Jean-Luc Godard's 1964 masterpiece, "Une femme mariee", they've done the leg work for me, detailing the film's relevance on the back cover rather succinctly. "Long out-of-circulation and unavailable for home viewing", it reads, "'Une femme mariee'", has, until now, represented the ostensibly 'missing' key work from the zeitgeist-defining phase of JLG's filmography". What I can add to that contextually is how the film's significance reveals itself in relation to Godard's later work. "Une femme mariee's" subtitle, "Fragments of a Film Shot in 1964 in Black and White", acknowledges not only the film's construction—which alternates between disorienting bodily close-ups in its bookending segments and impressively held head-shots in its individuated interview-style mid-section—but also its inquiring relationship to the cinema itself, with visual and thematic references to Orson Welles, Alfred Hitchcock and Alain Resnais, among others. Looking back, it's a pretty obvious precursor to his more cerebral late-60s work (particularly 1967s "2 or 3 Things I Know About Her", which would bring this approach to its fullest realization), as well as his first flirtation with the essay-film format and the most erotically charged of his flabbergastingly productive first decade. The disc's lone extra is Godard's personally cut version of the film's trailer, but this is made up for with an intimidatingly dense 85-page booklet, featuring a roundtable critic's discussion, multiple essays on the film itself, and the most ridiculously anti-self-reflexive self-reflexive "overture" introduction by Luc Mollett that I've ever read. And it's region free; there's absolutely no reason every serious cinephile should be without this.
Close-Up

[Blu-Ray] (Criterion; Region A)
For such an internationally lauded, influential, and groundbreaking director, it's surprising how underrepresented Abbas Kiarostami is on the digital front. Sure, Criterion has the Palme d'or winning "Taste of Cherry" amongst the collection, but as spine #45, it's not exactly what anyone would consider definitive. These slights were corrected in a big way this year, however, as Kiarostami's landmark 1990 docu-fiction hybrid "Close-Up" made the restoration rounds before landing on Blu-Ray in a stacked edition from Criterion. Along with the original feature—to my mind (and many amongst our staff) one of the greatest cinematic accomplishments of the 90s—the extras-stacked package includes a new interview with the director himself, two documentaries (one on the film's main character six years after the events recreated in the film, and one on Kiarostami), an audio commentary by the two foremost Kiarostami experts, Jonathan Rosenbaum and Mehrnaz Saeed-Vafa, and most generously, the director's first feature-length narrative film, 1974s "The Traveler" (something of a classic in its own right). With interest in the director's work at an all time high (his new film, "Certified Copy", is—spoiler alert—an instant classic), hopefully this release prompts the future resurrection of such comparable Kiarostami classics as "Where is the Friend's House?", "Life, and Nothing More…", and/or "Through the Olive Trees".
The Only Son / There Was a Father: Two Films by Yasujiro Ozu

[DVD] (Criterion; Region A)
A frequent misconception about the Yasujiro Ozu style is that the great Japanese director's career built towards—or eventually arrived at—the level of strict rigidity that we so commonly identify with the master's later and most widely seen work. As more and more of Ozu's early work begins to surface on DVD, however, it's easy to see that, despite a few more traditional camera movements, or the use of dissolves, or even just a more liberal utilization of original music, the basic aesthetic—mostly static, tatami-level angles; perfectly balanced, geometric compositions; and direct, conversational eye-line defiant character placement—was intact. Criterion continued their efforts to rescue as many surviving Ozu films as possible with this two-film set, which collects 1936s masterful "The Only Son" (his first talkie) and the devastating "There Was a Father", from 1942. Extras are slim but essential with scholars David Bordwell, Kristin Thompson, and Tadao Sato all offering thoughts on the films in interview segments. But while this set is the most readily available for North American fans, I'd be remiss if I didn't point out that for those not currently region-locked, the BFI began an impressive duel-format roll-out for Ozu films this year as well, packaging each as a double feature—look especially for "Tokyo Story"/ "Brothers and Sister of the Toda Family", "Late Spring"/ "The Only Son", and coming early next year, "Good Morning" / "I Was Born But…", among others. You can't lose either way.