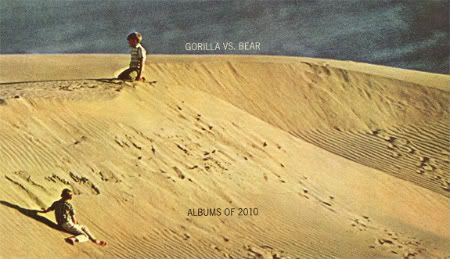 After yesterday's thoroughly depressing and bafflingly out-of-touch
Paste list
, it's nice to see another online publication come through with some actually interesting and original choices for their year-end album list.
Gorilla vs Bear
is always a good gauge to measure trends in the hype cycle, but they've narrowed their selections down to a nice crop of likable records here. With that being said, only a couple of their choices overlap with my forthcoming list, but there is plenty of stuff here that is worthy of consideration, from Forest Swords to Grimes to James Blake to Mount Kimbie. All in all, not a band cross-section-- the only thing I could probably do without is the Arcade Fire. Anyway, check out the feature (w/ MP3 links)
here
, or browse the full list of 30 after the cut.
30. Ty Segall – Melted
29. Shackleton – Fabric 55
28. Caribou – Swim
27. Mount Kimbie – Crooks & Lovers
26. Deerhunter – Halcyon Digest
25. Erykah Badu – New Amerykah Part II: Return of the Ankh
24. The Walkmen – Lisbon
23. Tennis – Tennis (cassette)
22. Arcade Fire – The Suburbs
21. Frankie Rose & the Outs – Frankie Rose & the Outs
20. Twin Shadow – Forget
19. Forest Swords – Dagger Paths
18. Harlem – Hippies
17. The Samps – The Samps
16. Grimes – Geidi Primes
15. Dum Dum Girls – I Will Be
14. Big K.R.I.T. – Wuz Here
13. Twin Sister – Color Your Life
12. Earl Sweatshirt – EARL
11. Toro y Moi – Causers of This
10. Girls – Broken Dreams Club EP
09. White Denim – Last Day of Summer
08. Games – That We Can Play EP
07. Lower Dens – Twin-Hand Movement
06. Big Boi – Sir Lucious Left: The Son of Chico Dusty
05. Joanna Newsom – Have One on Me
04. James Blake – CMYK EP / Klavierwerke EP
03. Shabazz Palaces – Shabazz Palaces / Of Light
02. Ariel Pink's Haunted Graffiti – Before Today
01. Beach House – Teen Dream