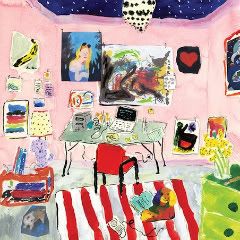 Over the course of three fleet, trigger-finger full-lengths, Marnie Stern, axe to the proverbial grindstone, has systematically painted herself into a corner. Truth be told, it's not all that bad of a place to be: at just 34 years old, Stern has already handily secured her place as the most talented female guitarist of her generation. Hers is a fairly unique sound as well, perhaps more in line with the early millennial fascination with hyper-prog and math-rock overload, but instantly identifiable nonetheless. But despite her sound and its inherent experimentalist bent, her records aren't what one might call galvanizing. Hell, this is some of the comparatively tamest art-rock that I can think of, and she's beginning to sound more constricted than liberated by her tunnel vision, note-spraying style. Which is an odd thing to say as she now steps out with her new self-titled effort, a record—as one might ascertain—evidences thematic and songwriting growth towards a more personal perspective, but once again feels a little hamstrung by the constantly pirouetting "Marnie Stern sound".
Credit where it's due, however:
Marnie Stern
represents her first obvious attempt at breaking out of this mold. A few of the tracks here really show Stern's increasingly sly way with dynamics and texture, her stylistic purview now straining far enough to encompass brief flirtations with power balladry and carefully delineated indie-rock anthems. These avenues open up as Stern's strangle hold over her guitar neck loosens and regular collaborator Zach Hill—deity percussionist in Hella—brings his elbows closer to his body and trudges forward with his big-foot pound as opposed to leaving the very idea of time signatures completely in the dust. If this reads like a watered-down version of the Marie Stern of old, well, I can only sympathize from a tangential viewpoint. Stern's style, singular as it is, simply needs this extra room to breathe if one is to take anything away from these records. Her guitar playing doesn't, as least to these ears, represent an end unto itself—without that third dimension, in this case melody, her records will continue to sounds like amazing feats of technical prowess that nevertheless lack both the demeanor for outright provocation and the determination for pure pop agreeability.
Luckily, I kind of get off on technical showcases, which is why I've at the very least respected all of Stern's previous work, including this one. Opener "For Ash" is probably even the best synthesis yet of Stern's technical ability and her growing confidence as songwriter and frontwoman. Not only is it a fully structured, three dimensional burner, but her and Hill also siphon off each movement with hydraulically pumping pockets of negative space, allowing each successive note to hit with increased power. Her more openly confessional mode, however, meets most surprisingly with stylistic curveball "Transparency is the New Mystery". A subtly built, near power ballad-like track, "Transparency" sounds full-bodied and downright dramatic as the instrumentation swells behind Stern's heartfelt invocations of, "I'm just not enough". She ably attempts similar combinations of the austere and the confessional to lesser effect a bit later on with "Gimme" and "Her Confidence", but as the first step in what will hopefully prove to be a new approach to, at the very least, dynamic structuring, "Transparency" is intriguing.
Elsewhere, Stern impresses with a stellar back-to-back transition from the finger-tapped-to-oblivion "Cinco de Mayo" and the Sleater-Kinney-worthy "Building a Body". And that latter comparison isn't strictly qualitative—though the song operates at such a consistently high level that I don't think it unwarranted—but also melodically and vocally. Here Stern's voice takes on a welcome Corin Tucker cadence, and as she repeatedly drops pregnant pauses for anthemic effect, it culminates in the one and only moment in the last five years that I haven't yearned for new S-K material. The remainder of the record is padded out with typically dizzying displays of virtuosity (I'll give you one guess what "Female Guitar Players Are the New Black" sounds like), but do little to stand out amidst the record's more considered moments. To be fair, part of my increasingly muted reaction to each new Stern release probably has to do with over-familiarity; during a recent Twitter convo (love those), InRO's newest blood, Kyle Fowle, posited the theory that a listener's first exposure the Stern is likely their favorite, which may explain my soft spot for
In Advance of the Broken Arm
, despite not considering it all that much better than anything that's followed. I have little doubt, then, that this self-titled could be some curious listener's discovery of the season, but as an artist obviously in transition, I think it's safe to say that the best may still be yet to come. [72/100] [
Published: 10.18.10
]