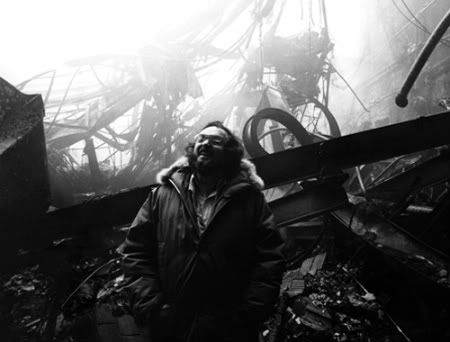 In all honesty, Stanley Kubrick should have probably represented the first entry in this "Ranked & Revisited" series. The legendary New York expatriate has long been my default answer to queries regarding my favorite filmmaker. And whether that is necessarily still accurate-- he certainly retains that designation amongst American directors-- I'm not sure another filmmaker has meant more to me over a longer period of time that Kubrick. Furthermore, with such a small number of films to his name, it would have seemed reasonable to assume that drafting a list such as this would be rather simple. However, it's been Kubrick's rare debut film,
Fear and Desire
, which has dogged me and many a cinephile for years, never making it's way into the digital age, while bootleg VHS torrents rendered the film literally unwatchable (trust me, I've tried). It never helped, of course, that while alive Kubrick verbally disowned the film while going out of his way to suppress the work from screening at repertory cinemas for what amounts to basically his entire career. There are even rampant myths that Kubrick himself burned many of the original negatives in an effort to totally wipe the film from the record.
My patience was rewarded last weekend, however, when the (apparently) one and only surviving 35mm print of the film was screened at the Eygyptian Theater in Hollywood courtesy of the George Eastman House International Museum during a retrospective of Kubrick's work. It was certainly the environment to see this rare early film, yet, perhaps unsurprisingly,
Fear and Desire
is Kubrick's most negligible and clumsy directorial effort. Always an impressive judge of his own work-- he would also disown
Spartacus
years later-- Kubrick would regroup confidently following
Fear and Desire
, segueing through with one more slight work (
Killer's Kiss
) before embarking on a run of films that is all but unmatched in American cinema.
Spartacus
notwithstanding, you're basically looking a four straight decades of masterpiece after masterpiece, each with enough philosophical, moral and cinematic weight to stand as it's own self-contained universe. Indeed, Kubrick rarely revisited genres, instead attempting the near unprecedented task of mastering all manner of periods, designs and aesthetics.
The war picture was the only genre he worked with multiple times, fine tuning his approach across decades with
Fear and Desire
,
Paths of Glory
and
Full Metal Jacket
(
Dr. Strangelove
, of course, also deals with themes of war, but to much different ends). Other than that, Kubrick bravely tackled everything from horror to sci-fi to period drama to heist picture, all but perfecting each as he went along. With that being said, Kubrick is probably one of the handful of directors I need to say the least about, his reputation and work so established and canonized at this point as to be totally redundant. Nevertheless, finalizing this list was never a sure thing, and with that I will now offer up a list of staggering quality, with many of the top ten films here worthy of being re-ordered in any way you see fit. Here's hoping that you'll likewise be able to finish the cinematic journey that is Stanley Kubrick, regardless of whether he would have liked it or not.
01.
A Clockwork Orange
(1971)
02.
2001: A Space Odyssey
(1968)
03.
Barry Lyndon
(1975)
04.
Eyes Wide Shut
(1999)
05.
Dr. Strangelove or: How I Learned to Stop Worrying & Love the Bomb
(1964)
06.
The Shining
(1980)
07.
Full Metal Jacket
(1987)
08.
Paths of Glory
(1957)
09.
The Killing
(1956)
10.
Lolita
(1962)
11.
Spartacus
(1960)
12.
Killer's Kiss
(1955)
13.
Fear and Desire
(1953)
Previous "Ranked & Revisited" entries: