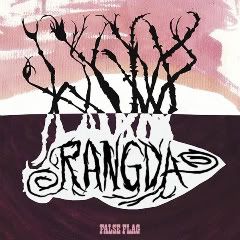 False Flag
is the kind of record that keeps out-rock stalwarts passionate in their pursuit of total sonic annihilation. On the back of reckless confidence, so many of these so-called "super-groups" fall ego first into such needless indulgence that it's gratifying to finally see one work so well on its own terms. So while this unexpected (if completely symbiotic) collaboration between Six Organs of Admittance leader Ben Chasny, ex-Sun City Girl Sir Richard Bishop, and avant drummer of the moment Chris Corsano, isn't far removed from the noisy improv one would expect from these three, it's also much more inspired than many pairings of this sort—and a helluva of lot better than the last few Six Organs records. In fact,
False Flag
, with its deft handling of shaman-like guitar reveries, balls-out percussive assaults, and face-melting noise improvisation, is in the top tier of anything these three have done recently. Chasny and Bishop are especially compatible bedfellows, having between themselves explored just about the furthest reaches of the electric guitar spectrum. What that encapsulates, of course, is both extremes—ruminative on the one hand, gut-crushing on the other—and the duo is noticeably locked-in as the album immediately detonates with the spraying skree of "Waldorf Hysteria". Following with the scorched-earth guitar duel "Bull Lore",
False Flag
sets up an important pattern of attack and release, and the contrast between these poles is what lends the album its tenacious thrust.
Anchored, or rather provoked, at all its best moments by the inhuman percussive fits of Chris Corsano, Rangda frequently find the sweet spot between catharsis and transcendence. Having cut his teeth in such wide ranging acts as Flowers-Corsano Duo, Vibracathedral Orchestra, MV & EE, as well as recent incarnations of Thurston Moore, Jandek, and Björk's bands, here Corsano threatens to overturn the whole endeavor with his maniac free-rock pound on "Fist Family" and the needle point stop-start dynamics of the aptly titled "Serrated Edges", where he physically approximates the extremities of the deformed flower-root-thing that adorns
False Flag's
cover art. Meanwhile, "Sarcophagi" brings the post-apocalyptic desert blues of recent Earth material to mind as it hypnotically plays soundtrack to a pink-hued horizon anticipating something more sinister than its slow-burn sizzle would typically disclose. The track finds its counterpart in the form of 15-minute closer "Plain of Jars", which sees Chasny and Bishop's intertwining lines brought to a series of prolonged peaks as Corsano lifts each crest with powerfully arrhythmic displays. With the unintended but understandable retirement of the Sun City Girls moniker following the death of Charles Gocher in 2007, and with Six Organs having more or less run its artistic course, Rangda may hopefully turn out to be more than just a simple one-off project. On evidence of
False Flag
, this would certainly be a welcome development, and a step toward that unspecified but highly desired realm of sonic nirvana. [80/100] [
Published: 08.18.10
]