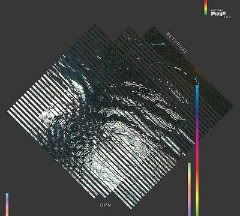 "Until recently, it seemed reasonable to assume that this loosely defined "new-wave" of 2009 experimental electronic artists had squandered whatever momentum they had built up during a renaissance twelve months to close-out the decade. Save for a nice mid-career gem from Locsil (this Spring's
Endless Falls
), the new decade had yet to turn up anything to make good on such promising recent acts as White Rainbow, Brock Van Wey, Mokira or Black to Comm. However, in the run up to the new year's half-way point, we've seen a nice gathering of newly signed talent to the recently re-vamped Editions Mego label, and together they've dropped a high-concept ECM recording (Robin Fox's
A Handful of Automation
), a hypnotic space-arpeggiator opus (Emeralds'
Does It Look Like I'm Here?
, the follow-up to their scene-solidifying 2009 epic
What Happened
), and one album that seems to do all of the above and more through its own distinctly confident lens of heavy drone and low frequency ambiance. The album in question is
Returnal
, the fourth full-length from Brooklyn-based experimentalist Daniel Lopatin, aka Oneohtrix Point Never, and it's a strong enough statement in its own right to fully establish whatever listener context could possibly be needed, with or without the suddenly stacked Editions Mego roster to reinforce the argument.
Shameless plug notwithstanding, if you happened to tune-in to our recent two-part "Year in Review 2010: First Half" podcast, then you know that
Returnal
represents what I feel is probably the most dynamic and far-reaching album of its kind to see prominent indie exposure in quite some time. It's a stark contrast to even what Emeralds have been doing lately—cf. honing in on one aspect of their sound and whittling it done to its bare essence—and while such an approach could have easily resulted in a jumbled mess of stylistic masquerades, Lopatin instead owns each one of his experiments with a confidence that I could see him taking in almost any direction from here (and with equally compelling results). Until that happens, however,
Returnal
stands as a handy compendium of most of the prominent strains of modern experimental electronic music. The first side of the record alone evidences a range of ideas that most producers could only hope to realize across a series of full-lengths, let alone only four tracks.
Those expecting dollops of uniformly heavy drone, therefore, may be taken aback by
Returnal's
bracing opener "Nil Admirari", which, with its trapped-in-purgatory vocal lacerations, sounds something like Wolf Eyes with the corners rounded off. In contrast to what's to come, it feels like a trial-by-fire moment, as nothing on
Returnal
so blatantly flirts with the more confrontational aspects of noise. In fact, the next two tracks, perfectly sequenced and barely perceptible as they segue between extremes, dive head-first into the opposite end of the spectrum, enveloping the listener in peaceful washes of ambience. The aptly titled "Describing Bodies" surveys the destruction left by "Nil Admirari", representing the record's most peaceful yet ominous stretch, while "Stress Waves" builds on a similarly serene foundation, but with a carefully elevating sequence of synth oscillations which, three tracks in, gives us what's more or less our first glimpse of the Oneohtrix sound so vividly captured on last year's
Rifts
compilation.
Closing side one is the title track, which sends Lopatin's vocals pitch-shifting through a vortex of convex shapes, emerging like The Knife on downers. It's the album's best standalone piece and easily the most approachable track Lopatin has yet constructed. The perfectly symmetrical sequencing, however, means that side 2 carries with it similarly great rewards, only this time in a somewhat elliptical pattern. "Pelham Island Road" brings the drone in uncompromising fashion, stretching what feels like infinite cycles of static modulation across a 7 minute divide, seamlessly facilitating the following arpeggiated motifs of the Emerald's-like "Where Does Time Go". But just as
Returnal
began with its most galvanizing moment, it also ends appropriately enough with its most fractured and enticing piece. Swimming though 6 minutes of precisely administered edits and what sounds like a rotating loop beamed in from a Stars of the Lid record, "Preyouandi" wallows in a watery landscape that seemingly touches on every approach Lopatin has experimented with over the preceding 35 minutes. It brings
Returnal
to an uneasy and tantalizing close, effectively summing up what could turn out to be 2010s most essential experimental electronic record." [82/100]
[Published 07.14.10]