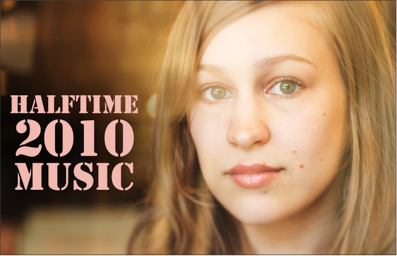 I don't have much to add here that I don't already say in my introduction to this
Year in Review: Halftime Music
feature-- except, okay, maybe again,
PAUL'S TOMB
!
-- so I'll just let myself do the talking so to speak:
"As listeners, a music year such as 2010—deep, inviting, consistently surprising—is reason enough to persevere through the onslaught of new music. As critics, however, this kind of year presents something of a double-edged sword. As the amount of quality albums continue to pile up, we as writers start to see the proverbial wealth spread around pretty thin as far as publications are concerned—so much so that consensus-type lists such as what you're about to read/disregard are not much more than gestures in the "right" direction. I'm pretty convinced that our individual staff lists would look quite a bit different than what we have compiled below (something our

two-part

End of Radio

half-year podcast

not so subtly hinted at). As a result, we've opted simply to present a group of this year's

InRO Gold

selections—which, truth be told, is about as close to consensus as we are going to get anyway—in quasi-hierarchical order, instead of hand-wringing over certain exclusions (but seriously now guys, ummm,

Paul's Tomb

?). So while I do have doubts that any one of our writers would offer up this list as representative of such a wonderful first six months of the year, I'm also equally confident that these records are thought of in universally high regard around these parts. Therefore, if everything here does elicit little more than a knowing nod of recognition, well, at least you know you're in good company."

[InRO]
We've also got a
film list
up (which I very much agree with) for those interested, while my personal lists of the year's best so far can still be found
here
and
here
. Onward.