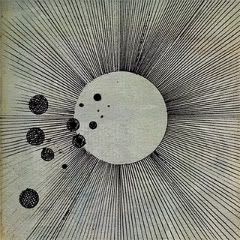 "Behind the press-baiting hipster curtain of L.A.'s burgeoning lo-fi punk scene, there thrives a less heralded, more innovative, and potentially more vital collective of musicians working in an ethically similar though aesthetically opposed manner to what has traditionally been associated with Southern California's underground musical output, from Orange County hardcore in the early-to-mid 80s to the currently thriving downtown Smell scene. These musicians inherently tend to work on the margins, crafting dark and ominous post-IDM instrumental hip-hop soundscapes, indebted to everything from the drifting pulse of classic ambient to the cinematic sweep of post-rock to the channel-whipped trills of modern dubstep, though they've consistently and impressively been carving out a distinctive niche all their own amidst an ongoing worldwide re-acquaintance with cerebral electronic music of all variants.
The figurehead of this movement is without question Steven Ellison, aka Flying Lotus, who broke through in a major way in 2008 with the staggering, scene-defining
Los Angeles
, an inspired patchwork of broken beat vinyl samples and post-J Dilla head-knock which effectively soundtracked a downtown art community reenergized by a new generation of fearless beat freaks. Ellison's newest album,
Cosmogramma
, turns the page on the previous decade and points the way toward something equally enticing, filtering a jazz acolyte's fascination with early-70s fusion and free-jazz into an impressively contradictory synthesis of warm acoustics and shivering beat schematics.
Since I've already dropped two unavoidable jazz references not even a third of the way through this review, I'm pretty much obligated at this time to relay the fact that Ellison is the great-nephew of Alice Coltrane, an enticing bit of familial association that will inevitably be the talking point of most every critical appraisal of
Cosmogramma
. But while the record does emphasize a good deal of left-field cosmic jazz elements—facilitated on multiple occasions by the tenor sax stylings of one Ravi Coltrane—no one is going to mistake this for
Universal Consciousness
any time soon. Which is to say that
Cosmogramma
is still very much a post-IDM electronic album, albeit one with a very liberal sense of genre fortification—something like
Music is Rotted One Note
-era Squarepusher for the patience adverse. Early highlight "Zodiac Shit," for example, tears pretty aggressively into a tightly screwed vocal sample and beat sequence, but then just as quickly exhales for a brief string intermission before re-launching into a swift outro fusing both elements rather seamlessly. In fact, this assemblage of the organic and the synthetic is the album's most distinctive characteristic, allowing Ellison to comfortably expand the dynamic range of his typically cerebral sonic stitching.
Ellison is helped ably in this regard by two collaborators who leave a significant mark on the overriding aesthetic design of the album. Thundercat anchors a number of these tracks with his nimble bass plucking, most notably on "Pickled!," where he moves like liquid up and down the scale in the foreground while Ellison tricks out something funky in the background. Meanwhile, harpist Rebekah Raff subtly casts her stringed elegance throughout some of the more serene passages of the album, though she's equally capable of intercutting some escalating harp runs amidst the pervading vinyl hiss and syllabic beat ruptures of "Recoiled". The prominent utilization of live percussion further evidences Ellison's own growing confidence outside self-imposed genre guidelines as well. And nearly all these elements come together on the album's most free-form cut, "German Haircut," as unencumbered math-rock percussion does battle with Coltrane's squiggling sax and a gentle harp outro from Raff. By contrast, our first available taste of the album, "Computer Face//Pure Being", abandons most of the organic accoutrements in favor of synthetic overload, scanning like a refinement of
Los Angeles
' drilling low-end.
And like
Los Angeles
,
Cosmogramma's
intended effect is more easily measured as a 17-track whole, greater than the sum of its at times schizophrenic parts but with an internal logic than unfolds in striking patterns. Beyond this, the records are so aesthetically different that it seems unfair to even compare the two. However, where
Cosmogramma
advances is in its pacing and formal construction. There's quite a bit more audible vocal sampling on this album from track to track, but an equal amount of actual solo vocal cameos. These showcases—from the likes of the aforementioned Thundercat,
Los Angeles
alumni Laura Darlington, and, most impressively, Radiohead's Thom Yorke—are spread out satisfyingly throughout the album's 47-minute runtime, as opposed to the back-logged structure
Los Angeles
. And whereas Darlington and Thundercat provide an emotional undercurrent to the spastically orbital rotation of the individual pieces, Yorke's unmistakable vox sits at album's center, recasting his heavyweight persona back into the realm of his millennial turn toward the abstract—the proverbial ghost in Ellison's exquisite machine.
Despite all its immediate strengths, however, the importance of
Cosmogramma
may take a few years to fully realize—this album is nothing if not a dense listen, and one that could conceivably leave some baffled by its hyperactive gait. Right now, it feels something like a capstone to the entire Brainfeeder/L.A. beat-scene movement, based on nothing more than its prominent reach into various strands of the underground, not to mention its relative mainstream visibility. In the wake of
Los Angeles
, this scene has really gotten off the ground and lived off its own consistently top-tier output, with highlights as diverse as 2009s supremely underrated Nosaj Thing debut, and, more recently, this year's wickedly blunted Gonjasufi outing,
A Sufi and a Killer
. It seems reasonable to assume, however, that many listeners' only exposure to this growing community will be Flying Lotus, and thus
Cosmogramma
carries with it an appropriately weighty confidence that it capitalizes on at nearly every turn. Ambassador, genre-pusher, torch-carrier: Ellison is all that and more, and
Cosmogramma
is this scene's most ambitious and diverse statement yet. " [85/100] [
Published 04.11.10
]