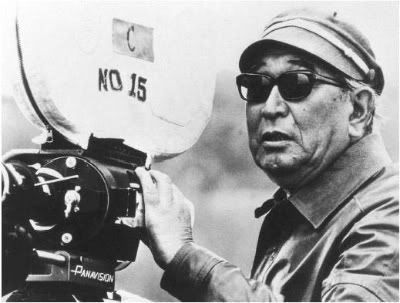 Welcome to the second entry in my unofficial "Ranked & Revisited" series. You may
remember
last year I set about the task of watching every single film Woody Allen ever directed. It was enlightening and rewarding in equal measure, and since then I've moved my proverbial lens to the work of Akira Kurosawa, the foremost purveyor of heroic filmmaking in the annuls of Eastern cinema, if not the world. Again, it was a daunting task: though Kurosawa has fewer films, they are also, on average, probably double the length of a majority of Woody's films. Also important to this process was my equally enlightening trek through film scholar Stephen Prince's intimidatingly detailed deconstruction of Kuorsawa's major works, "The Warrior's Camera: The Cinema of Akira Kurosawa", a book I'd recommend in a heartbeat to anyone even remotely interested in the art of filmmaking or film criticism.
Once again, this list is not by any means static in it's construction. Beyond the top 10, many of the remaining 20 titles could be rearranged to reflect importance, formal experimentation and/or sheer entertainment value. In other words, this is how I'm feeling at this moment in time, with the caveat that each and every one of these films offer plenty of educational value, even when the films themselves were sometimes constricted early on by the postwar censors or Kurosawa's shift toward less reflexive cinema later in life. So without further ado, I present to you the career of Akira Kurosawa, ranked and revisited through the eyes of but one modest cinephile.
01.
Seven Samurai
(1954)
02.
Ikiru
(1952)
03.
High and Low
(1963)
04.
Red Beard
(1965)
05.
Throne of Blood
(1957)
06.
Rashomon
(1950)
07.
Stray Dog
(1949)
08.
Yojimbo
(1961)
09.
Ran
(1985)
10.
Drunken Angel
(1948)
11.
The Lower Depths
(1957)
12.
The Bad Sleep Well
(1960)
13.
Kagemusha
(1980)
14.
The Hidden Fortress
(1958)
15.
Sanjuro
(1962)
16.
Sanshiro Sugata
(1943)
17.
Dodes'ka-den
(1970)
18.
Madadayo
(1993)
19.
I Live in Fear
aka Record of a Living Being
(1955)
20.
Dersu Uzala
(1975)
21.
No Regrets for Our Youth
(1946)
22.
Scandal
(1950)
23.
The Quiet Duel
(1949)
24.
Dreams
(1990)
25.
One Wonderful Sunday
(1947)
26.
Rhapsody in August
(1991)
27.
The Idiot
(1951)
28.
The Men Who Tread on the Tiger's Tail
(1945)
29.
The Most Beautiful
(1943)
30.
Sanshiro Sugata Part II
(1945)
Previous "Ranked & Revisited" entries: