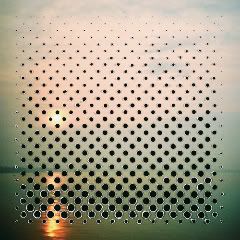 Sometimes I get the feeling that too much stock is put into the art of progression. Admittedly, I'm as guilty as anyone—I mean, the only real problem I had with the new Liars album is the fact that it didn't, for the first time, represent any kind of step forward for the band—but I also believe there's something to be said for refinement, particularly when variety itself can be weaved into familiar forms by steady hands. So along with Liars'
Sisterworld
, New York noise trio Sightings split this contradiction into a thesis about as well as any avant-rock act in recent memory. Their minimal noise and no-wave roots are well established territory at this point, even amidst their own catalogue. But they've managed to sidestep stagnation by kneading their sound into all sorts of intriguing shapes, whether that be hypnotic minimalism (2004's
Arrived in Gold
) or shrill, anti-blues rawk (2007's
Through the Panama
), to name just a couple of their most recent iterations. What I mean to say, then, is that their form and function have remained more or less the same, while the execution itself is placed into a continuum where influence can look back and nod in knowing appreciation of the band's ability to retrace and refract all sorts of micro trends and genres. Sightings' seventh album,
City of Straw
, reiterates this concept with piercing dedication.
What Sightings have really gotten good at, and what makes each album such a unique reiteration of their style, is their ability to render highly detailed fusions of minimalism and power trio noise-rock into refreshing concoctions without losing sight of the spontaneity that takes their music down interesting paths. As a result,
City of Straw
bears little structural similarity to
Through the Panama
, which was overtly dedicated to its tight instrumental frameworks.
City of Straw
, by contrast, takes far greater liberties with its individual configurations. This can prove challenging on occasion, when, for example, on the title track the band pulls back into a ten minute stretch of fractal improvisation. But more often than not, the dynamic push-and-pull between the band's two extremes creates a tension that rewards as often as it defies common logistical conceptions. And yet even while traversing this less immediately approachable terrain, an almost Nick Cave-like (think Grinderman more than the Bad Seeds) vocal performance from Mark Morgan guides the track's tentative atmosphere reluctantly into the album's most aggressive turf.
The second side of the record in particular really buckles down into a focused assault, reminiscent of the more muscular tracks on
Through the Panama
. "We All Amplify" is an immediate standout, running grating distortion atop a firm foundation of warm bass and intricate percussion. Oneida drummer Kid Millions produced and engineered
City of Straw
(along with Ex Model Shahin Motia), and it's one of the band's most spacious, crisply recorded albums thus far. When the instruments do pile-up into mountainous shrines of Dead C-like squall, the mix feels appropriately deep, handling the thundering riffs of the awesomely titled "Weehawken" as well as the bait-and-switch synthetic tones that announce the arrival of opener "Tar and Pine." On the other end of the album and sonic spectrum is "Sky Above Mud Below", one of the flat-out gnarliest throw-downs Sightings has yet recorded. As the band jams away unimpeded in the foreground, Morgan repeatedly bellows the title from beneath the din as if he's being buried alive by the maelstrom. It's an appropriate way to end an album that is so comfortable in its chosen strain of noise: all of the differing ideas inevitably melt into one swirling sump of murk and morass." [76/100] [
Published: 04.27.10
]