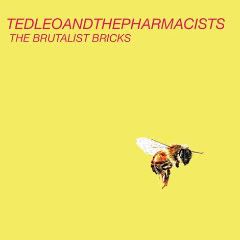 "Ted Leo represents a convenient case study in what a punk-rock lifer must contend with as he moves from excitable young upstart to well respected (and still pretty darn excitable) journeyman. When Leo and his unstable band of Pharmacists landed on the now-defunct Touch & Go label a few years back, it seemed like his career had reached a plateau of sorts—or at least arrived at a crossroads, where Leo could continue to traffic in high wire guitar-pop without the pressure to produce any kind of grand artistic statement.
In other words, with Leo's fan base set and commercial potential pretty much tapped, he could finally get his ya-yas out. And that he did, with the sprawling, occasionally inspired, but noticeably defeated
Living with the Living
. So while it's tempting to label
The Brutalist Bricks
, Leo's latest full-length and first for Matador, a self-conscious re-statement of purpose, that also sells short just how natural a progression this record is for Leo—and all this in a genre that doesn't readily allow for a careerist opportunities. The soon-to-be 40 year-old may now be entrenched in that transitional period between precocious verve and veteran poise, but if nothing else,
The Brutalist Brick
proves that Ted Leo sill has a lot to say and the means to say it.
In fact, the first quarter of
The Brutalist Bricks
may represent the strongest run of songs Leo has put together since his early-aughts heyday. After trying on what felt like a wardrobe's worth of styles throughout
Living with the Living
—from sandblasted D-Plan dynamics to swaggering quasi-reggae—it's nice to see Leo plot a more or less straightforward course on this album, tightening up his pop tendencies in the process.
This focused assault results in some of Leo's most immediate songs to date, including invigorating opener "The Mighty Sparrow"—which turns a disconcerting table-setting lyric ("When the café doors exploded, I reacted to—reacted to you") into a blistering call-to-arms—along with the absolutely righteous "Ativan Eyes" and the naiveté-shattering "Even Heroes Have to Die." Just when you think it's been a minute since Leo has earned those Elvis Costello comparisons, he drops "Bottled in Cork," a dead ringer for any number of
Trust
highlights and maybe Leo's most pop-oriented, heartwarming song to date. Guaranteed you'll have a hell of a time un-lodging that "I think I'm falling in love" refrain from your gray matter for weeks on end.
This, however, is a rare display of peaceful rumination on an album bursting with political outrage and the pains of dashed hopes. To that end, "Woke Up in Near Chelsea" is perhaps the record's most bitterly pissed-off track, catching not only the political wasteland in its crossfire, but also religious zealotry. But above all,
The Brutalist Bricks
is tight, both musically—the Pharmacists are now back to a four-piece with James Canty on guitar, Marty Key on bass, and the ever-limber Chris Wilson once again manning the kit—and thematically, never sacrificing musical dexterity for convoluted narratives. To wit,
The Brutalist Bricks
clocks in at a tough 41 minutes, nearly 20 less than its predecessor.
Sadly, it's not all killer—a couple of the shortest tracks here, such as "The Stick" and "Where Is My Brain?" play more like screeds than songs, while "Tuberculoids Arrive in Hop" is wandering B-side material at best—but the headlong rush that the album maintains renders any qualms rather negligible. So while there is little chance that
The Brutalist Bricks
will enter the upper echelon of Leo's enviable catalogue, this is arguably the best standalone album he's produced in a good half-decade or more. And, more importantly, it feels like Leo has finally turned a corner, where instead of dolling out rations to his converted faithful, he can forcibly reintegrate himself into the proverbial discussion. It's not an opportunity many uncompromising artists tend to receive at this point in their career, but it's one that Leo now seems fit to capitalize on." [76/100] [
Published 03.31.10
]