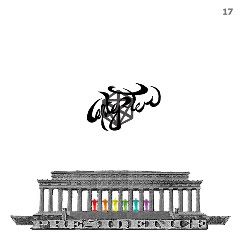 "I'm not gonna lie, I had kind of given up on Excepter. There was a time just after the release of 2004's classic
KA
—and up until 2005's underrated
Throne
—that I considered the Brooklyn-based free-improv collective one of America's greatest experimental noise units. According to their website, their goal has always been to "use the tools of dance music to esoteric ends," yet their early work—while still pulsating with undercurrents of densely modulated low-end—was about as far away from sweat-drenched modern dance floors as one could possibly imagine. Subsequent records such as
Self Destruction
and
Alternation
consciously looked to incorporate more linear narratives, but were far less interesting as a result. In fact, at the time, their more fascinating music was being released via podcast on their website, though anyone with the stamina for what is now up to 67 unedited improvisations is more dedicated than I. Most listeners, then, were probably satiated with the 2007, 2-disc
Streams
compilation, though focus was understandably not a priority on such a fans-only release.
Debt Dept.
followed in 2008, and while their press page would have you believe that the album "seemed to predict the global economic collapse that followed its release", there wasn't actually much to be found in the album's abbreviated electro grooves. They had moved so far from their origins—while still somehow sounding exactly as you'd expect more composed, dance-oriented Excepter product to sound—that when their live soundtrack/DVD package
Black Beach
arrived last year, I didn't even bother to listen.
Which is all to say that
Presidence
, the band's new 2xCD, 130+ minute epic, represents one of the most pleasant return-to-forms that I've heard in quite a while. And, rather crucially, its success lies not in the fact that they've returned to their circa-2003 roots (though these wide-ranging performances were captured live over the course of the band's entire career), but in the surprising fusion of their more recent fractured-house approach with the droning, more formalist mindset that birthed the band nearly a decade ago. That's the case for the first disc at least, which moves through its 6-part "Teleportation" suite as if by recaptured alchemy. The band's tongue-in-cheek guise, which in the past had led to songs such as "Burgers" and (the admittedly rather wicked) "Kill People," is thankfully sidelined here in favor of pure, unadulterated sonic inspiration, simultaneously filtering these tighter, more genre-indebted inclinations (see "Teleportation: KAL") into the fabric of the 33-minute piece while being careful to stretch these modes of presentation into realms less structured, more intuitive—a gray area of magnetism that has proven difficult for the band to consistently reconcile recently. The band charts a backward course from there, moving through the woodwind-abetted psychedelic pastures of "Leng", before arriving in the first half of the disc-closing "OG" at the intersection of ambience, drone and new-age electronica that they navigated so wonderfully on
Throne
.
And that's all well and good. If the band were to have stopped there, however, I would have been relatively satisfied if not totally convinced of their reemergence. Disc 2 is where the boundary pushing, expectation defying Excepter is reestablished. It's also, unsurprisingly, not for the uninitiated. But assuming the first disc converts a few curious listeners, then there's no reason to believe the second wouldn't impress in equal measure. The 33-minute title track which opens disc 2—performed solo on synthesizer by band leader John Fell Ryan back in 2003—is one of the single most impressive pieces in the band's catalogue. Sounding almost like a foreshadowing of the solo oscillator pieces of Jessica Rylan or the purposefully hindered work of Drew Daniel and MC Schmidt on Matmos' conceptual synthesizer experiment
Supreme Balloon
, "Presidence" extends from freely correlated synth stabs to drawn-out phrases of drone, the frequencies Ryan conjuring hypnotizing in equal parts by their initial impenetrability as they are by their subsequent feelings of impeding calm. "The Anti Noah" follows, but instead of an expected climax, the band pulls back into a stretch of pure ambiance, the likes I've never quite heard from them. Overlaid as it is with uneasy samples of unidentified news anchors, it can easily be called Excepter's most political piece to date (you'd have to do more than a little research to discover its true targets, however), though the beauty they wring from such disturbing juxtapositions makes it perhaps
Presidence's
most uniquely conversational moment.
The industrially bent "The Open Well" brings the dissonance back to the fold for 20-plus minutes, playing with methods of dynamics in more traditionally Excepter-like fashion. But it's the album closing mash-up experiment "When You Call" that most closely resembles the band's recent forays. Yet coming as it does after an hour of inspired experimentation, it feels like a gracious respite from the heady conceit of the bulk of the album. It's also ties a nice bow on the whole of
Presidence
, which works as a kind of grand tour of where the band have been and where they will hopefully be going in the future. So yeah, one of the underground's most inscrutable bands gets that much more inscrutable with an intimidating but highly rewarding new release. In this way, it's almost like an inverted cousin of
Have One on Me
, Joanna Newsom's new Laurel Canyon triple-album travelogue—both highly ambitious, oftentimes frustrating, but ultimately illuminating insights into the processes of two of the more consciously evolving artistic entities currently going. That's where the comparisons stop, of course, but the mentality feels similar. If this kind of restless experimentation leads to more albums with this kind of scope—with this little, umm, precedence—then I'm all for a few noble failures along the way. So here's to Excepter's wildly idiosyncratic muse, whatever the hell that may be." [77/100] [
Published 03.02.10
]