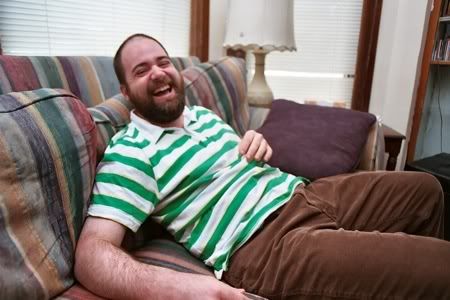 "I think it's safe to assume that I wouldn't be doing what I'm doing today (or, at least, attempting to do what I'm doing) if it wasn't for Dominique Leone. You obviously wouldn't be checking out this interview, and I most certainly wouldn't have just paid close to $50 for a Japanese import of the new Boredoms EP,

Super Roots 10

. Through his contributions to Paste, All Music Guide and, most notably, Pitchfork Media, Leone has had an indefinable influence on my tastes and listening habits. Back in the formative days of Pitchfork, he (actually at the time I wasn't sure if he was indeed a he, but that's a whole other story) was my go-to critic for anything experimental or avant. At the time (right around my high school/college divide) I wasn't listening to "bad" music, per-se – it was actually stuff more along the lines of the Strokes and the White Stripes, not to mention a good deal of Clipse and various hip-hop artists – but I certainly wasn't spinning Stereolab records. Leone, along with a few other critics which I don't have the space to single out right now, opened my eyes to a new world of Acid Mothers Temple, This Heat, Excepter, Art Bears, Faust, Can, Neu! (Krautrock in general I guess you could say) and of course, Boredoms.

Leone is extremely modest when talking about his past as a music critic, and in the last few years his writing has been curbed in favor of his own artistic goals as a musician. Working under his given name, Leone has so far released an EP and a quite good, very underrated self-titled LP in 2008. He's done what very few critics tend to do, and that's put his music where his proverbial mouth is. As a result, he has gotten the opportunity to tour the world and work with some of modern music's leading lights. Recently, Leone collaborated with space-disco producer Lindstrom on an epic remix of the Boredoms track "Ant 10," which appeared - along with the original and three other remixes - on this year's wonderful Super Roots 10. Leone was kind enough to correspond with me briefly, via email, about the genesis of the collaboration, his feelings on the modern Boredoms sound, and what the future holds for one of America's most promising electronic-pop artists."


--------------------------------------------




InRO

: I'm sure you've worked with Lindstrom before, in addition to releasing music on his Feedelity label, but how did this particular

Super Roots

collaboration come about?



Dominique Leone

: I was on tour in Europe last year in November, and while we were in Oslo, Lindstrom asked my band mate Maryclare and I to add vocals and things to the remix. I had done vocals for a Lindstrom song a year or so ago that hasn't been released yet, and he wanted to do something else. After I heard the song, we came in over a couple of days to add vocals, flute, trumpet, etc. Very fast, very fun!



InRO

: After being slightly underwhelmed by

Super Roots 9

, how did you feel about "Ant 10" the first time you heard it?



DL

: I liked it. I think the thing about

SR10

is that they managed to compact a lot of the Boredoms experience into 10 minutes, rather than over 40 minutes or an hour. Even on albums like

Super Ae

or

Vision Creation Newsun

, although the music was all weaved together, each section was only 8-10 minutes, so I guess I hear this new one as being more in the spirit of those-- which I love. Who knows how they will play it live, maybe expand into a 2 hour "Ant 10" marathon. ;)



InRO

: I know you have great respect for the history of Boredoms, as both a fan and a critic. How does it feel, after all these years, that you'll now forever be a part of that legacy?



DL

: Good! [I] hope they like what we did.



InRO

: Now that you're on the other side of the critic/artist divide, what are your feelings about the state of music criticism, especially when considering that nowadays literally anybody can start a blog and critique music they know little to nothing about?



DL

: Hmm, the state of music criticism. In all honesty, I don't read that much music criticism. I browse a lot, and I like hearing about what my friends are into. Since it's so easy to hear just about anything I'm curious about, I generally just let my ears do the decision making. I think I've always been like this, which is why I'm sometimes surprised to think I wrote as many music reviews as I did!



InRO

: What are your upcoming plans as a solo artist? Do you have any other projects currently in the works?



DL

: I just finished mixing my 2nd CD, which should be out on Important Records this summer. Other than that, I have a project with Maryclare Brzytwa called Paul & Diane, where we do kind of a synth-pop/avant-power ballad hybrid. I'm also playing a bit with other folks: Mungolian JetSet (vox), William Winant and the Mills minimalist ensemble (organ), Odawas (drums). Mostly I'm just getting ready for the next record, and playing shows in Europe and the US.



InRO

: And lastly, I have to ask, is there anything in heavy rotation on your iPod that we should know about?



DL

: Well, unfortunately, lately my iPod is far too contaminated with my own music, due to mixing. But before that, I was listening to a lot of early/mid 20th century classical: Ravel, Stravinksy, Glenn Gould recordings, Messiaen, Debussy, Prokofiev, Schoenberg, Shostakovich. Also listening to the new Fever Ray, Cryptacize, Max Tundra, Animal Collective, old Hella, the last Squarepusher, Queen II, Magma, various other standbys. :)



InRO

: Awesome Dominique. Thanks for the time and good luck!