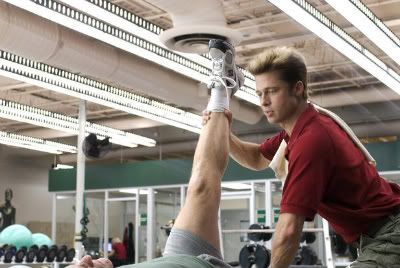 Let's jump right in shall we. First off,
The Dark Knight
has now scored it's third (!) guild nod of the week. If it grabs the DGA tomorrow, you can take it to the bank for a Best Picture nod. The rest of the adapted nominees went more or less as planned in my opinion. I never thought
The Reader
could truly score here, at least not with that tiresome courtroom drama grafted onto it's back half.
Revolutionary Road
has to be considered the most prominent omission, although I've been saying for a while that I didn't feel it would register within the industry. In a few years, we may scratch our heads as to why the film wasn't singled-out more, but this year I expect it to be overlook from here on out. It's just to polarizing a film, and awards are always about group-think and consensus.
The original screenplay category threw a few curve balls though.
Burn After Reading
is fairly shocking in my eyes, although the WGA does have a history of nominating comedies (personally, I would have liked to see
Tropic Thunder
instead). Next up there is
The Wrestler
, which has earned a well-deserved first mention from a major guild. The film sitting on the cusp of major contention I feel. The film's best shot remains in the Best Director category though, yet this nod has only added to the momentum. I'm also glad to see
The Visitor
sneak in here, but at the expense of the highly touted
Rachel Getting Married
comes as quite the surprise. Jonathan Demme's film has taken a bit a of a hit today, but the Academy always switches out a few of the WGA choices, and I still have a strong feeling that the Oscar will come down to
Milk
or
Rachel Getting Married
when it's all said and done. The water is slowly clearing and tomorrow's DGA nods should reward our patience with an increased focus on the race.
Best Adapted Screenplay
"The Curious Case of Benjamin Button" (Eric Roth; based on the short story by F. Scott Fitzgerald)
"The Dark Knight" (Christopher Nolan, Jonathan Nolan; based on characters appearing in DC Comics)
"Doubt" (John Patrick Shanley; based on his play)
"Frost/Nixon" (Peter Morgan; based on his play)
"Slumdog Millionaire" (Simon Beaufoy; based on the novel "Q&A" by Vikas Swarup)
Best Original Screenplay
"Burn After Reading" (Ethan Coen, Joel Coen)
"Milk" (Dustin Lance Black)
"Vicky Cristina Barcelona" (Woody Allen)
"The Visitor" (Thomas McCarthy)
"The Wrestler" (Robert D. Siegel)